Nicki Minaj accuse Meek Mill de violence envers les femmes, le rappeur lui répond lors d'une altercation houleuse sur Twitter
L'ancien couple se déchire à nouveau sur les réseaux.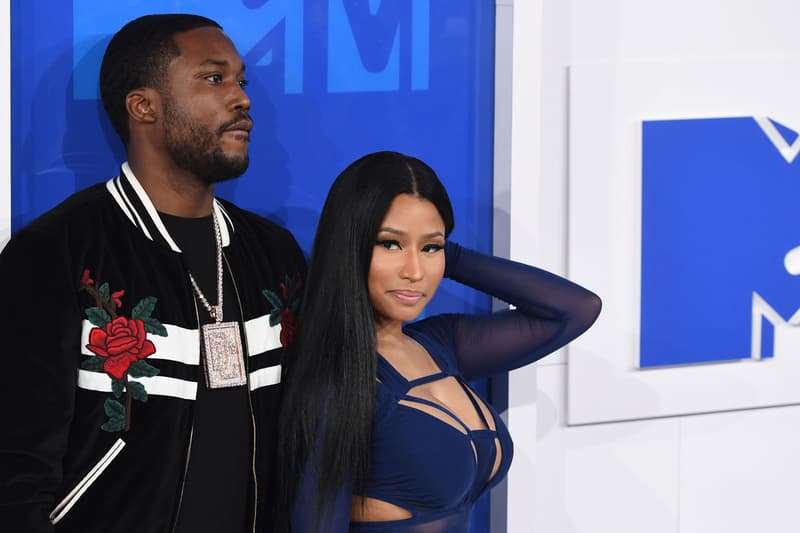 Nicki Minaj et Meek Mill se font la guerre. Après une première confrontation houleuse dans un shop de Los Angeles le mois dernier, les deux artistes se sont adonnés à des échanges de tweets houleux ce mercredi soir. Tout aurait commencé après que Meek ait 'liké' un meme sur Instagram moquant Kenneth Petty, le mari de Nicki. Cette dernière a alors accusé son ex de comportement violent envers elle et les femmes de sa famille.
Trigger fingers turn to #TwitterFingers bad built face ass obsessed with the Queen. pic.twitter.com/lsWNAe8xeh

— Mrs. Petty (@NICKIMINAJ) February 5, 2020
Nigga been tweeting bout my man for a year now. Talking bout he went to my page to see him but he was blocked. My nigga, move on. I know ya btch embarrassed. Shitted yaself in that store when u got pressed tho. ?

— Mrs. Petty (@NICKIMINAJ) February 5, 2020
"Ce mec tweete sur mon mec depuis un an maintenant. Il parle d'être allé sur ma page pour le voir mais il était bloqué. Mon gars, passe à autre chose. Je sais que tu es embarrassé. Tu t'es chié dessus dans ce magasin quand on t'a mis la pression", a-t-elle commencé avant d'ajouter : "Tu es un clown (…) Tes doigts pour Twitter battent des femmes, ont peur des hommes". Des accusations graves que Meek Mill a immédiatement démenties tout en attaquant à son tour Nicki à propos de son frère, actuellement en prison pour viol.
"La seule manière que tu as pour essayer de tuer ma carrière est de dire que je frappe les femmes… Parle plutôt de ton frère reconnu coupable de viol, que tu le savais et que tu as payé pour son avocat… Ton petit frère a touché cette petite fille ! Tu sais que je sais. Tout le monde dans l'industrie sait que tu es une mauvaise personne. Tu savais que ton frère violait cette petite et c'est pour ça que je me suis éloigné de toi", a déclaré Meek Mill sur Twitter. De quoi provoquer une nouvelle réponse cinglante de la part d'Onika.
You beat your own sister and taped it. Spit on her & taped it. Kicked me in front your mother and sent her to the hospital. Sucking drake dick made u feel tough again. Move on.

— Mrs. Petty (@NICKIMINAJ) February 5, 2020
"Tu frappes ta propre sœur et tu l'enregistres. Tu lui craches dessus et tu l'enregistres. Tu m'as frappé devant ta mère et l'a envoyé à l'hôpital", accuse la rappeuse. Ce à quoi Meek Mill a une nouvelle fois répondu dans une série de tweets – certains ont été effacés depuis – avant de réaffirmer qu'il n'était pas violent envers les femmes et qu'il n'accepterait aucune question sur Nicki Minaj de la part des journalistes lors de la promotion de son album.
"Je ne peux pas croire que les mecs de l'industrie laissent ce genre de personne survivre si longtemps dans ce game en sachant très bien qu'ils sont vraiment sales et d'une mauvaise influence. Tout le monde sait ce qu'il se passe ! Je suis puissant, je n'ai jamais eu peur de parler! Pour clarifier, je ne frappe pas les femmes et je ne laisserai pas mes interviews se remplir avec des questions sur elle ou tout ce qui se rapporte à elle. Pendant ce temps là, Jeff Bezos se fait des milliards à la minute et nous, renois, on s'est pris la tête toute la journée lol… Je vois les choses autrement maintenant, et j'ai vraiment plus le temps", a-t-il conclu.
For clarification I don't hit women and I won't let my interviews be filled with question about her or any situation to do with her when I come out to do press for my new album! No devils tricks

— Meek Mill (@MeekMill) February 5, 2020
Meanwhile Jeff bezos & running up billions by the minute while us niggas just gone wild beefing all day lol … I see shit different now and I don't really got the time Nomore

— Meek Mill (@MeekMill) February 6, 2020
Une altercation houleuse donc, et embarrassante pour les deux artistes qui se sont donnés en spectacle pendant plus d'une heure sur Twitter tandis que les fans des deux camps s'écharpaient également. L'affaire n'en restera d'ailleurs sûrement pas là et nul doute que les deux artistes ont encore des choses à se dire…
Dans le reste de l'actualité, Justin Bieber a dévoilé la tracklist de son prochain album 'Changes'.