Zeek Elliott Details His Tenacious Journey From Professional Athlete To Music Executive
The self-described "trailer park-raised athletic failure from South Dallas" details how sleeping in his car and interning for free served as the foundation for the industry creatives collective, Fruit of Labour.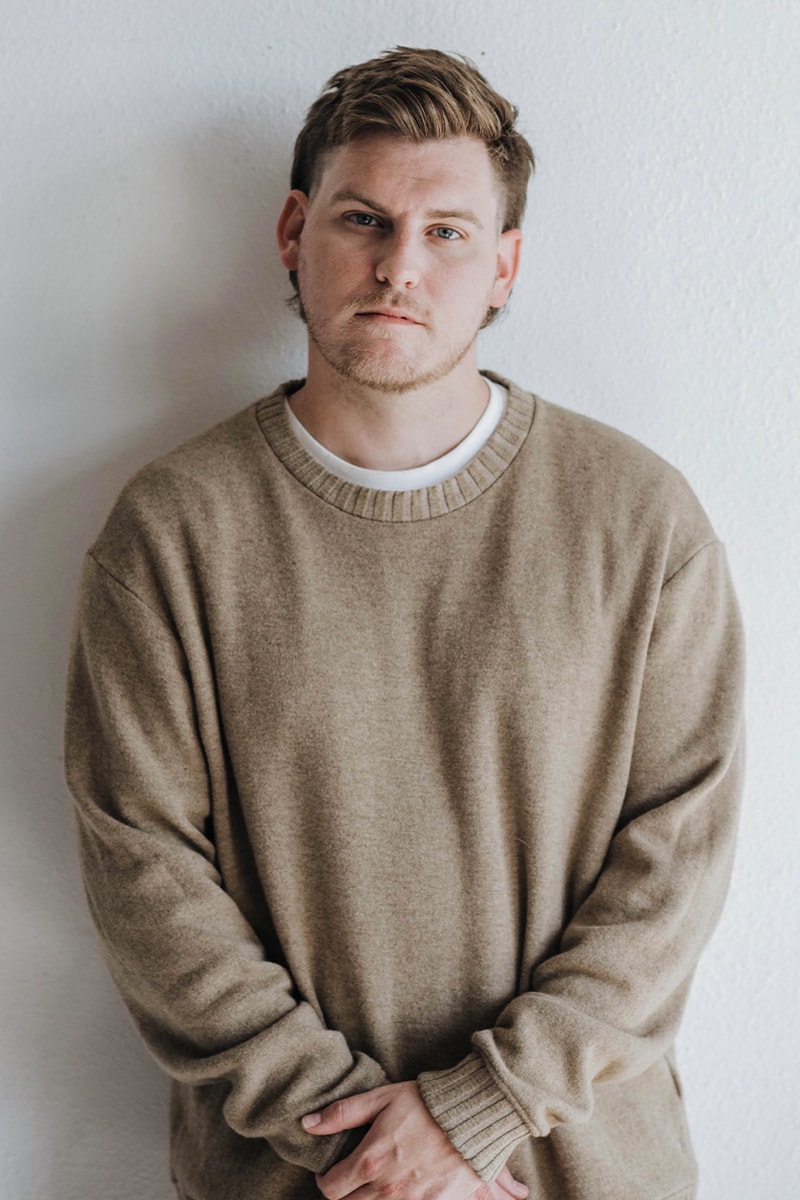 Zeek Elliott Details His Tenacious Journey From Professional Athlete To Music Executive
The self-described "trailer park-raised athletic failure from South Dallas" details how sleeping in his car and interning for free served as the foundation for the industry creatives collective, Fruit of Labour.
"Sow Good; Reap Good." This is the mission of Fruit of Labour. Founder Zeek Elliot is cultivating a space for artists, athletes, creators and business professionals to begin together, grow together and reap the good fruit of labor in all that they do. After all, in an industry as relationship-based as music, these connections will take you a long way.
The concept of teamwork and community was ingrained in Elliott early on. He began playing semi-professional soccer at a young age, winning the US Youth National Tournament in 2009 with the Dallas Texans and travelling overseas to represent the USA in tournaments such as the Gothia Cup in Gothenburg, Sweden, and Tivoli Cup in Copenhagen, Denmark. He was also part of the FC Dallas Academy system, which is considered as one of the best academies in the country and had four alumni playing for the USA in the 2022 FIFA World Cup. Through years of training, dozens of matches and countless bonds built with his teammates, he was always surrounded by a heavy emphasis on the importance of relationships during his formative years, "I'm so thankful that I was able to spend the early part of my life learning how to lead a group of 22 individual personalities for a common goal," ge says. "I learned that hard work is the difference between being good and great."
The importance of relationships stayed with him even when a heartbreaking injury prematurely ended his professional soccer career and he was forced to shift his focus. "Music was the other half of me. I was determined to find a way into the industry but I didn't have a clue where to start," he shares. "I realized that without relationships, it would be next to impossible." His lack of connections in the music business didn't stop him though; Elliott remained tenacious, and constantly thought of a motto stuck on the wall of the FC Dallas locker room that his coach, Oscar Pareja, created: "Busca La Forma," Find a way" in English.
"Artists deserve managers who would run through a brick wall for them."
All Elliot knew about music was what he saw in church and school: he's the grandson of a pastor and a musician/worship leader in a small family church, and his college major was classical guitar performance. Elliot only ever saw teaching as the viable career option from his degree and was absolutely clueless about the myriads of positions in the music industry, but he refused to settle. He interned for free in Atlanta, Georgia, lived out of his car for two weeks while parked in a church parking lot and showered at a local gym until one of the label employees renovated their house to create space for him. Besides soccer, "Music was the only thing I really cared about. That was the big driver for me to be the first at the door when the CEO came in and the last to leave." When he wasn't at the label, he was working his full-time job as a publicity manager for his university, stationed at a coffee shop in Grant Park from 7 a.m. to 11 p.m.
Elliott pushed through with this brutal and unsustainable schedule for months, and looks back at it as a "sprint" rather than a long-term system. It opened doors for him, however, landing him jobs as a general manager and a freelance talent manager post-graduation before moving over to Red Light Management, whose roster includes the likes of The Strokes, Phish and Interpol. He left the company in 2019 to assist with the launch of former RLM general manager Jonathan Azu's Culture Collective, a record label, production, brand consultancy and artist management firm where he served as creative director, label and product manager and talent manager before taking on the role of General Manager. And in 2021, as the world slowly came out of the pandemic, he launched Fruit of Labour — a collective born of his hardships, lessons and determination that serves the community. "I started this collective out of a desire to point back and be a bridge for people to pursue aspirations that may seem daunting to them," he says.
"I'm a trailer park-raised, athletic failure from South Dallas who, through an athletic scholarship, was the first of my family to get a degree and now I work a job that I wake up every day living in my purpose," he tells Hypebeast. "I'm reaping the good fruit of my labor, and his collective is centralizing a group of like-minded individuals who are doing the same."
In three words, how would you describe your job to someone who isn't familiar with the music industry?
Business serving art.
Can you run us through a day in your work life?
Working with talent presents a new challenge to solve every day. It's an opportunity to add value and actualize their vision, and to capture a story that will impact others. In short, none of my days look the same.
However, every day in some capacity I do these three things: I manage external tasks that are outside of my direct control, making sure they're pacing and being executed; I complete tasks that are directly within my control; and I "smile and dial" to keep partners and prospective collaborators informed and inspired by what's happening in the client's world.
So, for instance, I usually spend my early mornings checking on the pacing of timely projects and making sure that the partners of my clients feel a supportive presence. Forecasting fires and providing check and balances is essential to ensure that details and expectations are intentionally captured and acted upon on behalf of the client.
Once external tasks are managed, I move to tasks that are within the management or label team's immediate control. This is the fun part, because I consider myself a highly proficient generalist who's able to deliver quality work in a wide variety of different ways. When working in a small independent team, I've worn many different hats. It's given me the opportunity to learn and challenge myself daily. A lack of resources is an opportunity to think creatively. My passion and adaptability have allowed me to get done what needs to get done and know enough to produce quality work, but also to distinguish who the real experts are.
In order to communicate and inspire partners on the business end, It's vital to understand the artist's vision and story. Alongside solving the challenges that arise, there is a responsibility to use the message and art to bring in new opportunities that will amplify the art and the client's career.
"Throw the ego away. Lean into creating art that touches your soul."
Over the years, you've worked extensively with a number of artists across a variety of genres. Is there a major change in your managerial approach to each artist?
My managerial approach isn't directed by the artist's sound, necessarily, but by the understanding of why their art resonates with their fans. I wouldn't feel equipped to represent their art at a high level without seeing the full artistic vision, understanding the artist's history and knowing why their fans care. If their art doesn't resonate with me, I wouldn't work with them. Artists deserve managers who would run through a brick wall for them. It's the first major component in considering working alongside an artist.
Culture Collective distributed several independent projects with clients that didn't fit the major label system at that time in their careers. What was the deciding factor to develop a distribution relationship and release music as an independent label?
Under Jonathan Azu's leadership, Culture Collective released three GRAMMY-nominated independent projects over the last three years. There are a few reasons why it made sense for us to act as an "incubator" label partner for these clients.
For clients that are in between having a label partner, we created a distribution system to release music at the highest level. Instead of just uploading into a music aggregator (Tunecore, Distrokid), we partnered with a major music distributor to give these projects the spotlight needed within digital streaming platforms (DSPs). Our direct relationships with DSP curators then became a casual check-in with the distributor, keeping the staff up to date on everything that is going on with the projects we're releasing. We also wanted to invest in the catalog with clients and provide budgets and resources to give the music the best chance of success and the opportunity to make an impact.
Culture Collective has also attracted a handful of clients with flourishing careers in both music and film/TV. When signed to a major production and a major label, we found it challenging to get music out due to the demands that being a series regular on a major network show brings. When we're able to act as the managers and labels, it drastically expedites the process of setting up an album. It also allows room for flexibility of ever-changing opportunities within a schedule that works for them and their art.
Can you discuss what the biggest differences are between distributing independently and for major labels?
I've worked with artists that have distributed fully indie through aggregators and those signed to major and independent labels with high-level distribution. These artists have been at different scales from developing to mid/high-level.
What I've seen for the independent artists who own every aspect of their business is the approach of building brick by brick and using the major label system for an opportunity of scale. Just like in any company in any industry, once bandwidth reaches a ceiling it takes additional resources to scale. Once the time-consuming, business-oriented tasks are delegated or managed, the artist is able to double down on the actions that are the most vital to their business: creativity, music creation, story-telling, content creation, etc. This is the best approach for developing artists that have done the groundwork to understand and build their fan base independently and have a major label partner amplify a project and swing for the fences. The artist has made a group of fans care by giving them album after album and tour after tour. Now, the artist can creatively think about their art in a general market sense and craft something that allows them to break the ceiling. This also gives leverage in negotiating deals with a major because it shows that there isn't necessarily a need, but instead an opportunity for both parties.
It's never one size fits all, though. Even though I feel the "rule" is that major labels are signing artists that already have done the work to create a decent business, not every project, even at a large scale, fits the major label system. There is a luxury of speed and priority that working independently gives you. Some artists would rather hire specific staff around a project (project manager, publicist, marketing, etc.) and lead/inspire that team to work as a label. However, I think artists will have a challenging time reaching their full potential without having a major label amplifying them at some point in their careers, whether it's via a vanity/distribution deal or a standard label signing. The DSP relationships and real estate accessible to major labels are unlike any other partner in the industry. The brand relationships. If a major label is going to put its best staff around the project and prioritize it, that's the moment to make a massive impact and reach so many more people than an independent artist can reach on their own.
The way I see it is that an established independent artist can have a 15-20% increase every release for 10 years. This allows them to make an awesome living, invest in other artists that they believe in by cross-pollinating their fan base, and pack out large rooms on tour. However, with a major label amplifying the right project to reach mass appeal, we're talking 50-60% increase if not more.
If you could give advice to someone also looking to move to the independent side, what would you tell them?
It's really so subjective to the artist's situation.
If an established artist doesn't have a solid business partner — not just a manager — who is doing more for their business than just managing it, it's going to be a challenge to create the right infrastructure for success. There can be a naivety around how much work goes into releasing a really amazing work of art the right way. There are artists that are capable and have the unique ability to be both left brain (creative) and right brain (analytical)but it's a lot of work that artists are protected from a lot of the time by having their team take care of and manage.
For artists who signed a development deal but are shelved and not sure what to do, understand that — even if there was momentum on the project — if the work wasn't done to translate your fans into advocates, there's going to be a reframing of how you look at your art. Artists in general shouldn't get lost in numbers and data. There should always be a sense of humbleness and reality in those numbers that don't necessarily translate to real fans. Throw the ego away. Lean into creating art that touches your soul. Don't be afraid to go back to the basics. It's a rebuild and the beginning of a new process.
"The best managers are quick learners with an instinctual sense of curiosity. In an ever-changing industry, we're all learning and growing."
How do you hope Fruit of Labour will grow in the next five years?
I see Fruit of Labour continuing to impact people through support, community, and content. Being a newly found collective, it's going to be special to see the powerful results of five years of having a concentrated group helping and supporting each other. Reaping the good fruit of their labor and hard work.
I hope building this community helps some avoid hard lessons and trial by fire. I hope it serves as a way to demystify an industry that has been intentionally convoluted and confusing. I hope it offers direction to people who feel called to use music as a way to make an impact in the world, both as creators and as artist partners.
What are the necessary first steps someone should take to enter a career in artist management?
I think the first step is to consume as much about the industry as you can. There are so many ways to curve the knowledge gap through social media, YouTube, reading, etc. Donald Passman's Everything You Need To Know About The Music Business is the rite of passage.
Another step is to get in the mix with the music professionals in their city. Try to find a way to provide value to them.
Make sure that the "why" behind what they're setting out to achieve is genuine. It is a challenging job that is very easily all-consuming. Being an artist manager is thankless and behind-the-scenes without real recognition. If there isn't a deeper fire and reason behind wanting to serve artists, it's going to be hard to sustain longevity in it.
Another great step is to find a developing artist in their city. Communicate to them that they are aspiring to this career and grow with that artist from the ground level. It's a way to put to practice everything that is being consumed from a knowledge perspective.
The best managers are quick learners with an instinctual sense of curiosity. In an ever-changing industry, we're all learning and growing. That will never change.
What lessons/work ethics did you only pick up after working in the music industry?
Learning how to support hyper-creative minds has been the biggest thing I've learned. A big part of management is learning how to support clients psychologically. It's a job where you're speaking with clients daily, so being mindful of their mental health is important.
What was the biggest challenge you've had to face so far, and how did you overcome it?
COVID was the toughest challenge by far. It presented an opportunity to focus on how we are building revenue streams for our clients outside of live touring. We developed more robust digital strategies to monetize online that we're seeing the fruits of today.
"Artists are celebrated for the wins, managers are responsible for the losses.
What is one thing about your job that most people would find unexpected or surprising?
Artists are celebrated for the wins, managers are responsible for the losses. The amount of responsibility that falls on managers would surprise a lot of people who aren't familiar with the industry. It's a role we take and know the importance of expectations and the right people cast for the right roles (band, crew, producers, etc.).
Is there a secret to career longevity in this industry?
People remember less of what you say, and more of how you make them feel. If you treat people poorly it will impact you in the future. Nobody is disposable. Everyone's presence should be acknowledged. Interns will be the decision makers in the future.
What are some habits you follow regularly to always maintain a good headspace for work?
I've seen a personality trend in managers throughout the years. Generally, I feel we're the type of people who set ourselves on fire to keep others warm. We think of ourselves last, if at all.
I realized a few years ago that my lack of self-care was greatly affecting my physical, mental, and spiritual health. My career is based on super-serving and protecting the clients that have trusted me with their careers — that's not something to be taken lightly. It's easy to be career-driven and do everything it takes to serve your clients to the absolute best of your ability. The lack of self-care is a problem, though. It's not sustainable. I deserve to give myself the level of care that I give others. There was almost guilt attached to it initially, then I realized that when I'm intentionally filling my cup up, I have so much more to pour into others. When I'm refined in the areas that matter the most, I'm able to support my clients as the best version of myself far more often than I ever was able to before.
Taking a quote from the book Seven Habits of Highly Effective People, "Our habits make up our character. We are what we repeatedly do." I strive every day to include the practices of journaling, meditation, physical fitness, walking, getting sun, lifting heavy, and smoking cigars with a delicious glass of whiskey.
What does a day off look like for you?
Off days are hard to distinguish because it's a job where you always have to be on, but I make it a priority to regularly spend quality time with my wife, beagle, friends and family. Rest is important so I'm usually relaxing and watching anime or reading something that takes me out of myself.
How do you see your job evolving with the music industry in the next five years?
Harnessing the power of artificial intelligence is extremely exciting. I'm already implementing tools and automation that save so many hours on things that it's ridiculous.
Managers also have the ability to serve their artists as independent labels successfully which has been a massive change over the last 10 years. Even though I've historically been a "music" manager, I've found myself on major network film shoots representing talent. I think the mindset of only representing musicians limits the opportunity for growth and partnership in the world of entertainment. Music and film/TV have always had a natural cross-over. When the world of content creation became a legitimate form of entertainment, it quickly merged together with music. Artists are more aware of their social presence and the stories that they're telling online. Similarly, YouTubers and content creators are wanting to use music as a form of creative expression.
If not music, what would you be doing?
Soccer was such a massive part of my life and youth development. I think back to the impact that my coaches had on me and I'd want to give that same mentorship and support it provided me coming from a dysfunctional home. I would pursue getting a UEFA coaching license and starting a youth soccer club.
Stay tuned for more features with music industry professionals — from managers to sound engineers, stagehands and others; the people who make the music world go round without standing behind a microphone.