Rory Fortune and the FEIT Hand Sewn High Rubber for Hypebeast's Sole Mates
The Goods & Services founder discusses his appreciation for craftsmanship in footwear, the unique place he occupies in the industry and more.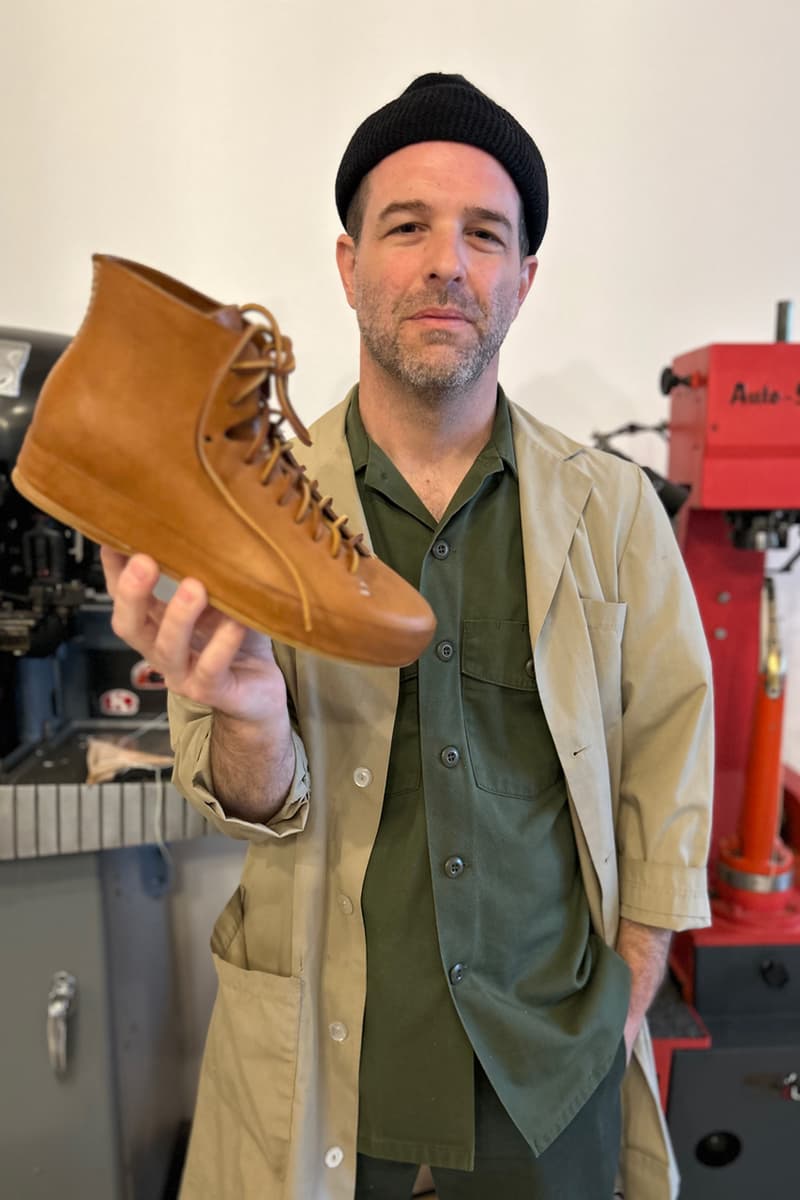 Rory Fortune and the FEIT Hand Sewn High Rubber for Hypebeast's Sole Mates
The Goods & Services founder discusses his appreciation for craftsmanship in footwear, the unique place he occupies in the industry and more.
Goods & Services founder Rory Fortune is quick to make one thing very clear: he's not a "sneakerhead," at least not in the traditional sense of the word. "I don't know if I ever even owned a pair of Nike shoes, to be honest with you," Fortune said from his atelier in Los Angeles' Arts District. Fortune grew up skateboarding and playing in punk bands instead of idolizing Michael Jordan, and his path to footwear was a different one than the one traveled by many previous Sole Mates guests. As an adult, Fortune worked across multiple categories in the fashion industry before developing a deep appreciation for the craftsmanship that went into making high-end footwear. A group of cobbler friends taught him the tricks of the trade, and Fortune began cobbling as a hobby before starting Goods & Services in 2016 and opening its first physical location in 2019.
Now, he and his small team create high-quality, hand-crafted custom footwear from their workshop. Air Maxes with fully custom midsoles? "I must have done a million of 'em," Fortune says. Air Jordan 1s on a chunky Vibram ripple sole? Those too. Reworked Rick Owens Geobaskets? Yup? Custom leather mules and fully handmade shoes constructed of vintage military surplus? You bet. Fortune is a Swiss army knife of sorts, a cobbler, designer, and craftsman with a deep appreciation for his craft and an open mind that helps him reimagine what an athletic shoe can be.
In the latest installment of Sole Mates, Rory Fortune discusses his appreciation for FEIT's hand-made sneakers, why craftsmanship in footwear is so important and the unique space his business occupies in the footwear industry.
Hypebeast: What first sparked your interest in footwear?
Rory Fortune: I wasn't really into sneakers growing up. I don't know if I ever even owned a pair of Nikes, to be honest with you. I skateboarded and played in punk banks, so I pretty much just wore Chuck Taylors. My love of footwear came later in life, when I was an adult working in the fashion industry. It was around 2005-06, and I was working with denim, a bunch of different apparel categories and some footwear. As I got involved more deeply in footwear I noticed that there was a really interesting mix of creativity and technical skill required to do it correctly, and felt there was a lot more to it than doing T-shirts or pants.
You chose the FEIT Hand Sewn High Rubber for your installment of Sole Mates. What about it speaks to you?
FEIT ties into a lot of stuff we do at Goods & Services. Our shop is all about applying traditional, hands-on shoemaking techniques to sneakers: we have all the old machines and do a lot of hand-stitching. FEIT is about that too, applying traditional shoemaking to a modern context.
Are the materials FEIT uses part of the shoe's allure as well?
Everything they do is vegetable-tanned leather — which is what we use at Goods & Services — and it's just far superior to the other leathers you'll find on the market. It's durable, biodegradable, ecologically conscious and forms to your foot. It's made by hand and can be re-soled, so since you don't have to worry about wearing the bottom out you can get a really nice patina on them. They just get better the more and more you wear them, which is the antithesis of these sneaker guys that are obsessed with keeping their kicks clean [laughs].
"Since [hand-stitched shoes aren't made] by a machine, there are these amazing imperfections that give [them] a personal touch and character."
Can you tell us more about the allure of handmade goods?
As someone who makes things by hand for a career, I have a deep appreciation for the skill, time and work that goes into it, but there are also functional benefits too. When you hand-stitch footwear — like visvim does with their Virgil Boot, for example — you have to use thick wax thread, which prevents water from getting in the seams and you're able to go at different angles that you couldn't from a machine. This provides enhanced strength, durability and protection from the elements, but there's also this beautiful human element to it: since it's not done by a machine, there are these amazing imperfections that give a hand-made shoe a personal touch and character.
Moving from others' work to your own at Goods & Services — do you have a favorite pair or project that you've worked on?
An individual pair would be tough to remember because we do dozens of different shoes every f*cking week. Larger projects though, I'd say I was really excited by the made-to-order mules we did a few weeks back. It's a totally original design that we make by hand in the shop, and it comes at a cost, but it's somewhat accessible for most of our customers. It's totally wet-molded by hand, has fit lock buckles, a nice thick Vibram sole. We're still getting orders for them, and we have a lot of opportunities to do them with different leathers, different buckles, lots of options.
Is there a specific model that you've worked on more than others over the years?
Lots of Nikes. I must have done a million different Air Maxes. They're a lot of fun. I like the shape of them because it lends itself to a few different resoling methods, and that makes me want to experiment on them more
"What we do isn't fully traditional shoe repair. It's a blend of repair, design, reimagining and reinventing."
You repair and upgrade shoes with traditional methods – but maybe not in a traditional sense. Do you think the ideas and perceptions around being a cobbler are changing?
Totally. What we do isn't fully traditional shoe repair. It's a blend of repair, design, reimagining and reinventing. If you're bringing sneakers into our shop, you want to be part of the creative process yourself, make something more reflective of your personal style or be a little more unique.
Who is the Goods & Services customer?
We have all types of customers, but I'd say our most regular customers are people in their early to mid 30s. They used to be big sneakerheads, but have kind of grown out of "sneakerhead" culture, though they still love shoes. They appreciate craftsmanship and quality, and things that are a little more niche. They're okay with being different and having their own style instead of following the pack — you probably won't see them standing in line for the new, hot release [laughs].
You recently worked on a Mars Yard-inspired crossbody bag made of leftover uppers. How else have you been able to make the most of your scraps and spare materials?
We do a lot of sole swaps, and we always ask the customers if they want the uppers from the "donor" pair back. About 80% of the time, they say they don't, so we just hold on to them. Over the years, we've accumulated a few boxes worth of leftover uppers. It's really just a matter of finding the time to go through them and start cutting them up, but when we do those experiments have yielded some really interesting results.
What about the future of footwear excites you?
My shop is located in the heart of the Arts District in LA, and there's definitely something going on with footwear production around here. There's a knitting factory that makes amazing knitted uppers, and an integrated developer that's environmentally friendly and makes amazing footwear. It seems like we might start making more sneakers locally here in LA, and bespoke models may be more accessible to people.
I got into the shoe business by learning from cobblers, so everything that I know about sneakers is through a construction aspect. Because of that, it's also been really cool to see all of these younger kids working on DIY footwear projects on Instagram and TikTok. I love to see people doing sh*t on their own, and am amazed by how talented some of these "customizer" kids are. A few have even become friends.
What do sneakers mean to you?
For someone like me who fixes shoes all day and works with his hands, it's all about appreciating the product: the construction, the way it was built. Yes, there are very important technical aspects that you have to do right. But there's also a human aspect. I might cut leather a certain way and someone else might do it another different way, and there's no real way to say who's "right." I love finding those little details and differences on shoes and taking a moment to appreciate them.
---
See more installments of Sole Mates here, and for updates on the latest and greatest sneaker releases be sure to check out Hypebeast's weekly Best Footwear Drops list as well.