Sotheby's Is Selling Six Pairs of Michael Jordan's Iconic Championship Air Jordan Sneakers
Dubbed "The Dynasty Collection."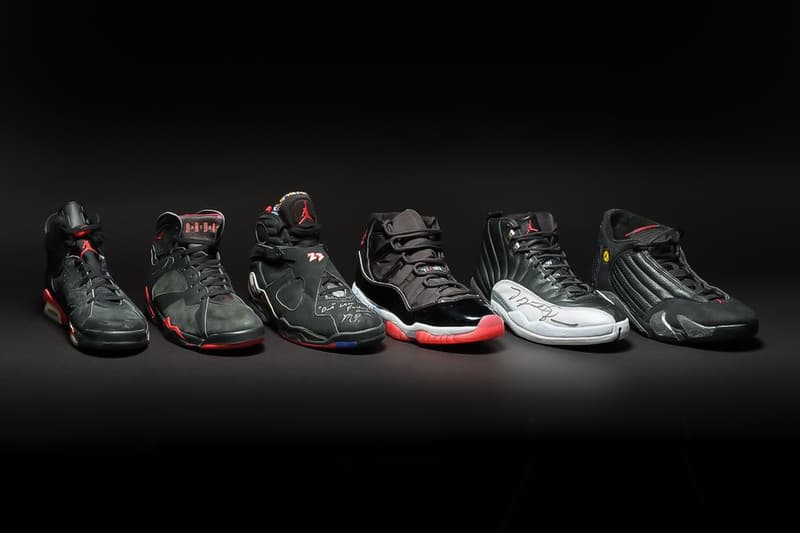 Sotheby's is selling a set of six iconic Air Jordan sneakers worn by NBA legend Michael Jordan himself. The set, which has been dubbed "The Dynasty Collection" features six pairs of Nike Air Jordan shoes that MJ wore during the six championship games for the Chicago Bulls in the 1990s.
Within the set are a pair of Air Jordan 6 from 1991, Air Jordan 7 (1992), Air Jordan 8 (1993), Air Jordan 11 (1996), Air Jordan 12 (1997), and Air Jordan 14 (1998). In a statement from Sotheby's the auction house states that these shoes are "the most valuable and significant collection of Air Jordan sneakers ever brought to market." Brahm Wachter, head of streetwear and modern collectibles has compared the set to the "Mona Lisa of the sneaker collecting and sports memorabilia communities." He adds, "While they are two distinct communities, they converge here with The Dynasty Collection. They also represent the intersection of Jordan's championship legacy and his style legacy, both of which have combined to make him a global icon. Because of the historical and cultural impact that they represent, as a group, they are among the most important basketball shoes a collector could own."
The Wall Street Journal reported that former Chicago Bulls associate Tim Hallam personally collected the Nike shoes from Jordan after the championship games. Considered the "Holy Grail" of sneakers, auction house is unveiling these six pairs of Air Jordan sneakers in Dubai. It is important to note that Sotheby's is selling the set and not auctioning them off. Sotheby's has not yet disclosed the official sale price, but it is expected to land in the millions. The same set of sneakers were on display last year at the National Sports Collectors Convention in Atlantic City.
The shoes were on public exhibition at the Sotheby's gallery in New York through February 3 and are now on display in Dubai through to March 3.
In other footwear news, here are the best footwear trends from Milan Fashion Week FW23.