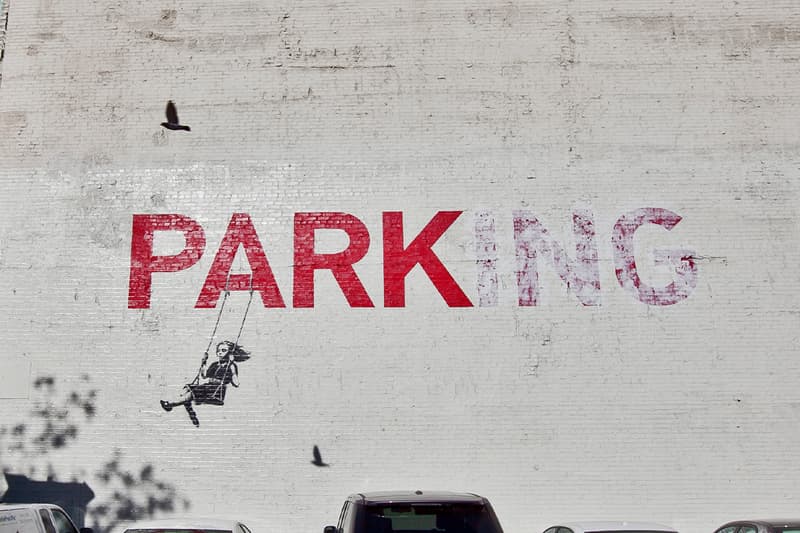 Los Angeles Banksy Mural Worth Over $16 Million USD Hits Auction Block With Entire Building Attached
Buy a Banksy, get a building.
---
Back in 2010, the notorious British street artist Banksy came to Los Angeles for the premiere of his documentary Exit Through the Gift Shop. While he was in town, he left a visual gift for his fans, painting the famous "Girl on a Swing" mural on a historic building in L.A.'s downtown fashion district. The mural featured a girl on a swing that was dangling from the red "A" of the word "PARKING" as seen on the wall.
Now, the owners of the building Tarina Tarantino and Alfonso Campos are planning on selling the building after purchasing the lot in 2007. The building itself is considered a historical landmark, having been built in 1914 during the silent-film era. The building appeared in the iconic clock scene in the 1923 silent film Safety Last! starring Harold Lloyd. Initially, Tarantino and Campos paid $4 million USD for the seven-story, 26,000-square-foot building. The couple recently filed for Chapter 11 bankruptcy and now, as a part of the filing, they are selling the building at auction. The New York Times has obtained information in relation to the bankruptcy and has reported that the couple believes the building is worth around $16 million USD, excluding the mural.
Since the Banksy mural is difficult to appraise due to the fact that it is attached to the actual building, it is hard to pinpoint exactly how much this piece would cost. While it was suggested that the next owner can purchase the building and then remove the Banksy to sell again, Sotheby's former head of Private Client Group Holly Dunlap says,
"We would never touch that because it's not how the artist intended it to be sold. Whenever buildings have a Banksy on them, that Banksy is much more valuable on the building than it is as a piece of brick."
Dunlap estimates that the sheer size of the Banksy mural, which stands at 12 feet by 33 feet, could fetch at least $10 million USD and perhaps even more on the private market. Dunlap also concurs that for serious art buyers, there would be no way of owning the Banksy, without also buying the building. The couple is aiming to value the final sale of the mural for $30 million USD. Bidding closes on October according to the agency Hilco Real Estate, which is representing the sale.
In case you missed it, Skepta will curate a selection of art at Sotheby's upcoming auction.