How Afterpay Tapped Fashion Designers for Its First-Ever NFT Collection
Five top designers created their own original NFTs for Afterpay's Keys to NYFW launch.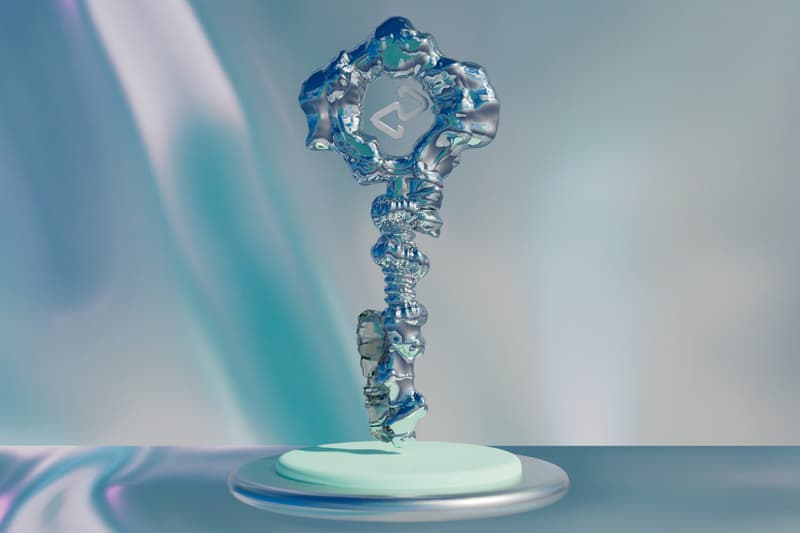 Afterpay's Keys to NYFW program is giving fashion enthusiasts the chance to join in on the exclusive events of New York Fashion Week, The Shows, by partnering with five notable trailblazers in the design community. Each of these esteemed designers, along with the creative aid of other artists in their network, has created their own customized NFT reminiscent of their personal style and their latest Spring/Summer 23 collections.
The collectible NFTs — all designed as different "keys" which unlock events and limited-edition designer products — allow consumers to immerse themselves into each designer's diverse world. Afterpay tapped five names who have impacted the industry extensively, sharing their vision with the world and breaking design barriers with each new collection.
ALTU has been recognized worldwide for designer Joseph Altuzarra's affinity for challenging fashion norms. Altuzarra often employs classic silhouettes in his collections, elevated by unconventional cut-outs and accents. He stands by the brand's notion that the future of fashion is "genderful," meaning each piece explores the plurality of gender and defies traditional expectations.
"ALTU is about being open to new and exciting parts of yourself while sticking to an alternative aesthetic code. Mapplethorpe's work continues to be a source of inspiration for the brand and this NFT. I kept returning to a few key photographs throughout this process, working through the ways queer people in the past have continued to codify and signal their being in the world," says Altuzarra. The brand's NFT, once minted, unlocks the user's choice of a tote and oversized t-shirt or annual membership to one of New York City's premiere art museums.
View this post on Instagram
Another participant in the program, anOnlyChild, took inspiration from its brand ethos in the creative approach to the NFT design. The Jamaican designer, Maxwell Osborne, infuses all of his work with his heritage. As sustainability is a core tenet of the brand, the NFT is inspired by nature and natural processes.
"When an old door closes, a new one opens. Our keys — one old, one new — suspended beneath our mother and child emblem over a mound of flora in a state of perpetual rebirth, unlock the cycle of inspiration for us. Old and new — like mother and child — cannot exist without one another," says Osborne. The brand's NFT gives fashion lovers the chance to unlock tickets to anOnlyChild's NYFW afterparty on September 10 or a limited-edition belt bag.
View this post on Instagram
Jonathan Simkhai, another esteemed designer and participant in the Keys to NYFW program, has always incorporated the interplay between feminine poise and strength into his designs. The brand's women's ready-to-wear garments show off powerfully sensual silhouettes in an array of jewel-toned as well as neutral hues. "The amber stone and its fossilized resin is part of the inspiration behind our SS23 collection and this key design," Simkhai says of his newest collection, "This powerful stone is known to absorb negative energy and restore soothing energy, which is so inspiring to me."
As such, Jonathan Simkhai's exclusively designed key NFT actually mimics that of the amber stone. When minted, this NFT unlocks an invitation to a private meet and greet with Jonathan at his flagship store or an exclusive signed and numbered print of a sketch from the upcoming runway collection.
View this post on Instagram
Designer Kim Shui aims to bring all women together through her designs, championing their uniqueness. Channeling this celebration of the self, Kim's NFT is symbolic of power and resilience. "My NFT is inspired by a celestial dragon, a repeated motif we frequently use and that is core to our brand. It's symbolic of good luck, strength, and longevity, and we chose to use a mix of gold and jade to represent this," states Kim.
Once obtained, Kim Shui's key gives users the chance to unlock tickets to the Kim Shui runway show on September 12 or a custom hoodie, designed by Kim, which also incorporates the brand's signature dragon emblem.
View this post on Instagram
The final key in Afterpay's Keys to NYFW collection was designed by The Blonds, a brand that emerged from the effervescent New York City nightlife scene. The luxury brand's vibrant collections are captivating and glamorous, usually adorned with glimmering crystals or bold metallic elements. The Blonds' exclusive NFT follows suit as well, "Inspired by our Spring/Summer collection, our key is meant to unlock the fun, freedom, and glamour of NYC nightlife. It's all about excess style!" designers Philippe and David exclaim.
The Blonds' NFT can potentially unlock an invitation to The Blonds' luxurious NYFW afterparty or a signed copy of the brand's forthcoming book, "The Blonds: Glamour, Fashion, Fantasy."
View this post on Instagram
Having launched on August 23, the limited-edition designer NFT Keys sold out in record time with the majority of consumers opting for the utility of an exclusive IRL experience with their favorite designer. More than $20,000 was raised in support of Free Arts NYC which will use the proceeds of the sales of the NFTs to bring art and mentoring programs to children in underserved communities throughout New York City. Stay tuned for more exclusive Afterpay x NYFW programs, which you can discover at this link.