Meet Jeremy Fall, the Celebrity Restaurateur Who Sees Food and Today's Tech as Cultural Unifiers
The "Probably Nothing" creator redefines what it means to be a "cultural icon" after having launched and sold 14 restaurants by age 29.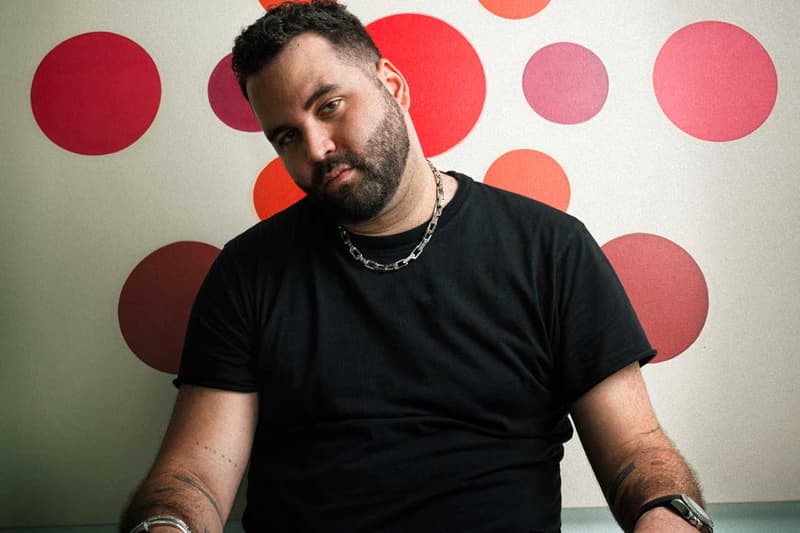 By age 27 celebrity restaurateur Jeremy Fall had launched five restaurants across Los Angeles, California, and Chicago, Illinois. His recipes and restaurants have been featured on national television programs, including Diners, Drive-Ins and Dives, Guy's Big Project, Going Off the Menu, Home & Family, and Food Network Star – earning him a spot on Forbes 30 Under 30, Food & Drink list in 2020.
Growing up in Los Angeles, Fall helped manage a cafe that he, his mother, and late stepfather lived directly above, immersing himself into food and hospitality until he was 16-years-old.
Wanting to carve out his own path, Fall had a vision to do something different with his passion for hospitality – one that brought people together and created conversations that weren't found in traditional restaurants.
Food.
"I have always loved the context around food, more than food itself, which got me thinking how I could do food and restaurants my own way," Fall told Hypebeast in an exclusive interview.
The "Chef" Beyond Food
Through food, Fall has made it his mission to define what it meant to be a "cultural icon" in a world that now revolves so heavily around technology that aggressively pushes to leave the confines of our physical world behind.
"Why couldn't I integrate other components of culture that we see everyday?" he reminisced.
"Think about Elon Musk, who has carved himself out as a cultural icon. People think of Musk as Elon Musk – they don't think of him as just a CEO or an entrepreneur, right? The reality is that most people associate him as having created Tesla, but he didn't. He's just the CEO and shareholder. So, it's interesting to think about why people associate the things they do, and I wanted to use that in carving out my own path of what it means to be a 'chef' beyond food."
At 24-years old, Fall had already opened three bars throughout Los Angeles – Genesis, Golden Box, and King Eddy Saloon, only to then open his first restaurant two years later – Nighthawk: Breakfast Bar – a novel concoction of breakfast food and late-night dinner & cocktails.
The pop-up certainly made a name for itself throughout Hollywood, being named as one of the "Hottest Bars from Coast to Coast" in North America by Eater, and even appearing on Guy Fieri's Diners, Drive-Ins and Dives. With food as today's most universal craft, Fall decided to take the food and hospitality business model and apply it to the world of entertainment and branding.
"You're using food as a cultural unifier for people to come together, which allows you to (essentially) do anything you want with it as a base. For me, that's when I started telling people that I wasn't actually in the restaurant/food business anymore – I was in the brand and entertainment business."
Still credited as the first chef and restaurateur to sign with Jay-Z's entertainment company, Roc Nation, Fall continues to leverage his drive for musical collaboration with his passion for food.
Last year, he partnered with Grammy-winning artist, Miguel, to executive produce and co-star in his first series, Beats for Breakfast, which aired on Facebook Watch. Each episode features Fall cooking a recipe, bringing food to life, as Miguel simultaneously creates new beats and music next to Fall in the kitchen.
"Miguel would make a beat, and we'd make a breakfast dish. The show was really to highlight the parallel between how things are constructed between producing music and producing food," he explained.
Describing his recipe as his "restaurant's mixtape," Fall says partnerships with musicians like Miguel and other talent like Quincy Jones, Vic Mensa, and Search Talent have all helped him continue to curate different dining experiences.
"This was my formula for how I wanted to rewrite the rules, every single time. Making restaurants fun, with artists featured on dishes, alongside dishes and integrating these individuals into the design of the menu that customers eventually had to put their eyes on."
Today's society has become so fixated on attaching labels to everything to help better comprehend purpose and meaning, which Falls admits has been challenging for him on a personal level:
"I envy people who can define themselves with one term, especially now in this Web3 space.

For example, when people ask me what I'm doing for a living, they start by asking me if I own restaurants? No, I sold them in 2019.

Oh, so you've had restaurants, are you still a chef or cooking? I've never considered myself as a 'chef,' but sure, if you had to label it.

So, you're doing NFTs…are they food NFTs? No.

And it becomes this whole dance around this idea of how I would define myself, and truthfully, I don't know, but do I really need to?"
"…when I create anything, it's an idea that must have some type of commercial viability and familiarity behind it – where I can bend the rules and have some fun within those four walls. For example, for a restaurant to work, you have to have your tables, chairs, and certain menu items like the caesar salad and chicken sandwich – because at the end of the day, it's a business. In looking to bend the rules, it becomes a cool, creative challenge in finding that balance of 'too commercial' and 'innovative,'" he continued.
Fall's desire to collaborate with musicians allowed him to curate the perfect menu of experiences for his customers, hidden in plain sight.
"I wanted to make these artists create outside of what they're traditionally known for. So, Robin Thicke, for example, curated a brunch playlist; Quincy Jones sketched a piece of artwork on the wall, Search Taken created a lamp of recycled Yamaha keyboards; Vic Mensa created a 3D art piece on the computer of an atom bomb exploding, and Brandon Boyd (Incubus) and Jaden Smith did some paintings. And when you walk in, it's not right in your face, but it's about creating that conversation and peeling back those layers as you sit down to enjoy your meal. Food has to be good to a certain degree – it doesn't have to be the best food you've ever had."
Cooking Up His Latest Recipe – "Probably Nothing"
For tech enthusiasts, Fall's cooking and entrepreneurial skills now extend to his latest recipe – "Probably Nothing" – which he launched in January, helping bridge together two worlds that have their own vision for what "creative innovation" should look like in 2022.
Like most who are seeking to understand how they fit into this new digital world – playing with the nascency of technologies like virtual reality, the metaverse, crypto, and NFTs – Fall is also trying to secure he and Probably Nothing's place on Web3's menu.
With 14 restaurants already under his belt, Fall now has his kitchen focused on helping cook the perfect recipe that he calls "Web 2.5" – a middle-ground where today's legacy brands and innovations can co-exist and co-create alongside Web3's innovators in a safe, secure, and fun manner.
For more on Fall and Probably Nothing's Web3 recipe, please visit Hypemoon.com.