Saudi Crown Prince Releases Further Details on the World's Longest Skyscraper City
The zero-carbon city will be 105 miles in length and house nine million people.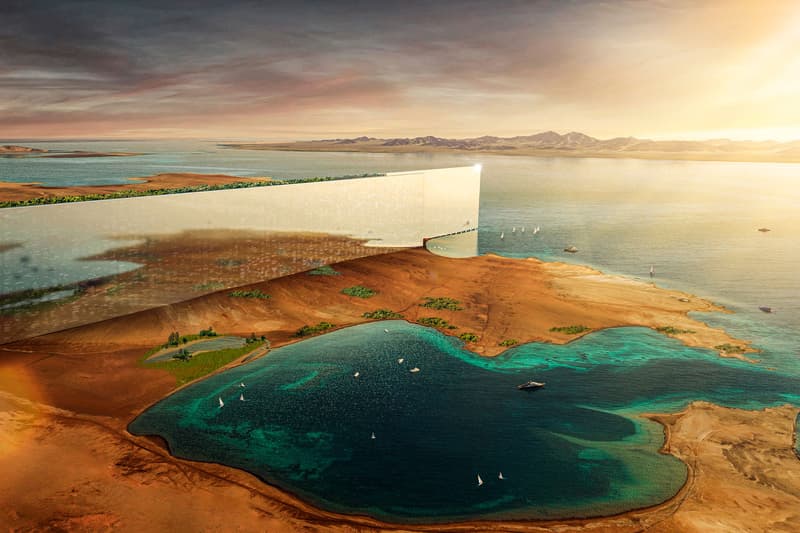 Further details of Saudi Arabia's zero carbon city have just been released. Announced by Saudi Arabia's crown prince Mohammed bin Salman, The Mirror Line is part of the NEOM project which includes OXAGON, a reimagined innovative manufacturing city; TROJENA, a global mountain tourism destination; and ENOWA, NEOM's water and hydrogen company. The rough cost for the completion of the NEOM initiative is somewhere close to $1 trillion USD with the skyscraper costing $500 billion USD alone.
Designed by Morphosis Architects, The Mirror Line is made up of two mirrored buildings that run parallel to one another. This will be the world's longest skyscraper at 105 miles in length, 500 meters in height, and just 200 meters in width. Said to be one of the most efficient cities once complete, the city will run on 100% renewable energy, have a population of close to nine million, and prioritize people's health while preserving 95% of NEOM's land. End-to-end transportation time inside of The Mirror Line will also take just 20 minutes.
The Crown Prince added: "We cannot ignore the livability and environmental crises facing our world's cities, and NEOM is at the forefront of delivering new and imaginative solutions to address these issues. NEOM is leading a team of the brightest minds in architecture, engineering, and construction to make the idea of building upwards a reality."
NEOM has this linear community set for a 2030 completion date.
#SaudiArabia ?? plans to construct two parallel skyscrapers up to 1,600 feet tall and stretching for 75 miles across mountains and feature high speed rail, a sports stadium, a yacht marina, and huge facilities.

- ' The Mirror Line ' will house around five million residents. @WSJ pic.twitter.com/jbkYFAUeyI

— Mohammed Alhamed (@M7Alhamed) July 24, 2022
Saudi Arabia's Mirror Line: "A depiction of the Mirror Line, which will bisect a mountain range"#SaudiArabia #MirrorLine pic.twitter.com/WzMyaXuzcI

— Wealth Nodes (@Wealth_Nodes) July 23, 2022
In other design news, Schmidt Hammer Lassen to build the world's tallest timber tower.