Joey Bada$$ Admits Eye Damage Injury Was an "Excuse" to Leave Logic's "Everybody's Tour"
Noting that it taught him "a valuable lesson."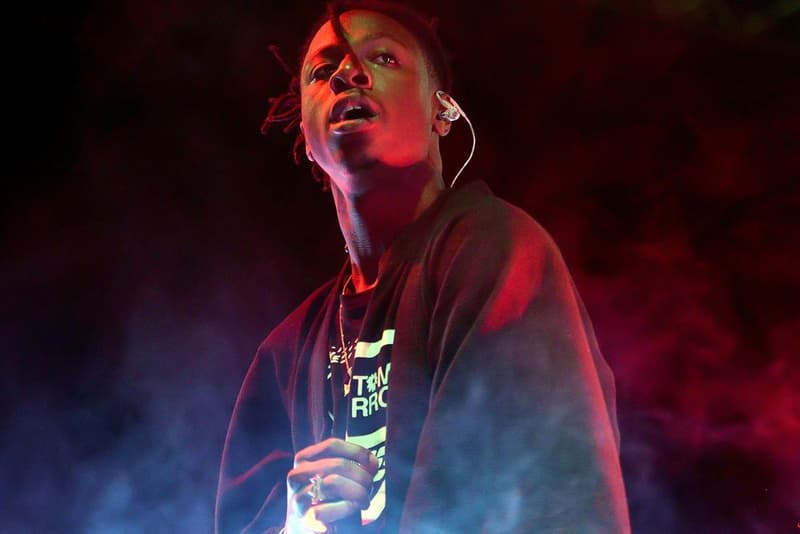 Joey Bada$$ took to Twitter to reveal that he just rode with the rumors of his eye injury in 2017 in order to leave Logic's "Everybody's Tour."
The artist opened up about the lie after he received backlash for his comments regarding Lizzo's recent lyric change on "Grrls." In response to a tweet that read "Not the n***a who looked directly into the sun during a solar eclipse sharing an opinion with boldness," Bada$$ replied, "Yes it is I, and I still see the world much better than you do."
He went on to explain the situation in separate tweets, "Speaking of solar eclipses, you know I never got any type of eye damage from that solar eclipse shit that 'happened'. I just really wanted an excuse to be off the Logic tour. Blogs literally created a story and I went with it because it was convenient for me at the time." Bada$$ continued, "But it was also funny to see how gullible people are. It taught me a valuable lesson, whatever the media puts out in unison, people will simply believe. Even if the source isn't validated. Scary world."
Despite coming clean, the artist clarified that he does not have beef with Logic nor think badly of him. "And logic is my n***a btw. I ain't with no logic slander," he tweeted. "The tour just wasn't serving me well at the time."
Logic's "Everybody's Tour" featured Bada$$ and Big Lenbo as opening acts, and took place across 29 dates in North America.
Yes it is I, and I still see the world much better than you do. https://t.co/tY5zikMlS8

— BADMON (@joeyBADASS) June 14, 2022
Speaking of solar eclipses, you know I never got any type of eye damage from that solar eclipse shit that "happened". I just really wanted an excuse to be off the Logic tour. Blogs literally created a story and I went with it because it was convenient for me at the time. (Cont)

— BADMON (@joeyBADASS) June 14, 2022
(Cont.) But it was also funny to see how gullible people are. It taught me a valuable lesson, whatever the media puts out in unison, people will simply believe. Even if the source isn't validated. Scary world.

— BADMON (@joeyBADASS) June 14, 2022
And logic is my nigga btw. I ain't with no logic slander. The tour just wasn't serving me well at the time.

— BADMON (@joeyBADASS) June 14, 2022
In related news, Logic also clarified whether he dissed REASON on "Vinyl Days."