Remembering Takeoff: 10 of the Rapper's Hardest-Hitting Verses
The Migos rapper led with measured lyricism and a rhythmic flow.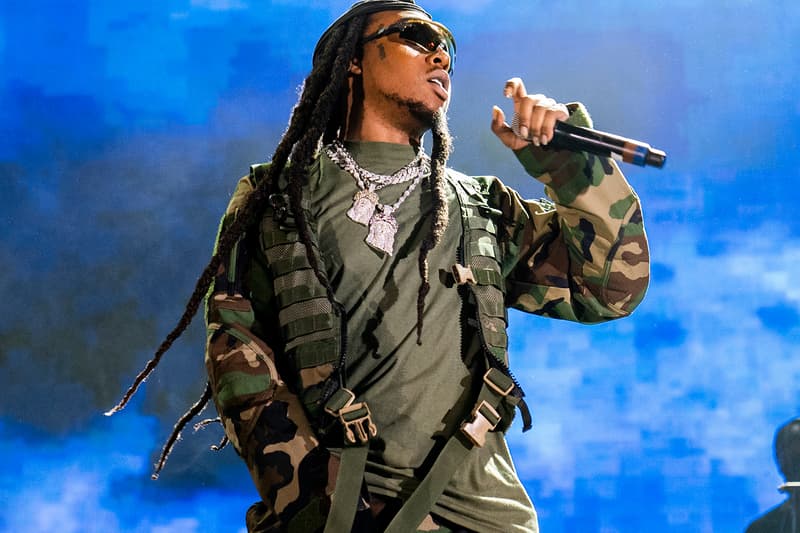 Takeoff was the quiet catalyst of the Migos, the glue between Quavo's flamboyance and Offset's bluntness. Thoughtful and precise, he was a rapper's rapper — the member of the group who had the most intricate take on the "triplet" flow that they popularized, rhyming three syllables over one beat while stuffing between nine and 12 syllables in a single line.
He could stack, chop and remix the flow he popularized at ease too, as indicated by his vicious LA Leakers freestyle ahead of the release of Culture III in 2021. Having a ghostwriter was a foreign concept to the rapper born Kirsnick Khari Ball, as he's listed as a lyricist on nearly all of Migos' tracks — meaning he wrote his own bars.
In tribute to Takeoff's skill, influence and impact, we've rounded up 10 of his most hard-hitting verses below.
Quavo and Takeoff – "Hotel Lobby" (2022)
"They some cannibals (Eaters) / They like to get geeked, drink a whole bottle, wake up and repeat (Damn) / She took a lil' (Shh), mixed it with the (Chill out) / Now she said she seein' 3D (Wow)"
Produced by Murda Beatz, Keanu Beats and Aguilar, "Hotel Lobby" arrived as the first single from the duo's Only Built for Infinity Links, where Quavo and Takeoff drop bars in their signature triplet flow. The song's release was followed by a music video inspired by the classic black comedy, Fear and Loathing in Las Vegas.
Quavo and Takeoff – "Big Stunna" (2022)
"She look like, "Who whip this is?" I said, "b*tch, I'm the owner" (Me) / I was sick before corona, ice cold like pneumonia (Ice) / It may not look like it but I know he got it on him (Shh, can't say that) / Lookin' at commas (Commas), might go get that OG Hummer for the summer (Hummer, summer, f*ck it)"
The chemistry between Quavo and Takeoff truly shines on this bouncy trap song. The uncle and nephew duo play off of one another for a classic tale of hip-hop braggadocio, showing off some of their recent purchases.
DJ Khaled – "Party" ft. Quavo and Takeoff (2022)
"I tell her activate, throw it back, it got an aftertaste / Patty cake, caught me six figures, a Patek face (Patek) / Went to school and hard knockin', I graduated / I can't f*ck with that b*tch, she be aggravated"
Earlier this summer, Quavo and Takeoff teased their debut as a duo, appearing on DJ Khaled's "Party" off of his 13th studio album God Did. Takeoff prefaces Quavo's verse with a few pre-chorus bars before returning with his own endorsement of partying hard and indulging in the finer things in life.
Migos – "Narcos" (2018)
"No monkey in the jungle block hot like a sauna (Hah) / Bustas knocking on me, tryna weave with anacondas (Fire) / Jumpin' in the water, tryna sneak across the Waterglass (Splash) / Gotta seek guards out, got me bit by a piranha (Ouch)"
Takeoff co-wrote "Narcos" alongside his fellow Migos members and DJ Durel. Appearing on Culture III, the song's lyrics refer to the Latin drug trade, with the title derived from the Spanish word for "drug traffic," "Narcotraficantes."
Migos – "Too Playa" ft. 2 Chainz (2018)
"I am a player (Player), and no, I ain't playin' fair (No) / Swear they shakin' like some dreads (Shakin') / Oh, that mean we got 'em scared (Scared)"
A cut from the second installment in the Culture trilogy, "Too Playa" posits the Migos alongside another Atlanta rap mainstay, 2 Chainz. Takeoff's verse arrives in the chorus, with his deeper-toned voice seamlessly cutting through the higher pitches of his fellow Migos.
Takeoff – "Casper" (2018)
"I let her ride the Wraith (C'mon), but she wanna ride the face (Nah) / Ain't give her the car, but I gave her 30K so she can slide and slay (Slay) / These n*ggas be talkin' 'bout double R Rolls, but that is 2008 (C'mon) / Beep, beep, double R backin' up, get out the way (Get out) / Reclinin' seats (Recline), pressin' one button, massagin' me (Massage me)"
Takeoff only released one solo studio album during his lifetime, 2018's The Last Rocket. The project was met with widespread critical praise thanks to the rapper's dexterous approach to lyricism on songs such as "Casper," "Infatuation" and "I Remember."
Takeoff – "Last Memory" (2018)
"I met the b*tch at Coachella (Coachella) / If she knew, tell her she'd probably do better / But can I get a E for effort? (E) / I prayed to God to wash my sins (God) / Nothing formed against me, not a weapon (No weapon) / Ask Him where do I begin (Where?)"
Another cut from Takeoff's solo LP, "Last Memory" quickly became a fan-favorite among listeners for its demonstration of a more introspective side of the rapper. Takeoff reflects on still feeling tied to Atlanta's street life in spite of his ascension to fame.
Gucci Mane – "I Get the Bag" ft. Migos (2017)
"Back ends I count in my sleep, on fleek / Hundred K spent on a Patek Phillippe (Phillippe) / B*tch, I'm a dog, eat my treat (Hrr) / Hop out the frog and leap (Leap)"
For his 11th studio album, Gucci Mane tapped Migos for a feature on one of the project's lead singles, "I Get the Bag." The track interpolates Migos' own "Slippery" — which featured Gucci Mane. Offset was noticeably absent from the track, as he was incarcerated at the time of its recording.
Migos – "John Wick" (2015)
"When I travel, put it in my travel kit (grrah!) / Rick James, I'm rich, b*tch (rich, b*tch!) / Momma told me I'm a walkin' lick (momma!) / The trap game is Madden, no need to ask Madden / I just hit the plug with the hitstick (boom!)"
Paying tribute to the fictional character John Wick, Migos dropped this Deko-produced track on SoundCloud as they revved up for the release of their 2013 YRN mixtape. While "John Wick" is absent from streaming services, circulating only second-hand on sites like SoundCloud, it's home to one of Takeoff's earlier, tougher verses.
Migos – "Fight Night" (2014)
"If you know me, know this ain't my feng shui / Certified everywhere, ain't gotta print my resume (Takeoff) / Talking crazy, I pull up, andale / R.I.P. to Nate Dogg, I had to regulate"
On their fourth mixtape, No Label 2, Takeoff uses the song "Fight Night" to pay tribute to the late artist Nate Dogg, who rose to prominence in California's hip-hop scene in the 1990s as a member of the rap supergroup 213.
View this post on Instagram