Latest VeeFriends Collab Taps Luxury Eyewear Brand Vintage Frames
The limited edition release also marks the grand opening of the brand's Miami location.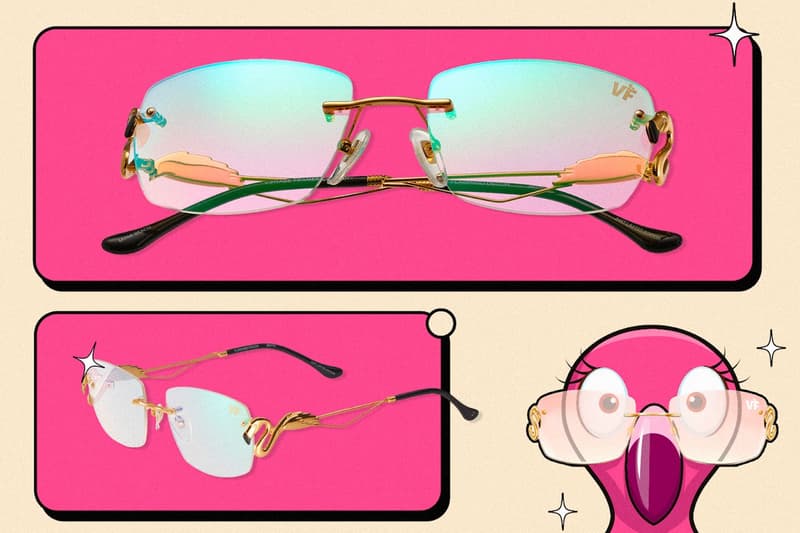 When it comes to collaborations in the NFT space, VeeFriends is quite possibly unmatched, having recently worked on offerings with department stores like Macy's, releasing limited edition bottles with Whisky brand Johnny Walker, and premium merch offerings with designers like Kim Shui.
The most recent collaboration to come as a result of its dynamic intellectual property (IP), is a pair of limited edition "Forthright Flamingo Sunglasses," made possible in a carefully curated partnership with iconic eyewear brand Vintage Frames.
VeeFriends x Vintage Frames
"I got a DM from Gary," said Vintage Frames Founder Corey Shapiro, explaining how the collab came to be.
He added that "sometimes DMs are ridiculous things, sometimes they're nudes, and sometimes they're business — and I didn't think he was sending me a nude."
Shapiro shares that the collaboration has been a long time in the works, citing several revisions being the main reason for the lengthy process but that they wanted to make sure every detail was spot on and that a ton of care was put into the final product.
The History
Vintage Frames has become an iconic name in the cultural realm of luxury eyewear. The brand was started by Shapiro in 2008, blending elements of streetwear, luxury fashion, and pop culture into the curation and collection of classic-inspired frames from around the world.
His store quickly gained the attention of cultural icons like Rick Ross, T-Pain, Mac Miller, Pharrell Williams, 2 Chainz, Wale, and hundreds of others.
"We don't just fit frames to your face, we fit frames to your personality" shared Shapiro in a YouTube video on the collaboration.
Shapiro shared that while the average optical company has roughly 10 different lenses, Vintage Frames has over 420 different custom lenses which they use to enhance and customize vintage designer frames.
The CEO explained that its vault of frames is essentially the "complete history of eyewear — some people might have one or two pieces, we own the whole commodity."
Brands represented range from Balenciaga, Chanel, and Dior to Nina Ricci, Christian Roth, and more — all from the early 50's to the mid-2000s.
The Collab
The Forthright Flamingo Sunglasses by Vintage Frames mark more than simply a limited edition release, the collaboration also marks the brand's grand opening of its Miami location during Art Basel. Which will be located inside Pharrell's The Goodtime Hotel.
"I'm always looking to do creative collaborations that bring value to the community and I'm a big fan of what Vintage Frames has been doing," shared VeeFriends CEO Gary Vaynerchuk, adding "to me, Vintage makes some of the coolest frames in the world. Obviously, the flamingo just felt perfect, just exactly the kind of character, that Miami vibe. Miami is having its moment. It just feels like a really perfect collaboration for the character and the brand. And I need a cool pair of sunglasses to rock anyway!"
Staying true to Web3 and rewarding early adopters, holders of the VeeFriends Series 1 Forthright Flamingo will be eligible to claim one pair of the sunglasses per NFT owned as well as "first-in-line" access to the opening of the Miami storefront on December 1.
Opportunities to purchase the sunglasses will also be available via the Vintage Frames Website — with the triple 24K gold platted frames coming in a variety of sizes and priced at $155 USD before tax and shipping.
This latest collaboration is yet another testament to the breadth of scope that VeeFriends IP holds, from successfully executing card games, plush toys, sneakers, and now eyewear with one of the most iconic brands in the industry.
For more on web3 news,Deadmau5 to launch a mobile NFT scavenger hunt at Art Basel, where music meets the metaverse. 
Read more at www.hypemoon.com