Lauren Amos and the CDG x Nike Cortez Platform for HYPEBEAST's Sole Mates
The founder of Wish and Antidote riffs on her love for the chunky Swoosh collab and Atlanta's fashion scene.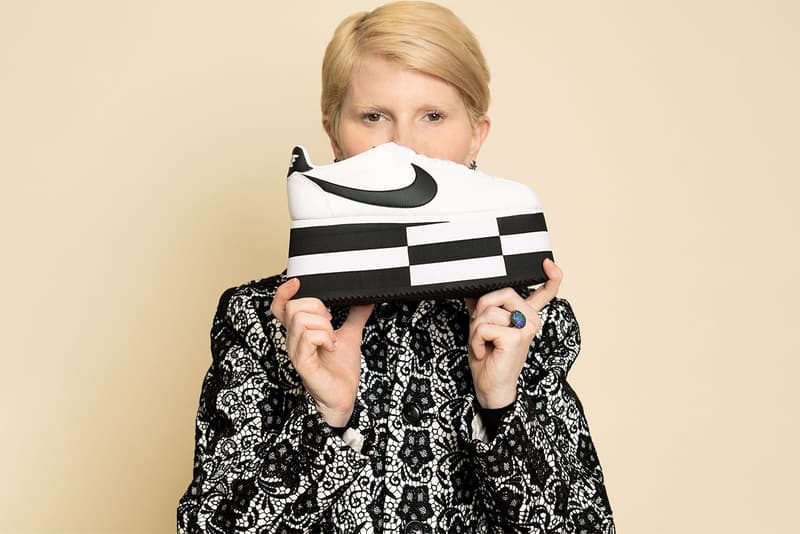 Lauren Amos lives and breathes fashion and footwear. If you peruse her Instagram, you'll notice that many of her outfits serve as Kodak moments: she often adorns herself in getups so opulent and expressive that you'd think she was making her way to the Met Gala. Thanks to her entrepreneurial spirit, she's found a way to morph this passion into a profession by opening Atlanta-based retail shops Wish and Antidote — the former a hub for streetwear and sneaker fanatics, the latter catering to luxury aficionados.
Sneakers have played a significant role in Amos' life since she was a little girl growing up in Columbus, Georgia. Unlike most OG sneakerheads, she wasn't intrigued by kicks because she played sports or was galvanized by Michael Jordan's signature line with Nike, more so because she adopted her father's taste for design. Having been well-traveled and exposed to various forms of art from a young age, Amos quickly developed an appreciation for sneakers and their aesthetic details, materials, packaging and stories. And so for her Sole Mates feature, it was only right that she chose a sneaker that embodies her personal style and attitude: the COMME des GARÇONS x Nike Cortez Platform.
HYPEBEAST sat down with Amos to discuss what the chunky Swoosh collab means to her, how Junya Watanabe's Fall 2004 runway show shifted her perspective towards fashion and her commitment to serving the communities of Atlanta.
What got you into sneakers?
I was more fascinated with the design and art side of sneakers than the sports aspect. A lot of it had to do with the fact that I grew up around art since my dad was an art collector. I remember Nike collaborating with amazing artists like Stash and Futura. All of those releases were super interesting to me and made me appreciate great design.
I traveled to Japan a lot growing up too, and saw how everything from their designs to their packaging was all on a different level. Making friends in New York that owned sneaker stores helped me dive deeper into the culture as well. I always noticed that guys were really about the sports side of things, and I never had a Michael Jordan story that got me excited. It wasn't until I spoke to those guys about things like colorways, materials, packaging, storytelling — things that I would nerd about — that I would be able to connect with them.
What was sneaker culture like growing up in Columbus, Georgia?
Fashion and sneakers were not prominent in my city. I went to a prep school where rich kids would rock Vasque boots and Patagonia because they wanted to look more hipster. It was a nightmare. My mom would shop for me at Goodwill and I'd always cut clothes up and rework them to my liking. My grandma was the most fashionable person in my hometown. She'd always match her shoes with her purse and lipstick, and would attend Ebony fashion shows and read Vogue.
What brands and silhouettes were you into growing up?
I loved Nike, and my favorite silhouettes were the Air Max 90 and the Blazer.
"They make me taller and I literally feel more powerful when I wear them. If I know I'm not feeling good about myself, I can just put those on and it's like, watch out."
If someone scrolls through your Instagram, they'll notice how prominent fashion and style are in your life. When did this love for fashion start?
There was so much self-expression in my household. My dad was a huge collector of American Impressionism art, and when we'd go on trips we'd always look through various paintings and architecture. Those conversations around materiality and craftsmanship eventually translated into clothing. However, I didn't really realize that until I saw Junya Watanabe's 2004 Fall show — and that's when I went from making my own stuff and buying from Goodwill into transitioning to luxury fashion. I finally felt like I had arrived, and I can't even begin to tell you what it did to me physically. I hadn't even seen Rei Kawakubo's work yet, but after seeing that show I was a different person.
You chose to highlight the CDG x Nike Cortez Platform for your Sole Mates selection. What about this shoe resonates with you?
I remember seeing this sneaker on the CDG runway for the first time and being absolutely blown away by it. It reminded me of when people would stack Converse soles on top of each other. Everything about it is just incredible. I have both bottom soles, and the striped soles in two colors. They make me taller and I literally feel more powerful when I wear them. If I know I'm not feeling good about myself, I can just put those on and it's like, watch out.
Were you already a fan of the Cortez before this collaboration?
Yes. However, I also have a lot of respect for certain sneakers and the cultures that embrace them, and in some cases I have so much respect for them that I'm not sure that I'm the one to wear them. The Cortez can be somewhat intimidating because I don't ever want to look like I'm trying to be something that I'm not or appropriate anything. It has a really rich history and it's an amazing silhouette that's clean and simple. When I saw it stacked on top of stripes, I felt like it was something made for me because it felt authentic to who I am. It's an everyday type of sneaker for me.
What's your favorite way of styling these?
I actually really love styling these with dresses, especially with tights. I once wore them with an amazing pink COMME des GARÇONS runway piece and red tights and I loved that look.
Not all of CDG's Nike collaborations are crafted for the same audience. Do you think that aspect gives their collaborative pojects more appeal?
There are some CDG collaborations that I don't own, and I think that's because I still try to chase the feeling of going with my gut and wearing what I feel best in.
The women's sneaker market has drastically changed from "shrink it and pink it" to the biggest collaborations being offered in small sizes and kids' sizes. What're your thoughts on this progression?
When I first started out, it was definitely challenging. I wear a size 5-5.5 in men's and back then there was no such thing. I was following sneaker culture but since there was no social media back then so you had to find everything by word of mouth or look through magazines. It was sort of exotic and similar to club culture. But I've definitely seen the change. There's more inclusive sizing, more female collaborators and more women are getting hired to design so it's come a long way.
"I used to think that maybe Atlanta was slower, but now I realize Atlanta is on its own path. It's not looking at the other cities for certain things to determine what's cool, we're doing our own thing."
What inspired you to start Wish?
When I bought Wish in 2004, it was actually a failing raver store that I eventually turned into a sneaker store. I didn't really know what I wanted to do with my life so I just stayed there, ended up becoming a sales manager and eventually the marketing person. The beginning was very slow at first, but once I brought my business partner Julie on, it just took off. There's just a bigger market now for sneakers and streetwear culture in general, and more specifically in Atlanta.
Atlanta is known for creativity — as indicated by the amount of rappers, artists and everything in between that come out from the city. What is it about Atlanta that you believe creates these types of people?
It's funny because people used to say to me, "I'm sorry, where do you live?" and "Do you guys drive tractors?" They were condescending about the South and a lot of times people think Atlanta is behind the curve. I used to think that maybe Atlanta was slower, but now I realize Atlanta is on its own path. It's not looking at the other cities for certain things to determine what's cool, we're doing our own thing. The people here want to be seen and they want to wear fashion. They want something crazy and they want to express themselves. They want to be educated around fashion.
What can a consumer who's never been to Wish expect and what do you think separates your retail experience from the rest of the industry?
What makes Wish so great is that we know that we're contributing to retail culture in Atlanta and helping it grow. We're constantly engaging with the community and trying to do things both from a nonprofit and retail standpoint, whether it be through the events that we do in the store, the listening parties for musicians that we host, the block parties we throw or the sneakers that we release. We have so many stories of people coming into our store who made connections, went on to work for us, were inspired to start a brand and those stories make it valuable.
What would you like to accomplish with Wish and Antidote in the next five years?
I just want us to continue to perfect our craft whether it's in one store or multiple stores. One thing that I loved about colette was that it was only one store and they found all their success through that. Right now, my focus is on Atlanta because I love this city.
Why are sneakers and their stories important to you?
I love that I have so many memories with sneakers. It doesn't matter who you are or where you came from: if you're wearing a pair of sneakers that I like, we can have a great conversation and get along. That's the power of fashion. There's very little politics or religion in it. It's a very democratic, emotional and amazing thing that brings people together.