Enrico Pasi and His Suicokes for Hypebeast's Sole Mates
From Lanvin collabs to injection mules, this is what makes Suicoke one of the coolest footwear brands around.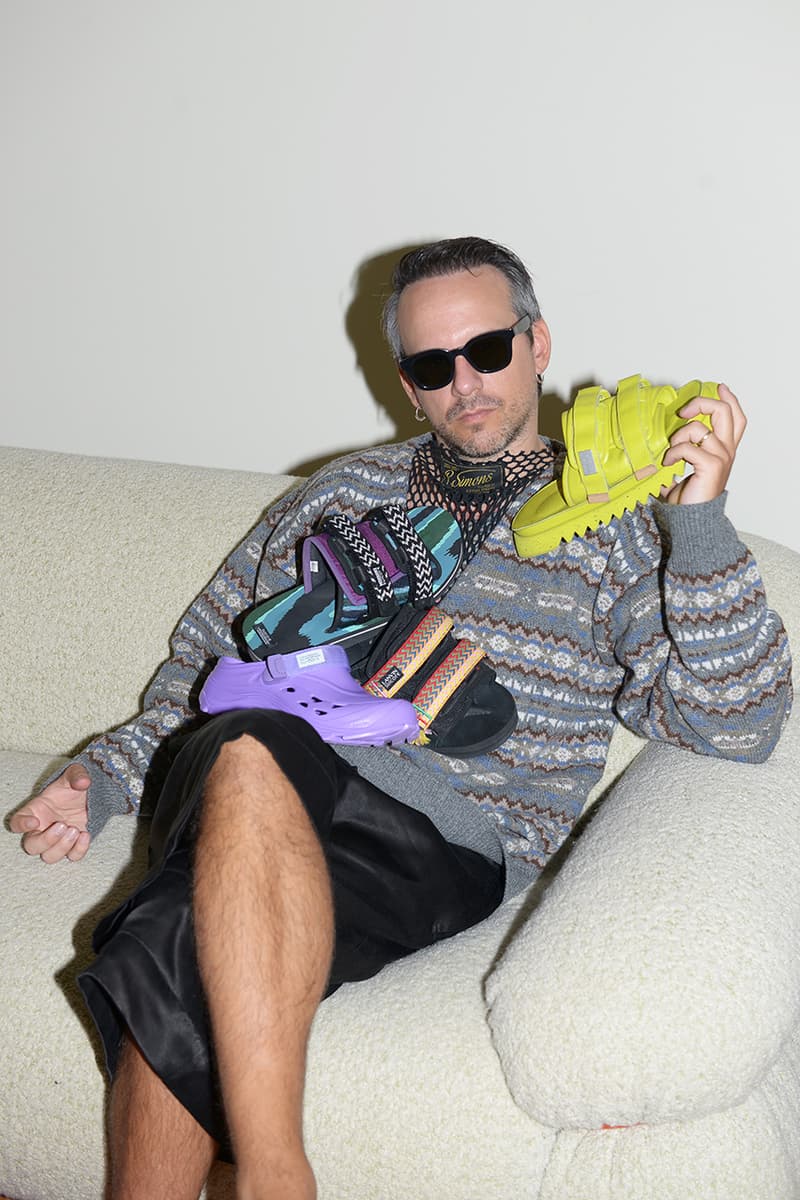 Enrico Pasi and His Suicokes for Hypebeast's Sole Mates
From Lanvin collabs to injection mules, this is what makes Suicoke one of the coolest footwear brands around.
There's an air of mystery about the Japanese footwear brand Suicoke. Headed up by a discreet – almost anonymous – team in the East, little is known about the imprint other than it's a collaborative powerhouse. This is where its Global Brand Director, Enrico Pasi, comes in.
Laidback Japanese sensibilities and a clientele that possesses a penchant for wearing Suicoke footwear all year round – socks or not – combined with big-name collaborators including Lanvin, doublet, Missoni, Marsèll, OVO, Wacko Maria (the list goes on), has resulted in Suicoke entering the mainstream. Yet, despite its ever-growing popularity, it somehow remains to be a name on the tips of the IYKYK crowd's tongues, and only theirs.
Why? Because while the mainstream might have adopted Birkenstocks and Crocs over the course of the pandemic, Suicoke didn't push its styles in the same manner, trying to get into every stockist. Nor did it try to bring anything to the market en masse – instead opting to carry on pushing the understated and underappreciated ethos that makes it one of the coolest footwear brands to rock right now.
In this week's issue of Sole Mates, Hypebeast spoke with Pasi about just exactly what he gets up to at Suicoke and, of course, his favorite pairs. Read on to find out more.
Hypebeast: What got you into footwear?
Enrico Pasi: I've always thought that footwear completed the outfit. It's a fundamental part of my wardrobe. I always consider it as the key piece. I have a memory of being a teenager, around the age of 13 or 14 I was very into grunge music – Nirvana, that kind of vibe. I was obviously very into Vans and Converse, they were very grunge, and I remember Kurt Cobain was always wearing them. I was connected to a very fascinating part of the sneakers; a kind of phenomenon that was the deterioration of the shoe, when they become dirty and you start to write on them or paint them to make them more personal.
For me, sneakers connected to music and I connected with that message. I didn't have a normal pair of shoes, I had my shoes. Unique.
Do you think this kind of understanding helped you to define the career you have now?
Definitely, yes. It's funny when I see the same attitude [that I had] on some kids today. Back in the day when Virgil Abloh started to tag shoes; this phenomenon is attached to childhood and it's great to live this message as an adult. I wanted a unique shoe and I still want that now.
In its own way, Suicoke is also quite a niche brand.
I always joke with my wife about wanting to go into places that sell unique shoes or objects, but the majority of the time that's not connected to fashion. It could be workwear or utility. I find this really attractive, when something is very unique. Suicoke was very unique in the beginning, people asked us what we were wearing – what is this kind of chunky slider? Many people look for a reason to wear something, I just answer: "Because I like it."
And what is it that you do at Suicoke?
I am the Global Brand Director, which means I look at the overall strategy of the brand – for marketing, sales, and collaboration. We're a very unique brand, we don't have any competitors. We can say there are competitive items within many brands, but I don't think we have a direct competitor.
The customer knows what they want – Birkenstock, Suicoke, et cetera.
The other brand started with a more mass-market approach. You can still find this brand everywhere. But, you cannot find Suicoke everywhere. Also, the price point we have is at least two to three times higher than the other brand, so the audience needs to be keen to buy into our standard.
"I didn't have a normal pair of shoes, I had my shoes."
You've had some incredible collaborations from Lanvin to Tom Wood, Needles and more. How do you choose who to collaborate with?
We don't have a specific way of choosing our collaborators. We do have targets; let's say we want to be more in the womenswear segment I'll find what's cool for us there. It often happens by brands writing to us and we get to choose – and we're lucky because not many brands get to choose from that many [potential] collaborators. What I always want is to open the mind of people, to surprise them.
When I started the collaboration game in 2015, we started with streetwear collaborations. BAPE, Stüssy; it was very streetwear because it was the only scene that was open to collaborations. They already knew about collaborations, so they weren't afraid to buy into sandals, unlike the general customer.
Right now, we've broken the wall – we're the wall between sandals and everyday shoes – and now we get collaboration requests from music, games, sports, food. I just think, "wow." In every area people understand the importance of doing something with a sandal, meaning everyone considers the sandal a normal product like a shoe or a boot. When I choose a collaboration, it's to try and break a piece off of this wall.
My goal is to do a collaboration with a brand that's afraid to work with a sandal.
And what makes the Lanvin collaboration so special to you?
Lanvin is very special because we mixed our Moto silhouette with its core sneaker. It's two kinds of worlds: French luxury sneakers with Japanese sliders. Together we created this new kind of silhouette. Lanvin's Curb is chunky, and our Moto is chunky, so together it's very, very chunky. Massive on the foot. These two work together in a really nice combination, and it completely matches our DNA and Lanvin's DNA.
On the flip side, you're also showing the injected mule some love.
I brought this [to Sole Mates] because, honestly, to do this shoe was such a long journey. Compared to a normal sandal, in terms of cost and the engineering process, this is way more challenging. It took more than a year to do.
We completely flipped our mental creativity. Our production is also completely different.