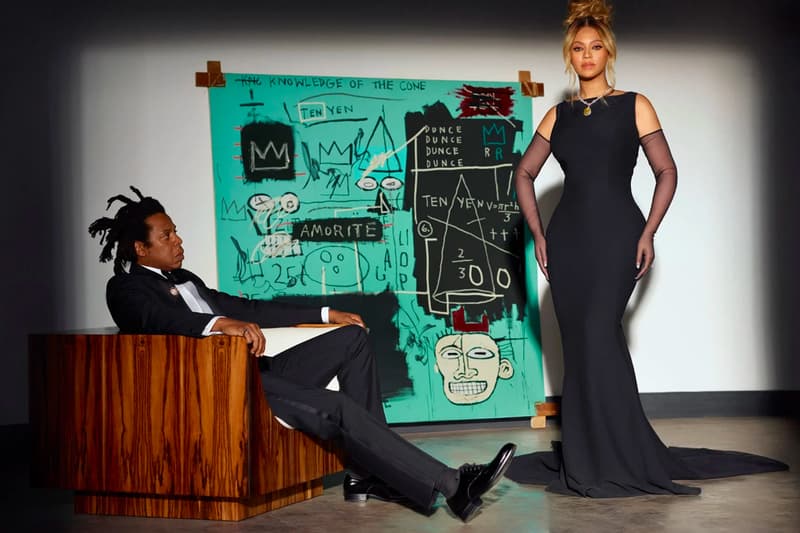 JAY-Z and Beyonce's Tiffany Ad Upsets Basquiat's Friends and Collaborators
"It's really not what Jean was about," Alexis Adler stated.
---
JAY-Z and Beyoncé's latest Tiffany & Co. ad campaign has surprised a great number of eyes across the world which showcased the couple side by side with a never before seen painting by the late Jean-Michel Basquiat. While most of the world is astonished by the work of art, close friends and collaborators of the iconic artist have stressed their dismay at the display.
The American luxury jewelry company obtained the artwork entitled Equals Pi and released a statement to WWD justifying the purchase. Regardless of how the company has framed its reasoning, controversy and questions have been raised as to the commercial use of the historic piece and presumption of the artist's specific interest in the "Robin Egg" blue.
As per Basquiat's friends who have created close ties with the late artist through work and living together, the idea of their loved one inspired by Tiffany's is deemed impossible.
"I'd seen the ad a couple days ago and I was horrified," Alexis Adler who lived with Basquiat from 1979 to 1980 told The Daily Beast. "The commercialization and commodification of Jean and his art at this point—it's really not what Jean was about."
"Unfortunately, the museums came to Jean's art late, so most of his art is in private hands and people don't get to see that art except for the shows. Why show it as a prop to an ad?" continued Adler. "Loan it out to a museum. In a time where there were very few Black artists represented in Western museums, that was his goal: to get to a museum."
Al Diaz, the other half of the street art duo SAMO with Basquiat, said in the interview, "People think that his association with luxury was because he was impressed with that shit, but he couldn't care less." He added, "It's not just about wearing an Armani suit. If he wore it, it's because he could buy it and f*ck it up, it wasn't because the stitches were fabulous or well-made."
Stephen Torton, who worked for Basquiat for many years by helping him mix paints and frame numerous paintings, stated through a post on Instagram, "I designed and built stretchers, painted backgrounds, glued drawings down on canvas, chauffeured, travelled extensively, spoke freely about many topics and worked endless hours side by side in silence. The idea that this blue background, which I mixed and applied was in any way related to Tiffany Blue is so absurd that at first I chose not to comment. But this very perverse appropriation of the artist's inspiration is just too much."
Elsewhere in the world of art, doctors in Brussels are prescribing museum visits to help with pandemic-related stress.