McLaren Capitalizes as Lewis Hamilton and Max Verstappen End Italian Grand Prix in Terrible Crash
A 1-2 finish from the Woking team for the first time in 11 years.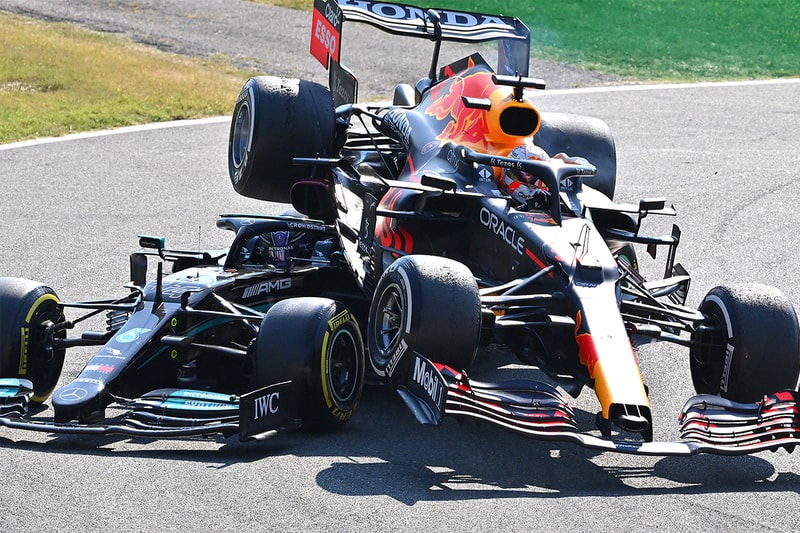 Formula 1 world driver's championship title contenders Lewis Hamilton and Max Verstappen ended their run at the Italian Grand Prix in a terrifying crash, giving McLaren's Daniel Ricciardo and Lando Norris the opportunity to take home the first 1-2 finish of the season.
With just five points separating the Mercedes and Red Bull drivers, the duo battled each other to the wire following subpar pitstops from both teams. As Hamilton rejoins the pit straight on lap 26, both cars go side by side into the turn one and two chicane at Monza and make contact as they exit, launching Verstappen's car into the air and above Hamilton, ultimately resulting in the former landing on top of the latter as they come to a stop. Fortunately, neither driver was seriously injured largely thanks to the halo, but both were taken out of a crucial race in the season early.
With the two top contenders being eliminated, McLaren capitalized on the opportunity after the team qualified P2 and P3, with Ricciardo regaining his race lead and Norris overtaking Charles Leclerc's Ferrari after the race resumed. The duo finished the race with a 1-2, win, marking the first of the season overall and the first for McLaren since 2010. Bottas made his way through the grid from starting last after an engine penalty to reach the podium in third place.
View this post on Instagram
View this post on Instagram
Elsewhere in sports, Daniil Medvedev has ended Novak Djokovic's historic calendar slam dream at the US Open.