ICONS: The Patek Philippe Nautilus
The rise and hype of Patek's suave masterpiece.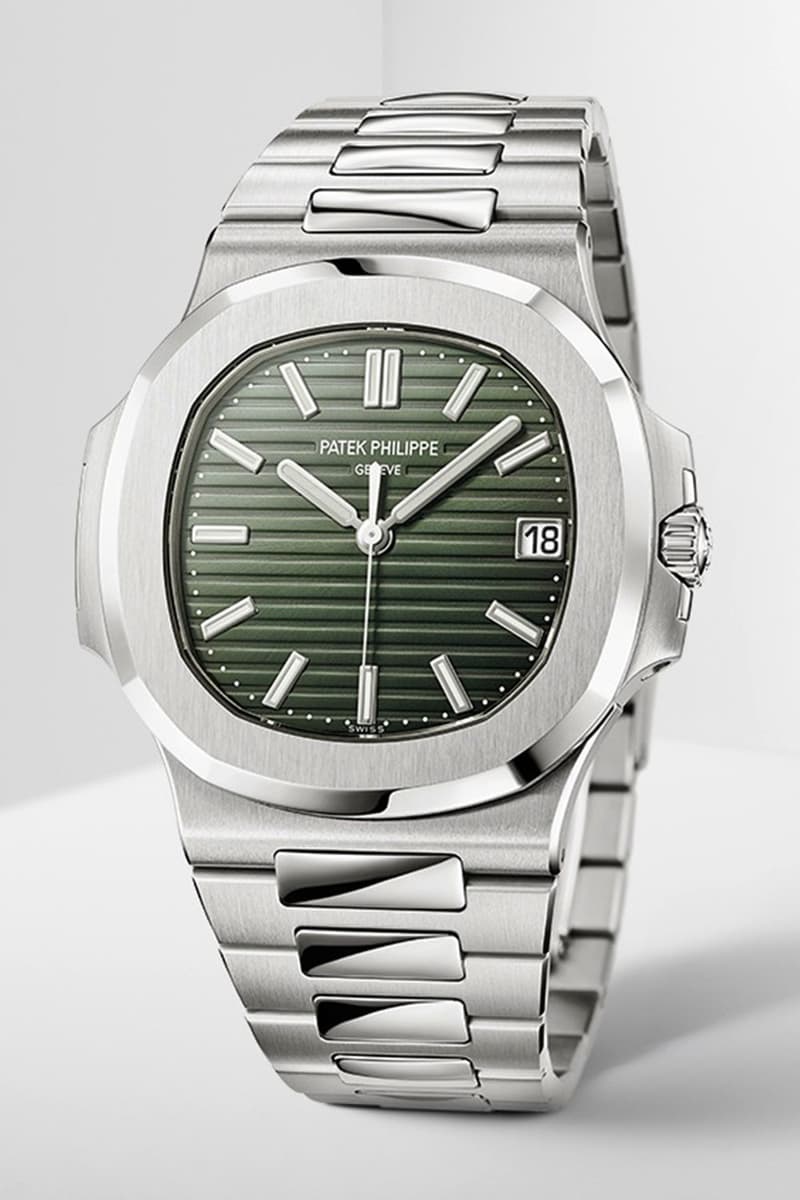 ICONS: The Patek Philippe Nautilus
The rise and hype of Patek's suave masterpiece.
Some watches have their moment in the spotlight, but some are still fresh decades later. As part of the ICONS series, HYPEBEAST looks into the continued relevance and significance of these cornerstones of watch collecting.
---
Patek Philippe's Nautilus, in its simplest guise at least, is the ultimate Hype watch of the 21st Century. A watch that has pushed the concept of supply and demand further than anyone could have imagined possible, leading the brand's president to do the unthinkable and retire the reference entirely which, in the short term at least, has only increased demand.
But the Nautilus' rise to fame and fortune hasn't happened over night, taking 45 years to achieve its unheard of commercial critical mass.
It's impossible to talk about the Patek Philippe Nautilus without first mentioning the Audemars Piguet Royal Oak. In 1971, Audemars Piguet boss Georges Golay needed something to stave off the withering effects of the Quartz Crisis, that was caused by the advent of cheaper, technically superior quartz watches from Japan and was decimating the mechanical watch industry in Switzerland.
The story goes that Golay called Swiss/Italian watch designer Gérald Genta at 4pm the afternoon before that year's Basel trade show opened and outlined his vision for a luxury steel sports watch with an integrated bracelet, a request rumoured to have originated from his colleagues in the trend-setting Italian market. Genta, who had worked with AP since the 1950s, accepted the job and delivered his design the following morning.
Even then Genta was the most prolific watch designer of the 20th Century, having sold his designs to everyone from Van Cleef & Arpels to IWC, driving door-to-door like a travelling salesman. During his career he would be responsible for Universal's Polerouter, Omega's Constellation and Polaris, the Pasha de Cartier , IWC's Ingenieur and the Bulgari-Bulgari among hundreds of others. Genta worked at a breakneck pace and once claimed to have created 100,000 watch designs during his 50-year career, which is probably only a mild boast.
View this post on Instagram
The jury is still out on whether the Royal Oak was an immediate success, the established wisdom suggests that it took many years for it to be accepted. By the standards of the time, its 39mm case was huge and its price tag new was ten times that of a Rolex Submariner.
However, sales records suggest that the first one thousand 5402-Series A watches sold within the year and several companies very quickly followed suit with their own luxury steel sports watches, including Baume et Mercier with its Riviera in 1973 and Girard-Perregaux with the Laureato in 1975.
But the most important addition, one that would turn a trend into a fully fledged category and continue to inspire imitators well into the 80s (and then again in the 2010s) came in 1976 with the Patek Philippe Nautilus.
View this post on Instagram
In 2009, just two years before his death, Genta described in an interview how he bottled lightning a second time, creating what would become the Nautilus over lunch at the Baselworld watch fair in Switzerland. Asking a waiter to bring him paper and pencil, Genta completed his first sketch whilst watching a team from Patek eat their lunch at another table.
Genta infused his design with nautical themes, basing the hinged, front-loading bezel on a ship's porthole, knowing that Patek's then owner Henri Stern, who would hand over control to his son Philippe a year later, had been an all-round athlete and regatta-winning sailor in his youth. The watch was even named after the mysterious submarine from Jules Verne's 20,000 Leagues Under the Sea.
View this post on Instagram
London-based watch collector, Ahmed Rahman (@time_mechanic) owns several Nautilus models and is still in awe of Genta's creativity.
"If you look at the influential watches from that period, the Royal Oak, the Nautilus, the Bulgari Bulgari, it's crazy, the amount of designs this genius of a man had, he would just churn them out. What is interesting is that brands like Patek were able to recognise the importance of that and accept it, because [the designs were] very much going against the grain in those days, especially for established watch houses like AP."
"He was doing it all the way through because it was his passion, he was such a creative soul. He was the Karl Lagerfeld, the Yves Saint Laurent of the watch world. He was a true watch designer and until he came along, that position was not there."
Creative he certainly was, after selling his eponymous watch brand to luxury Singapore-based watch retailer The Hour Glass in 1996, Genta moved to London with his family, splitting his days equally between watch design and painting. But he had a secret, Genta was not a fan of watches. He loved creating them and devising new ways to display the time but disliked the constraints of constantly being reminded of the time. He also disliked "oversized" watches, which is the ultimate irony given the size of his two most famous creations.
The first Nautilus, the Ref. 3700/1, went even further than the Royal Oak with a 42mm stainless steel case, which would have set it even further apart from the tastes of the time, and eventually earned it the nickname "Jumbo". The watch featured just hour and minute hands and a date window on its signature ribbed dial.
View this post on Instagram
In contrast to the blunt force strategy employed today, where new collections are forced into existence by brands, the Nautilus sat in isolation for the next five years, before being joined in catalogues by the Ref. 3800, a more realistic 37.5mm scaling down of the 3700 with the addition of a central seconds hand, almost certainly demanded by customers and Patek's sales agents.
Throughout the 1980s and 1990s, Patek Philippe experimented conservatively with the Nautilus, trying out different combinations of metals and introducing the quartz-powered Ref. 4700, a 27mm version for ladies.
"It's a question of demand and supply," says Rahman. "Originally the Nautilus came along as a standalone watch, you have to keep in mind that when these steel watches first came out they were not very popular. It was not really necessary for Patek [to develop it into a collection]. To build a collection around a certain piece requires resources, requires production capacity, a lot of research and development. It's easier said than done."
"The first complication in the Nautilus came in [1998] with the 3710 with a black dial, Roman numerals and a comet as a power reserve. That was my first ever Nautilus, going back 20 years ago, it's my father's favorite watch now, he wears it all the time, he's had it ever since. I love that watch because it goes so much against the grain of the first Nautilus, it has a [flat] jet black dial, Roman numerals, the comet which, in all fairness, doesn't tell me whether it's fully wound or not. But hats off to them for coming up with something like that."
View this post on Instagram
But the biggest development for the Nautilus was the Ref. 3712 in 2005, which combined power reserve, date, moonphase and small seconds in an uncharacteristically (for Patek at least) asymmetrical dial design that has gone on to become a favorite among Patek collectors.
It's difficult to see how the 3712 exists at all, given that it was produced for less than a year before being updated in 2006 as part of the Nautilus' 30th Anniversary celebrations. Even given its short production run the design was tweaked to allow for a second series. While earlier versions feature a power reserve with three red dots, an extra dot was added to create the 'four dots' reference. Perhaps it was Patek gauging customer reaction to the idea of a Nautilus housing multiple complications, in either case it remains one of the rarest Nautilus models in circulation.
In 2006, Patek Philippe overhauled the Nautilus entirely, with 37xx and 38xx lines making way for 57xx designations, which saw the existing two-part case replaced with a new, slightly larger 43mm three-part design. There hadn't been a Jumbo-sized time and date Nautilus in steel since the 3700 was retired in 1990, something Patek remedied with the introduction of the now famous/infamous Ref. 5711.
View this post on Instagram
The anniversary also saw the introduction of what was not only the first Nautilus chronograph, the Ref. 5980, but was also Patek Philippe's first in-house automatic chronograph movement, the CH 28-520. Eventually, in 2018, Patek Philippe dropped a Nautilus perpetual calendar, the Ref. 5740G, a full 42 years after the arrival of the design.
"I was very happy when Patek came out with the Nautilus perpetual calendar," adds Rahman. "But I've always said it was 30 years too late."
Why had it taken Patek Philippe so long to flesh out a collection around its Nautilus design when, by contrast, Audemars Piguet had put a perpetual calendar inside its Royal Oak after just nine years?
Rahman points to the crossover nature of the Nautilus – part dress watch/part sports watch – as potentially having held made it a slow-burner sales-wise, with collectors perhaps more likely to choose more distinct sports or dress watches before arriving at the louche curves of the Nautilus.
Either way, Patek's timing in developing the collection couldn't have been better. Knowledge of watches and watch brands had begun to spread beyond geeky collector circles to a more widespread, mainstream audience thanks to references in TV, film and music.
"Around this time people were getting very interested in watches," says Rahman. "This was the period where brands like AP, Patek and Omega [Bond wearing an Omega sparked Rahman's interest in watches] were all getting mentioned more and more in popular culture, there was an audience that wasn't there before coming into the picture, not necessarily collectors, but people who liked these watches when they saw their favourite athlete or actor wearing it on their wrist or in some commercial."
While Rolex had played a leading role in pop culture, with countless cinematic appearances making them a household name, other brands were only just beginning to experience the value of appearing on-screen or becoming a song lyric. Patek Philippe has always officially vetoed product placement, which has largely precluded the brand from big-screen appearances. It just doesn't make sense for a prop master to buy an expensive watch when they could source a loaner from another, more willing brand for free. It's difficult to imagine that a watch as desirable as the Nautilus, has no notable film or television appearance.
Instead, Patek Philippe would be embraced by hip-hop, with high-rolling rappers not only having the means to buy their own watches, but also keen to flex and let the world know what they're wearing. As rap lyrics turned into shopping lists for the rich and famous, Patek is now right up there alongside Audemars Piguet as a chorus-worthy lyrical flex.
The Nautilus would finally get its moment in the spotlight as demand for luxury steel watches reached fever pitch. Supply of luxury steel pieces has always been limited because watch brands would much rather sell you a precious metal watch, the margins are simply more profitable. Once buyers realised that this supply wasn't likely to change, demand went through the roof.
Waiting lists for the Ref. 5711/1A-010 eventually stretched to eight years before being closed altogether when it became apparent that there was no way of fulfilling the orders. Prices for pre-owned pieces on the grey market began to change hands for several times the retail price.
Patek Philippe president Thierry Stern, whose 73m yacht is named after the Nautilus, was faced with a situation that was largely out of his control, having previously stated that he would not allow Patek to become a "steel brand". Rather than meet demand he decided to retire the 5711/1A-010 altogether, with the final 12 months of production devoted to a green-dialed swansong, the 5711/1A-014, a model designed to reward Patek's best customers.
View this post on Instagram
But the story of the steel 5711 had one more twist in its tail when a sealed 5711/1A-014 came up for auction within weeks of dropping. The watch hammered for $470,000 USD, shocking a sector that thought it had already seen it all.
"My initial reaction was that this is crazy, because it is a $30,000 USD watch and it sold for almost half a million dollars," says Rahman, who was one of the lucky few to take delivery of a green Nautilus. "You can't even call it a mark-up or a premium. From a purely commercial point of view there's nothing wrong with it. I've put my watches in auction for whatever reason, it's very normal in the watch collecting world, you chop and change all the time. What is very interesting is the price, it is a bit mind-boggling."
"What will be interesting to see is the next time a green-dialed Nautilus comes to the auction block, what kind of a price it garners. If it sells above half a million dollars, then you've got to say the hype is real."