Kyrie Irving Thinks the Nike Kyrie 8 is "Trash"
"I have nothing to do with the design or marketing of the upcoming Kyrie 8, IMO these are trash!" he stated in an Instagram comment.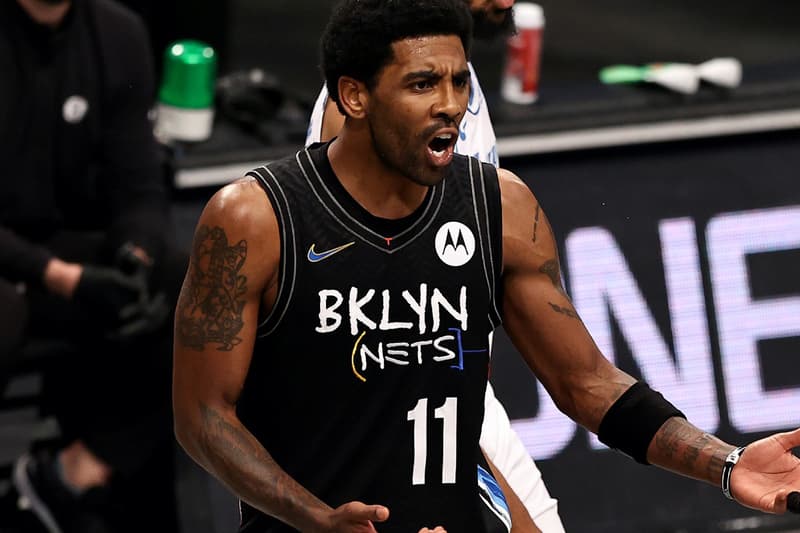 Mercurial Brooklyn Nets point guard Kyrie Irving is not happy with the Kyrie 8, his latest Nike signature shoe. Irving is so displeased with it, in fact, that after images of the style leaked he took to the comment section of a post from Nike Kyrie-focused Instagram account k11kicks to deride it as "trash."
As can be seen on the post linked below, Irving appears to be thoroughly displeased with his eighth Nike Basketball signature sneaker, stating that he "[has] nothing to do with the design or marketing of the upcoming Kyrie 8," and even emphatically dismissing the design, saying "IMO these are trash!". He also mentions that Nike plans to release the shoe without his say-so, and apologizes to fans of his line.
Irving is far from the first Nike athlete to be displeased with his sneaker: for example, Michael Jordan despised the Air Jordan 2 upon first glance and LeBron James demanded a complete rework of the LeBron 6. In the past, most disagreements between brand and athlete stay behind closed doors and are resolved by multiple rounds of sampling, ensuring a finished product that's satisfactory to both parties. However, in today's social media-driven world of sports, athletes have a louder and more public platform to air their grievances than ever before — and Irving clearly has no issue doing so.
Further complicating the matter, Irving's recent signature models have usually been released in the fall — meaning that the Kyrie 8 is likely well into its production phases already and cannot be altered. Another interesting twist is that Irving's past four signature models — the Kyrie 7, Kyrie 6, Kyrie 5 and Kyrie 4 — were all designed by Ben Nethongkome, a tenured Nike footwear designer with whom he boasts a close relationship. Was Nethongkome involved in the direction of the Kyrie 8? Did another designer take the mantle of the line? Only time will tell, as at the time of writing Nike has not issued any statement on Kyrie's comments.
If you're looking for more sneaker-related news, check out the latest installment of HYPEBEAST's weekly Best Footwear Drops series.