Watch 1,824 Drones Light Up the Sky at the 2021 Tokyo Olympics Opening Ceremony
Forming the official Tokyo Games symbol before shaping into Earth.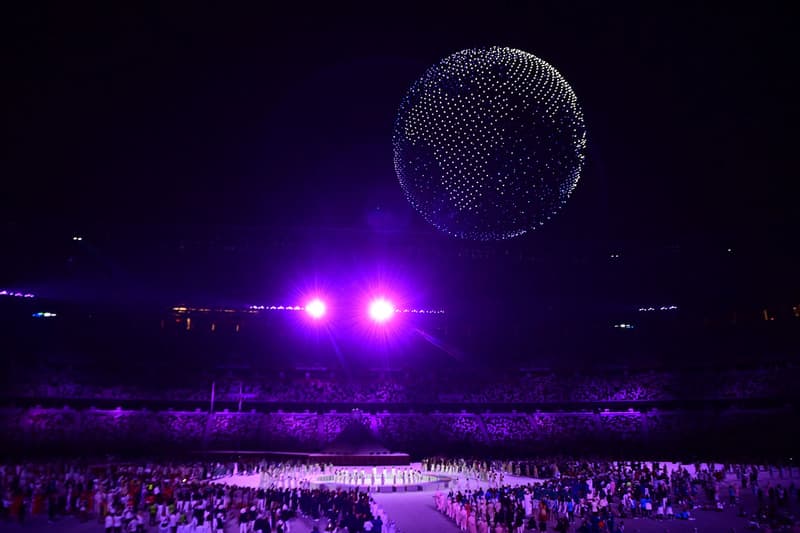 Though fans were unable to attend the opening ceremony for the 2021 Tokyo Olympics, Japan still managed to put on quite the show — complete with the parade of nations, which enlisted an orchestrated video game soundtrack, a performance with human Olympic pictograms and an awe-inspiring drone show.
Near the end of the opening event, a fleet of 1,824 drones rose above the stadium and illuminated the night, forming the official symbol of the Tokyo Games. The drones then smoothly transitioned into the shape of the Earth, shining the appropriate colors to map out each continent. A reworked rendition of John Lennon's "Imagine" then echoed across the stadium as the assembled drones slowly rotated in unison.
? Drone appreciation post! ?

1,824 drones light up the sky above the Olympic Stadium as the #Tokyo2020 emblem seamlessly becomes a revolving globe. ??#StrongerTogether #OpeningCeremony pic.twitter.com/mcGteqdJ7n

— Olympics (@Olympics) July 23, 2021
Drones have become a regular inclusion in Olympics opening ceremonies, though Tokyo's integration proved the unprecedented power of the advanced technology with a breathtaking spectacle like none before. The drones utilized Intel's "Shooting Stars" platform, as they did during the 2018 Games.
12 hours following the ceremony, the action will kick off with preliminary rounds of beach volleyball at 7 p.m. EDT on Friday evening (Saturday morning in Japan).
In other Olympics news, Kevin Durant is the highest paid athlete at this year's Games.