Angelina Jolie Reveals She Didn't Shower for Three Days Before Epic Live-Bee Portrait
Recreating the iconic 1981 Richard Avedon portrait with National Geographic.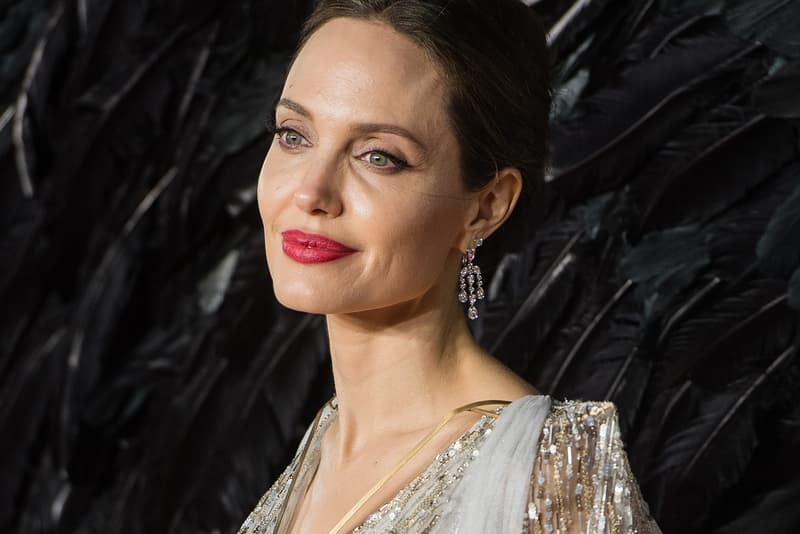 Details regarding Angelina Jolie's epic National Geographic live bee photo shoot have just been revealed. The photo in question was part of her efforts in bringing awareness to World Bee Day, climate change, and her plans with UNESCO and Guerlain for a "Women for Bees" initiative. "Women for Bees" looks to build 2,500 beehives and restock 125 million bees by 2025 with the help of 50 female beekeepers.
The photo by Dan Winters saw a swarm of live bees cover the actress — from face to torso — and was inspired by the famous photo by Richard Avedon taken back in 1981 — they even tracked down the same pheromone used 40 years ago to attract the bees for the portrait.
In the unveiling Instagram post and Nat Geo interview, it was revealed that Jolie was required to stay still for 18 minutes, received no stings, and was instructed to refrain from showering for three days.
An excerpt from the interview can be found below. To read the interview in its entirety, head over to National Geographic's dedicated page.
Indira Lakshmanan: You've been a champion for 20 years now for vulnerable populations, especially women and children. What's the link between at-risk people and bees? How do these causes of yours come together?

Angelina Jolie: A lot of the at-risk people are displaced because of climate change, or wars that may have sparked from a fight over dwindling resources. Having your environment destroyed, your livelihood stripped from you, is one of the many reasons that people migrate or are displaced or fight. This is all interconnected.

Pollinators of course are extremely vital to our life and our environment. And so we have to understand scientifically what happens if we lose them. This is something we can work to solve.

What's exciting to me is that instead of stepping forward and saying, "We are losing the bees, we have certain species that have gone extinct, are going extinct," we're coming forward to say, "Yes, this is how you have to protect." You have to be more conscious of chemicals and deforestation. But also, here are things different people can do. You don't even have to have land, but you can consider being a part of the solution. What's exciting is that we're coming at this with solutions [and] empowering women in their livelihoods.

IL: There are so many threats to bees around the world.

AJ: Sometimes a lot of these issues feel so overwhelming. But then there are these simple truths and we just stick to them. When we're losing species, animal or plant, it is destroying something. It is breaking apart the fabric of all the things that we depend on. We're all smart enough to know that these pieces are very, very interconnected and very crucial. I know it seems like I'm now working on bees, but really, to me, the bee and the pollination and the respect for the environment, it's all interconnected to women's livelihoods, [and to] displacement from climate change.

IL: There are some simple ways that every one of us can help—planting native vegetation, not using harmful chemicals in our own yards and community gardens.

AJ: With so much we are worried about around the world and so many people feeling overwhelmed with bad news and the reality of what is collapsing, this is one that we can manage. We can certainly all step in and do our part.

I don't think a lot of people know what damage they're doing. A lot of people are just trying to get through their day. They want to do good. They don't want to be destructive. They don't know which thing to buy. They don't know which thing to use. So I think part of this is wanting to help it be simple for everybody, because I need that. I have six kids and a lot happening, and I don't know how to be the "perfect" anything. And so if we can help each other to say, "This is a way forward, simple, and this is something you can do with your kids."

Young people are so educated, so aware. They are so conscious of the problems facing the world they live in. And they're being told to buy this or do this or don't touch that or don't drive that. They're overwhelmed. So one of the things we want to do is make this possible and simple [to protect bees and biodiversity].
In other entertainment news, J.J. Abrams says Portal movie is still happening.