Overpriced.™ NFT-Powered Hoodie Sells for $26,000 USD
The most expensive hoodie ever purchased at primary sale.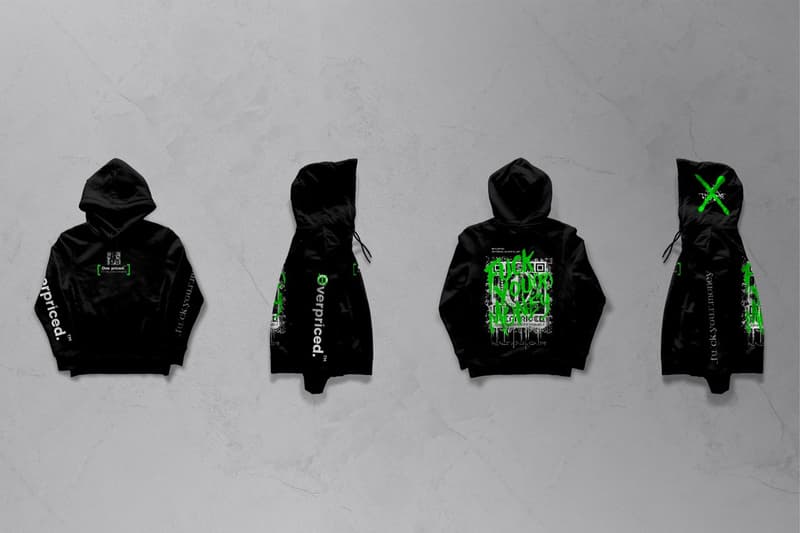 High-end clothing brand Overpriced.™ debuted its first NFT-linked hoodie, which sold for a record $26,000 USD at auction.
NFT stands for non-fungible token. HYPEBEAST wrote an in-depth explainer on the popular blockchain asset last month.
Overpriced.™ considers itself to be the "world's first true NFT-driven fashion brand." Their first physical clothing piece is linked to a "patent-pending scannable V-code," which allows a person to "wear, authenticate, and show off their unique NFT in public."
"If at any point the hoodie is lost, stolen, damaged, or sold, the V-codes can be invalidated and a new hoodie will be shipped to the new owner's address of choice, thus becoming the new authentic piece," the company explained. Essentially, it considers its pieces to "wearable art."
The brand's "First Edition" sold on NFT platform BlockParty on Wednesday for $26,000 USD. According to the designers, the drop represents "an evolution in fashion where the value is placed in the digital token and not the physical garment."
The company was founded by Adventure Club's Leighton James and Impossible Brief's James Zwadlo and Chris Levett earlier this year. Their Season 1 drop will consist of 25 NFTs paired with physical garments. Ten of the pieces will be sold at auction, while the rest will be divvied out to influencers.
"We are a group of artists looking to create art-powered crypto fashion that aims to challenge the conceptions of what luxury fashion is," James said.
NFTs have recently proliferated the art, music, gaming and fashion spaces. Gucci recently released its own AR sneaker, while virtual sneaker brand RTFKT Studios has dropped several digital pairs that can resell for around $5,000 USD each.