10 Stores to Visit When London Reopens
Everywhere to head on April 12.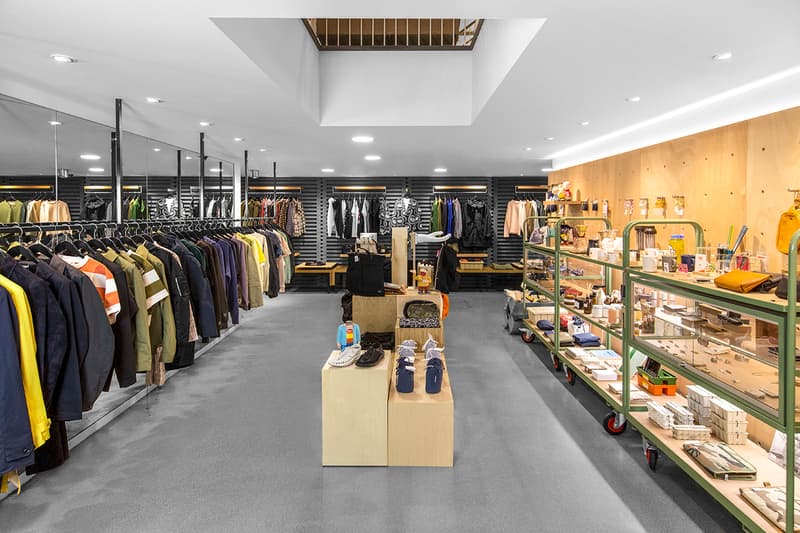 With confirmation that the UK's non-essential retail can open on April 12, stores across the country are getting ready to reopen their doors after a long winter. The UK entered lockdown on January 4, meaning that the upcoming reopening is the first time in over four months that retailers can open and customers can enter.
To coincide with the latest lifting of lockdown restrictions, HYPEBEAST has pulled together 10 of the best retailers from London, celebrating some of the capital's most important fashion, beauty and design locations.
Goodhood
East London stalwart Goodhood has firmly established itself as one of the capital's must-visit locations with its menswear, womenswear and homeware offerings. The retailer features a wide array of brands ranging from staples such as Dickies, Stüssy and Stone Island to high-end labels including Marni and various COMME des GARÇONS brands. Additionally, Goodhood is a key location for sneaker releases and its own collaborations with some of the brands from its roster.
Dover Street Market
Located right in the middle of London, Dover Street Market is an integral part of the city's fashion landscape. To celebrate the long-awaited reopening, the retailer is releasing exclusive new collections, unveiling installations and launching magazines. Highlights include exclusive new releases from Craig Green and Girls Don't Cry, Homme Plus and Givenchy installations, and the launch of Luncheon's "Lockdown Zine." As if this packed selection wasn't enough, the Rose Bakery will also be open for takeaway.
Browns Brook Street
Legendary London retailer Browns isn't just reopening on April 12, but opening a whole new store. The new Brooks Street location mixes fashion, fine jewelry, food and culture, with a restaurant led by Native. Stand-out features of the space include "The Focus" section — which can be moved around and transformed for activations — the "Shoe Room" for sneaker releases and an entire menswear floor. As stores reopen across the country after a tumultuous year, Browns Brook Street points to a new direction for retail.
Très Bien
When Malmö-based Très Bien announced it was opening its first international location in London, people across the city were understandably excited. Unfortunately, the grand opening in March 2020 coincided almost exactly with lockdown measures coming into force across the country. Since then, the Très Bien London store has been disrupted with subsequent lockdowns, but will reopen on April 12. Visitors to the Soho store should expect a diverse selection of brands ranging from Prada and Craig Green to Nike and adidas. Additionally, the store features Très Bien's eponymous line, including its recent ATELJE project, and its Sun Buddies sunglasses label.
Haeckels
Margate-based skincare label Haeckels opened the doors to its London flagship in March 2020, stocking its skincare, fragrances and candles. Over the last 12 months, the brand has continued to add innovative new products including its waterless shower gel and grown-to-order under-eye masks. When its Broadway Market space reopens, expect an expanded store, as well as more products and, eventually, more treatments on the soon-to-open first floor of the space.
Garbstore
Notting Hill's Garbstore is one of the best-known and best-loved retailers in West London. Since it was founded in 2008, the store has gained a reputation for its broad selection of brands, which covers everything from Brain Dead and Pop Trading Company to Japanese labels such as Kapital and NOMA t.d. As well as its multibrand offering — which also includes womenswear under its The Couverture sister store — Garbstore also stocks an eye-catching range of homeware products and its three in-house labels.
BookWorkShop
BookWorkShop only opened late 2020, before being plunged back into lockdown twice before the end of the year. The store is part of Earl of East, a London-based candle and home fragrance label. Departing from the brand's usual offerings, BookWorkShop features a space for creative workshops alongside a selection of books and magazines ranging from well-known titles to independent publishers.
NEPENTHES London
Best known as the group behind labels including NEEDLES, South2 West8 and Engineered Garments, NEPENTHES launched its London store back in February 2019. The store is located off-the-beaten track in London's Bloomsbury district, and sits on an incongruous side street. Expect the NEPENTHES store to feature pieces from its stable of brands — which also features AiE and Filphies — as well as regional-exclusive products and upcoming collaborations.
TwentyTwentyOne
Furniture and design store TwentyTwentyOne recently celebrated quarter of a century since opening, and is well-known across London as a key interior location. The selection of goods ranges from large furniture (including design classics like the Wassily Chair or the LC2 sofa) to smaller accessories and gifts from labels such as Vitra, HAY and Artek. Considering the reported surge in home improvements over the course of lockdown, TwentyTwentyOne is the perfect store to visit.
LN-CC
LN-CC is, rightly, considered an institution in London. As well as its carefully curated selection of brands including Gucci, Prada and Raf Simons, the store is known for its experiential design. Comprising individual product rooms, a library, record store, gallery and club space, the subterranean store can be accessed via buzzer at street level. As well as its impressive roster of labels, LN-CC also recently launched its "Conscious" edit that celebrates sustainable brands from across the globe.