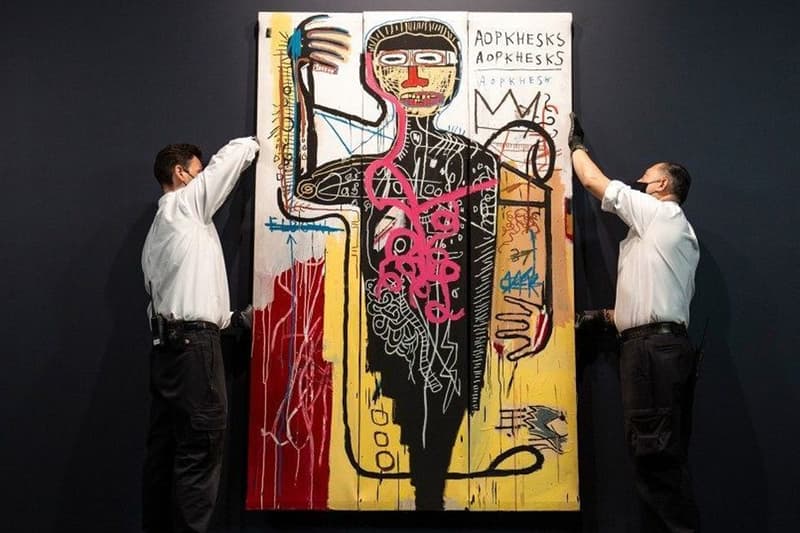 Sotheby's to Auction $35 Million USD-Estimated Basquiat Artwork
'Versus Medici' (1982) is expected to be one of the artist's most expensive artworks.
---
Sotheby's is set to auction a $35 million USD-estimated Jean-Michel Basquiat artwork in the coming months. If sold, the piece will be one of the few most expensive works by the artist.
The work is a 1982 painting titled Versus Medici that reflects a point where Basquiat was influenced by his time in Modena, Italy. As the title suggests, the artwork references the Renaissance-era Medici family, and it boasts a handful of signature motifs from the artist: a skeleton, a crown and scribbled words, to mention a few. Versus Medici was painted when the artist was just 22 years old — his paintings from 1982 are the most valuable in the market.
Sotheby's New York Head of Contemporary Art Grégoire Billault offered some context to the artwork in a statement: "In Versus Medici, Basquiat melds the political and art-historical as he consciously stages a reckoning with the Westernized ideal of visual culture and was intent on mastering and commandeering the accepted 'rules' of art history in order to break them."
Sotheby's Jean-Michel Basquiat Versus Medici auction will be on May 12.
In case you missed it, Basquiat's Warrior became the most expensive Western artwork auctioned in Asia.