Cassius Marsh: NFL Linebacker by Day, TCG Fanatic by Night
Cash Cards Unlimited features the rarest cards from sports to 'MTG' to 'Pokémon' to 'Yu-Gi-Oh!.'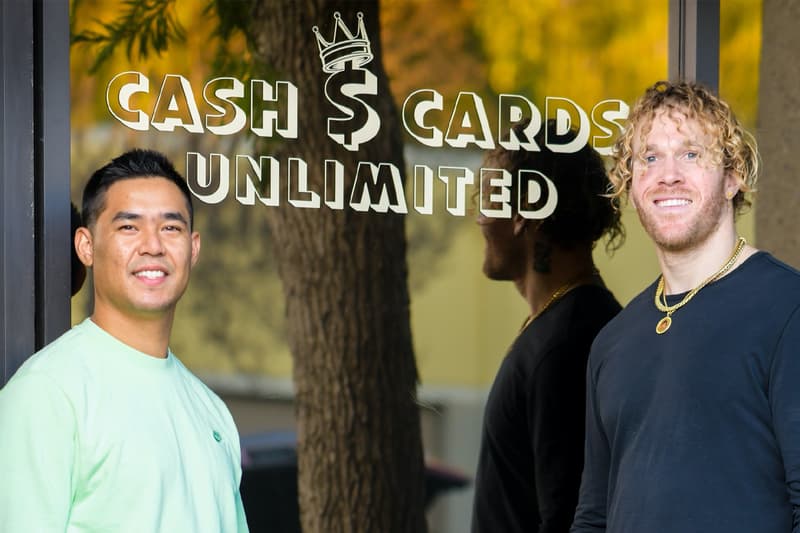 The future of collectibles and the phenomenon of trading cards of all forms have continued to skyrocket in 2021. Everything from sports to Pokémon, to Yu-Gi-Oh!, to Magic: The Gathering cards have exploded onto the mainstream market. Trading cards have made headlines with record-breaking sales, seeing single cards range from mere thousands to outrageous millions in pricing.
Cassius Marsh, a linebacker for the Pittsburgh Steelers, is amongst those sharing his love for collectible trading card games, such as Magic and Pokémon. In tandem with the growing market for card memorabilia during the pandemic, Marsh and best friend, Nick Nugwynne have decided to turn their childhood hobby into a full-blown business, while also fulfilling Marsh's lifelong dream to open up his own collectible card shop – Cash Cards Unlimited. Marsh, who started out with Yu-Gi-Oh! cards and Nugwynne, with Pokémon cards, have elevated their passion for trading and collecting to a whole new level.
Cash Cards Unlimited is based out of Westlake Village, California and Marsh, who grew up playing high school football a few minutes away from the town, is deeply rooted in the community. Known in the football world as a high-ranking NFL defensive tackle, Cassius Marsh is also considered one of the most recognizable personalities in the realm of Magic: The Gathering.
At a first glance, Marsh might not be what you expect from a card collector, but his impact in the card community is undeniable. As a part of the Magic community, which has crowned him, none other than "The Foil King," Marsh hopes to bring both new and veteran players together for shared experiences at the store. To Marsh and Nugwynne, Cash Cards Unlimited is not just a "side hustle," but an opportunity to grow the card community both locally and nationally. HYPEBEAST sits down with the linebacker-turned-collector to find out more.
HYPEBEAST: Can you give us a brief introduction of yourself and explain your connection to MTG? How did you start collecting?
Cassius Marsh: My trading card experience started pretty early. I got into Pokémon super early on just like most kids. I found Magic when I was around 11 years old. I walked into a trading card shop called Hidden Fortress in Simi Valley in my hometown and I was looking for Yu-Gi-Oh! and they said they didn't sell them, but they had Magic cards. Long story short, I learned about it there that day watching two guys play, and then I just fell in love with the game. So I bought 11 cards with $5 that my mom gave me, and then the rest is history.
Do you remember the first MTG card you ever got?
It was a seventh-edition card. There's nothing good about it. But it was rare and I really liked it but sadly, I don't have it anymore though. When I went to college, I gave away my collection and I just didn't think anybody would be playing when I was going to UCLA. But I actually ended up seeing some people playing Magic within the first couple months that I was there, and I was bummed I gave my collection away.
What is it about MTG that drives you to the game?
I got super addicted to Magic because of how competitive and interactive the actual game is. It was like game theory, and I was really challenged. I'm a really competitive guy, so it was just another way for me to be competitive. Plus, the arts of the cards are actually pretty incredible. There are so many great artists in the Magic community, so we get a little spoiled with some of these cards.
So word on the street is that people call you "The Foil King". Can you talk a little more about how you've gained this title?
I started building out a fully foiled Commander deck, which is the format I usually play that has 100 cards and one copy of each card per deck, except for lands. It just became something I started doing. I would show up to tournaments playing these completely tiered, built-out, max-rarity decks, and people are shocked by the decks. It's a cool response because for a lot of people they don't get to see all these cards a lot.
You said that you were driven to the competitive side of it. Is it safe to say that you do play competitively?
I don't as much. I think it's a mix…the hyper-competitive aspect of it is not fun if you're not prepared for it. I went to the Vegas GP almost four years ago now, and I was just doing it for fun. And, dude, I got crushed. Mind you, it was a really bad matchup for my deck, but I had a couple of displays, and I was just so sloppy, and the other guy was dialed in. If I'm going to go back to that I need to be prepared for it. I build competitive decks, but I haven't been playing competitive Magic.
I don't have a ranking within the pro tour or anything like that. But at some point, I would like to try. It's just a different form of Magic. I play ADH. Commander's a certain format and they have competitive formats for that. So I may get into it one [competition] at one time.
Strategy wise, do you see any similarities between playing in the NFL and the process of deckbuilding?
It's similar to film study. I'd say if you're preparing yourself to play football, it's more physical. But the actual sharpening of your skills is similar. When you're deck building, you're preparing for certain opponents based on what the meta is like, if you're in a competitive atmosphere. So I'd say yeah, from that standpoint, like film study and deck building are pretty similar.
Do you have a single MTG card and non-MTG card that is your most prized possession?
My favorite Magic card that I just love for the art and near and dear to me is called Misty Rain Forest. I had an artist named Johnny, he recreated the card for me and put me and my son in it. I keep it right next to my bed and it's a card that represents a place I would really like to go if I were to live in the wilderness. But, Magic: The Gathering-wise, it would be this great Timetwister card. It's one of the Power Nine cards. It's a good card, and it has a pretty hefty price tag on it now so it's cool.
Do you think we'll be able to see it on display at the shop or is this hidden away?
We had it on display, but we put it away because I went and saw the price change in some recent jumps. But if somebody were to come and ask about it, I would definitely go get it out of the safe.
So is there a particular card that you currently don't have right now that you are in the process of procuring or would like to have?
One card I really want to get my hands on at some point is the first edition Charizard. Another card I would like to get my hands on is an Alpha Black Lotus. I have other versions of that card, but just [would like to have] the first edition — especially, since Alpha is the first set from Magic: The Gathering. So those are just kind of like the two best, most rare, like, dopest cards. And I don't have one of either, so I definitely would like to.
Did you ever think that the market for trading cards would appreciate so much from the time that you started collecting 'til now?
I knew that the markets, especially for Magic, have been appreciating for the last 15 years — faster than gold very consistently. But I did not imagine that the trading card community in general, would just skyrocket like it has. Magic has taken a really big spike. Obviously, Pokémon has been monumental, sports cards have had a crazy resurgence, as well. People are also buying the old Harry Potter cards, the old Marvel cards. MMA cards are going crazy. Conor McGregor cards are selling for $50,000 or something like that. Golf…Serena Williams rookie cards…anything. It's wild.
Which MTG card that you sold turned the most profit? Do you remember the exact price?
We pulled Jeweled Lotus the other day. One of the Jeweled Lotus, full art foil is actually almost $1,000 now. The packs are usually $40. I pulled a lot of the newest sets called Cow Theme from Magic: The Gathering and one of the premier cards was super rare and went for $3000. We've pulled $15,000 cards, $10,000 cards, five to one, just so many, so consistently. When you buy these boxes, they almost immediately jump from $200 to $300 from the time that you're purchasing them and to the time that they're being delivered. You're already seeing appreciation on the asset.
What kind of cards have been popping off at the store?
At this point, I'm collecting everything. I just love trading cards in general. If I can get my hands on some Marvel, that would be sick. I've actually even looked into Harry Potter cards, but I think Dragonball Z. That stuff has been popping off. People love the new Dragonball Z stuff and I think it's the Dragon Ball Super that everybody's going crazy about.
Tell us about how you and Nick came around to opening up a store specifically for trading cards? What was the lightbulb moment?
Cassius: I had always been planning on opening a trading card shop, and it is a lifelong dream of mine. Nick, he's my best friend since high school and for the last couple years, he's been working for me and doing my off-the-field stuff. For the longest time, he was telling me he had this Pokémon collection at the house. And after we saw it and saw the jump on these cards, we knew we had to do something about it.
Nick Nugwynne: I posted one video on my Instagram, and it just blew up like crazy. So I ended up meeting with Logan Paul and a couple other guys that came in and looked at the collection and made some pretty big offers. That was kind of the "aha" moment and on top of that we actually really, really enjoy this.
Cassius: So TCGplayer, we actually just announced our sponsorship with them Friday at our grand opening. They're basically an Amazon for trading card shops. So you can send all your singles to them and all the cards that you don't want to have here in the shop because selling singles is super profitable, but it's a lot of work. I started that business just on the side doing that with TCGplayer, and it was then that I realized that a card shop could be the next step.
The store is located in your hometown. How has the community responded?
The community has been amazing to us and showing a ton of support. People who have followed me for a long time know me from Magic for years. We've had different people come through like guys who are sports breakers, some new to Magic: The Gathering. Some come in here just wanting to learn because they are interested in game theory. One of our customers mentioned it to one of our Magic guys and overnight, the guy built a deck for them and taught them how to play Magic. That's not the first time I've seen something like that. The Magic community does stuff like this all the time. It's been cool, man. It's been amazing.
What kind of community do you want to build with this physical store?
We always had our original plan to host gameplay here on for the standard Friday Night Magic. But because of the pandemic, people don't really have that option right now. So we have shifted the store into more of a showroom atmosphere, where people can come and they can break their packs open and do the live box breaks and get hyped. It's about having fun with breaking cards and sharing those types of moments. But we already created a pretty cool community. We have some guys that are on our Instagram Live and they have already created their own sub-communities, trading cards with each other.
"My ultimate advice would be to take care of your investments…If you're trying to collect, be smart about it and protect your cards."
Your collection is worth around $250,000 USD, if not more. But often true collectors would say that the real value isn't just about the number. Do you feel the same way when it comes to the value of your cards?
Definitely. I just love playing the game, building my decks. I definitely love the cards a lot more than the value, but obviously, the value of them doesn't hurt. I would never sell a personal deck that I built. But for other singles that haven't been put into decks, I would definitely sell if the right price came along. Except for if I did get my hands on a well-graded Black Lotus from Alpha; I don't think I would ever get rid of that card.
What is some advice you can give to first-time collectors, and where do you hope to take Cash Cards Unlimited?
My ultimate advice would be to take care of your investments. Do your research on what you're buying and just have fun with it. There are some cards out there that are really not worth anything. If you're trying to collect, be smart about it and protect your cards.
As for where I want to take Cash Cards Unlimited, I'd like to at some point, be the premier store across the country. I think that we are creating an amazing culture here, and we definitely want to expand and share the culture beyond the store. For now, we're just taking it day by day and having fun with it.