Here Are 2021's Best Chinese New Year "Red Pockets"
Celebrate the Year of the Ox with brands like Louis Vuitton, BAPE, Porsche, Audemars Piguet, and more.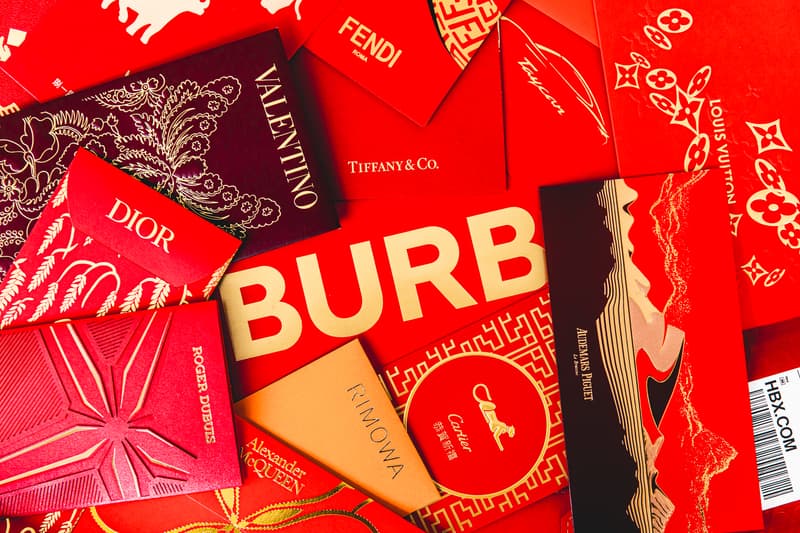 Another Lunar New Year, another round of red pockets. To bring you up to speed, the Hong Bao (紅包) as its called in Mainland China, Lai See(利是) if you're in Hong Kong, is a red envelope used to gift money to family and friends. Traditionally given out by banks, purchased at seasonal pop-ups, or custom ordered, the idea of a commercial red pocket entered the marketing radar of big fashion brands less than a decade ago. With the years of booming growth for China's economy, consequently spawning a new generation of nouveau richer consumers, it was only a matter of time before more brands caught on to the importance of recognizing the holiday celebrated by some 1.4 billion people.
The wholesome holiday gesture actually dates back hundreds of years with origins going as far back as the Qin Dynasty. Much like how the West has Christmas with family gatherings and presents, China witnesses the same thing where millions return to their home town, but rather than presents, you give/receive red pockets filled with cash — the gifter is usually your boss or someone from an older generation, where the receiver is typically either a child or someone with fewer responsibilities in life. If you're still confused, there is a great infographic by Molala for reference.
Having been covering the last few years of the red pockets that have found their way on our desks, this year has a clear distinction — less is more. Possibly due to the ongoing COVID-19 virus where the marketing budget has been trimmed and rerouted to more pressing aspects of the business (just recall how hard 2020 was for a lot of major brands), one begins to see why the presentation for the Year of the Ox is toned-down compared the previous years.
So here it is. This year's red pocket round-up. Have a scroll through the images below and let us know who had the best design.
Fashion Luxe
The usual suspects are all here. We appreciate the simplicity in going back to the roots in using traditional colors like red and gold. Valentino had the nicest premium touch with the switch from red to a nice rich burgundy over an intricate floral pattern. Labels like Hermès, Dior, Christian Louboutin, and Moschino playfully riff off of the Year of the Ox theme with patterns of the animal along with plenty of gold grass. Tiffany & Co. maintains its signature blue colors with its envelope box but incorporates gold and red in the form of brush stroke stampings and red-paper pockets.
Curveballs
These red pockets prove that anyone can get in on the action. McDonald's comes in again with multiple colorful envelopes. This is not the first time McDonald's has presented its take on red pockets (they were actually one of the first) and this collection of fast-food-themed envelopes is a testament to McDonald's prevalence in Asia. K11 Art Mall enlisted the artistic talent of Yu Nagaba, while K11 MUSEA tapped Daniel Arsham, with both the artists' signature styles covering the front of the pockets. Rounding off this section is a camera-shaped envelope from Leica and Porsche's envelope promoting its new all-electric Taycan
Editor's Picks
This section is where the creative juices really get flowing. Audemars Piguet delivers a three-dimensional paper cut-out box with further texturing via layers of tonal colors. A BATHING APE also makes a return this year with both a red Shark Hoodie-inspired design and a full-gold BABY MILO pocket. If color is your thing, CLOT, The North Face, and Rimowa all see vibrant uses of colors with a rainbow medley across individual envelopes, or in the case for CLOT, incorporated into a traditional woodblock graphic. AAPE sends good luck via a trio of soft Daruma dolls while HBX whimsically transforms its bubble packing envelopes into miniature, red versions for CNY.
In other Chinese New Year news, Nike adorns the LeBron 18 "Gong Xi Fa Cai" with symbols of good luck.