8 U.K. Menswear Brands You're Probably Sleeping On
A host of names are offering the best of British.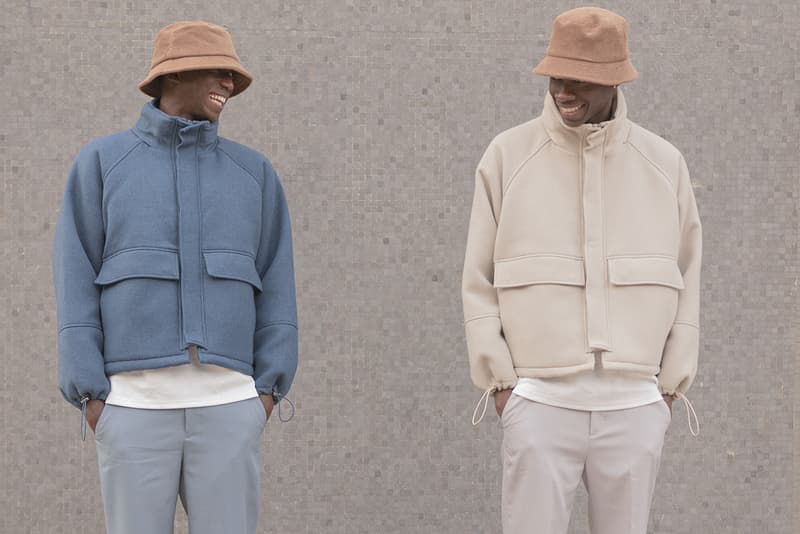 British menswear tends to be lumped into one of two camps. On one side, the institutions whose heritage extends back for decades, or even centuries: think of Burberry, Aquascutum, Mackintosh, and the tailoring houses that line Savile Row. On the other, the progressive and boundary-breaking designers that emerge from London's fashion schools. In that camp, you could find most of the names that tend to cause a stir every time fashion week rolls around: Wales Bonner, Robyn Lynch, and Priya Ahluwalia, to name a few.
But in between those two points, there's an unfairly-overlooked third group. A growing number of rising British menswear brands are offering considered, pragmatic and refined pieces that can compare to any of the better-known 'wardrobing' labels coming from the U.S. Put simply, they're making clothes you can live your life in. Here are some of our current favourites.
London isn't the only place to find British menswear: Olive, a rising menswear imprint, was founded in the sleepy Regency town of Cheltenham, in the middle of the Cotswolds. Founded by the husband and wife team Rohan & Ji-Sun Moore, and originally conceived as a womenswear label, the brand began offering workwear-inspired menswear pieces in 2015. Its menswear creative director, Ryan Hewitt, draws inspiration from Japanese and Korean streetwear: look for roomily-cut trousers, worker jackets, and a sprightly color palette.
Function and utility are at the heart of designer Antonio Vattev's collections: though he's a graduate of Central Saint Martins, his work has a much more grounded, reality-based aesthetic than many of his more flamboyant contemporaries. Practical outerwear, sports-inspired separates, and color-blocked knitwear dominate his work – and as a result, he's already been snapped up by the canny retailer Browns, which is renowned for its eagle-eyed talent spotting.
The Brixton-based designer Joe Lauder launched Satta, in his own words, to introduce 'ritual and simplicity into our daily lives.' That translates to fuss-free product created with an emphasis on sustainability – but without the 'granola' connotations of so many sustainable brands. Lauder has described his work as a counterpoint to fashion's constant push for novelty; as a result, the clothes he produces are unflashy and trend-agnostic.
Sometimes it's better to do a couple of things really well. That's the case with L.E.J, the brand from the former Lanvin and Dunhill designer Luke Walker. His simple shirts and outerwear won't turn heads, but that's the point: they're intended to be the kinds of things you'll reach for every day. And his essentials-first point of view has drawn the attention of retailers including Matchesfashion, which already carries his collections.
Fittingly, Wax London began with a menswear staple: the waxed jacket. The brainchild of friends Rich Singh, Tom Holmes, and Steffy Neceva, the brand is a reflection of their British-meets-Scandi backgrounds: pieces in their collections skew towards the minimal, but are interspersed with colorful prints. The trio are focussed on keeping their output small and tightly-edited, allowing them to prioritise ethical and sustainable methods of production. As a result, they've attracted the attention of retailers including Flannels, which will be carrying the collection later this year – but for now, the brand is available on their own webstore.
Aiming to bring "calm and happiness" is a tall order for any brand in 2021. But Cold Laundry – which was launched in 2019 by designers Ola and Cerise Alabi – has an undeniably relaxing aesthetic, dominated by neutral, minimal and softly-cut pieces. Its oversized workwear shirts are a particular highlight. The brand is gaining attention, too, for its striking visual imagery – most recently, via a campaign shot by the rising Nigerian-American photographer Oghalé Alex.
Can a brand be built on a sweater? Apparently, yes. Stefan Cooke founded his brand in 2017 alongside his partner Jake Burt, and his argyle jumpers – finished with slashed cut-outs – have quickly become a signature: Matchesfashion reports that they can hardly keep them in stock. Beyond that, the brand focuses on wardrobe stalwarts: slim trousers, leather jackets, and tailored coats feature heavily.
Foday Dumbaya's menswear label Labrum was conceived as a love-letter to the U.K.'s multiculturalism: each of its pieces is finished with a tag that reads "Designed by an Immigrant". The collections themselves draw inspiration from West Africa – and last year, the brand worked on Sierra Leone's (now-postponed) Olympics uniform. And the product itself offers a broad spectrum, covering everything from oversized slacks to bespoke tailoring. Dumbaya's prints are also worthy of an honorable mention.