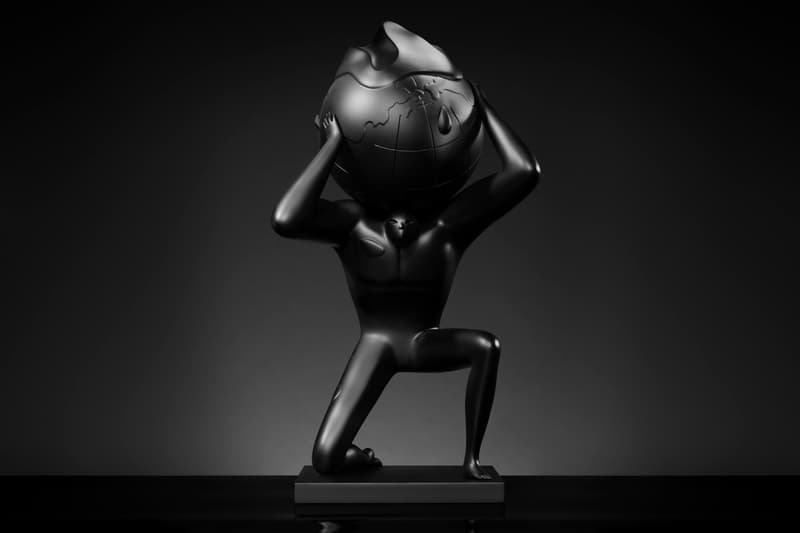 Drops to Look Out For at NTWRK's BEYOND THE STREETS Virtual Art Fair
Returning for its second annual edition of the virtual art fair on December 1-2 with a highly-curated selection of collectibles, collaborations, limited-edition prints and original art.
---
NTWRK, the premier livestream shopping platform, is returning with its second annual virtual edition of the event that seamlessly blends art and commerce called BEYOND THE STREETS. The initiative will serve as a two-day virtual art fair focused on graffiti, street art, and more, curated once again by the legendary Roger Gastman, BEYOND THE STREETS founder and longtime champion of graffiti as a contemporary art form. Cleon Peterson, the LA-based artist whose paintings present the clash between power and submission, will serve as the artistic director for the event and will also create exclusive products for BEYOND THE STREETS.
J Balvin headlines the BEYOND THE STREETS virtual event as the guest Emcee for the evening, as the award-winning Colombian artist will emcee different artwork drops and hosts various discussions with top artists. Further expanding his partnership with the livestream shopping platform, Balvin's integrated role will include daily episodes where he'll be joined by artistic director, Cleon Peterson, and L.A.-based photographer, Estevan Oriol, having in-depth art conversations with Peterson, Oriol, DABSMYLA, and Gustavo Zermeño Jr., that will dive deeper into today's art landscape and the creative process behind their work. Balvin will also be debuting an exclusive product he created in collaboration with DABSMYLA.
The two-day event will stream on NTWRK, beginning December 1 through December 2, and feature an unprecedented lineup of world-class artists, designers, and brands, like Bert Krak, CB Hoyo, DABSMYLA with Late Lunch, MADSAKI, Mike GIANT, Mister Cartoon, Takashi Murakami, Kenny Scharf, POSE, Shepard Fairey, Spacebrat and Wild Style with Vic Mensa. 70+ artists will launch exclusive products across fine art, collectibles, apparel, and home goods, while offering unique content experiences from around the world throughout the event. "Bringing Roger Gastman's renowned experience to NTWRK's virtual sphere last year was a perfect fit for the NTWRK audience," says CEO, Aaron Levant. "BEYOND THE STREETS' appreciation and respect for street culture is palpable; the art is visceral and exciting. It's a celebration of pop culture, the artists and their stories—we're delighted to host this amazing experience again."
In anticipation of its launch, here are some notable drops that will be taking place over the next two days.
Cleon Peterson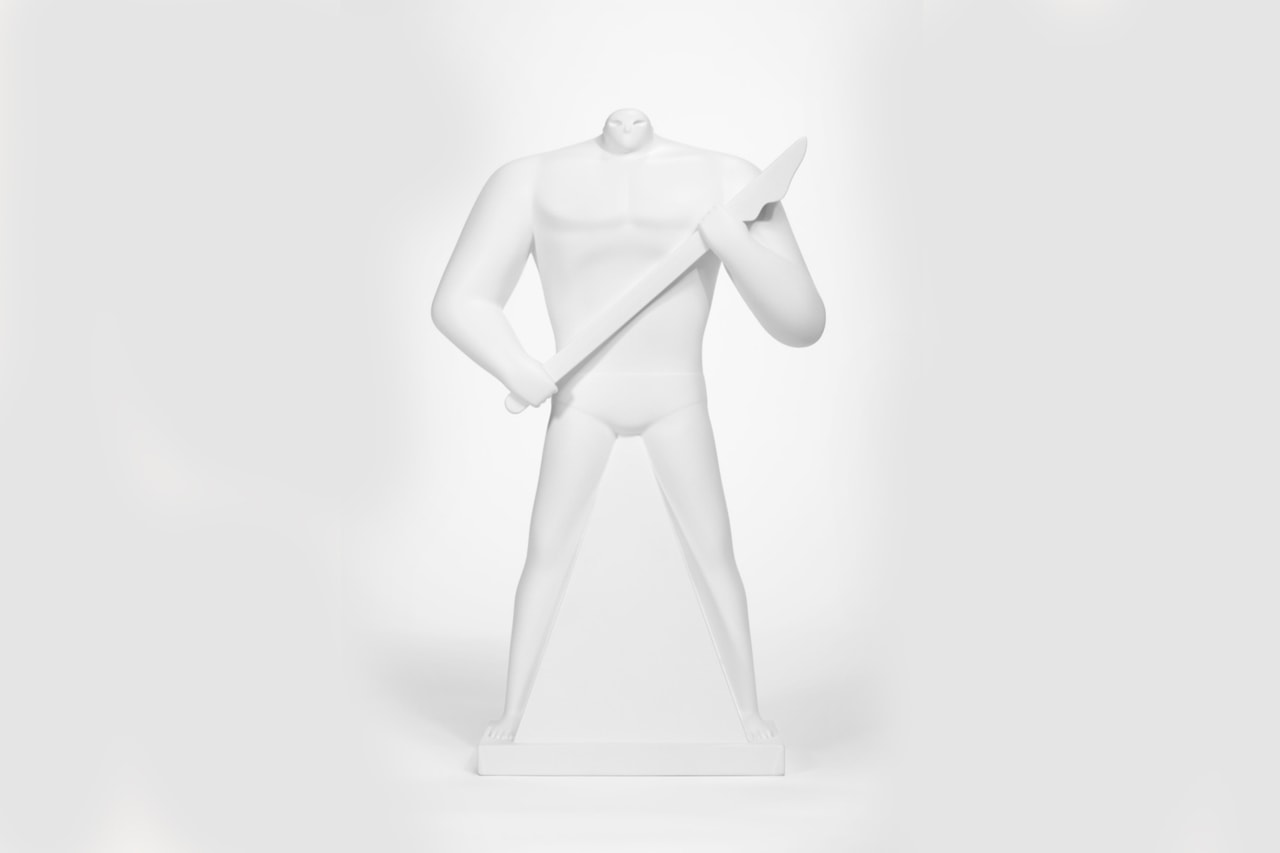 This year's BEYOND THE STREETS art director, Cleon Peterson, an acclaimed Los Angeles-based artist known for his fearless, psycho-social depictions of human nature and authoritarian elements in contemporary society. His work taps into ancient and classical art forms in multiple disciplines. Peterson brings his eye for greatness as Artistic Director of the Virtual Art Fair and created exclusive pieces of his own in sculpture, home decor and apparel forms.
DABSMYLA + Sean Wotherspoon's Late Lunch
1 of 10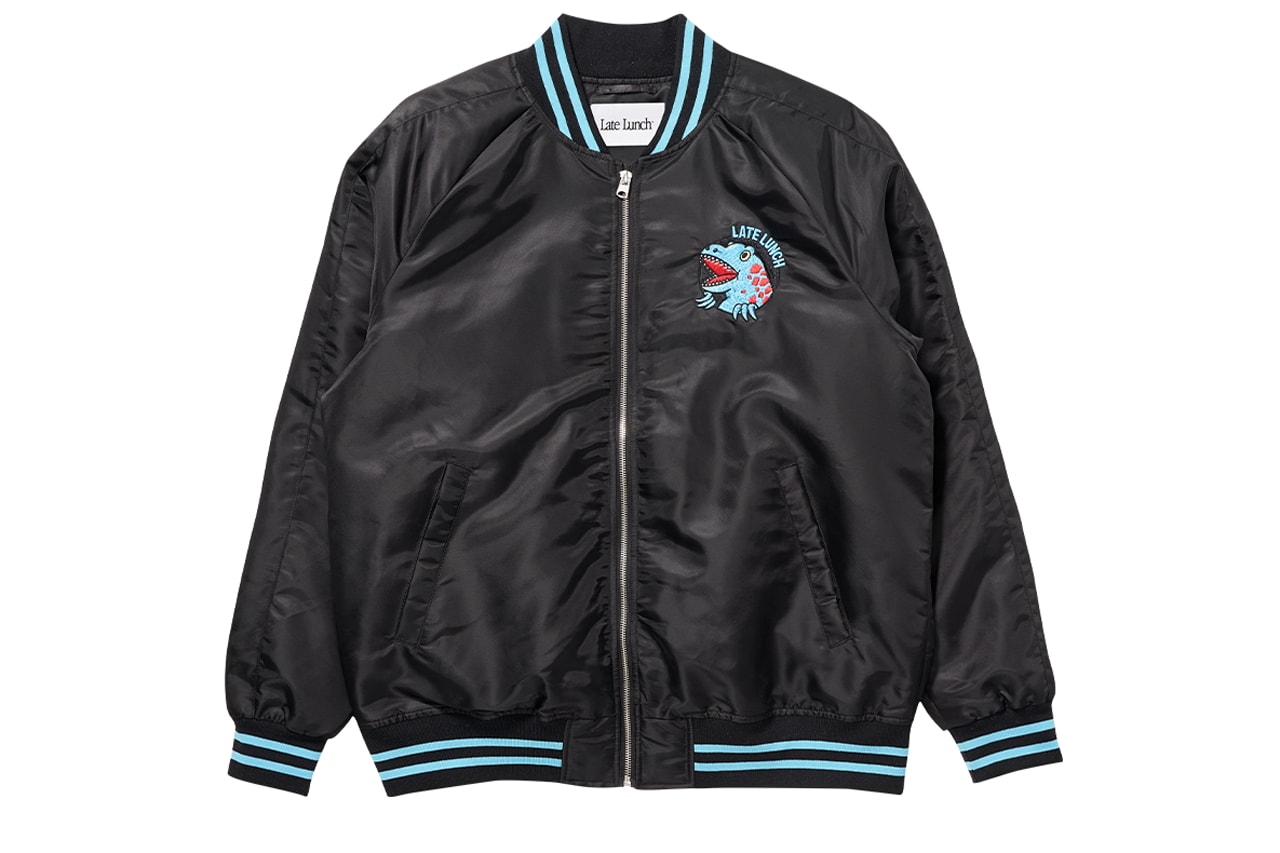 2 of 10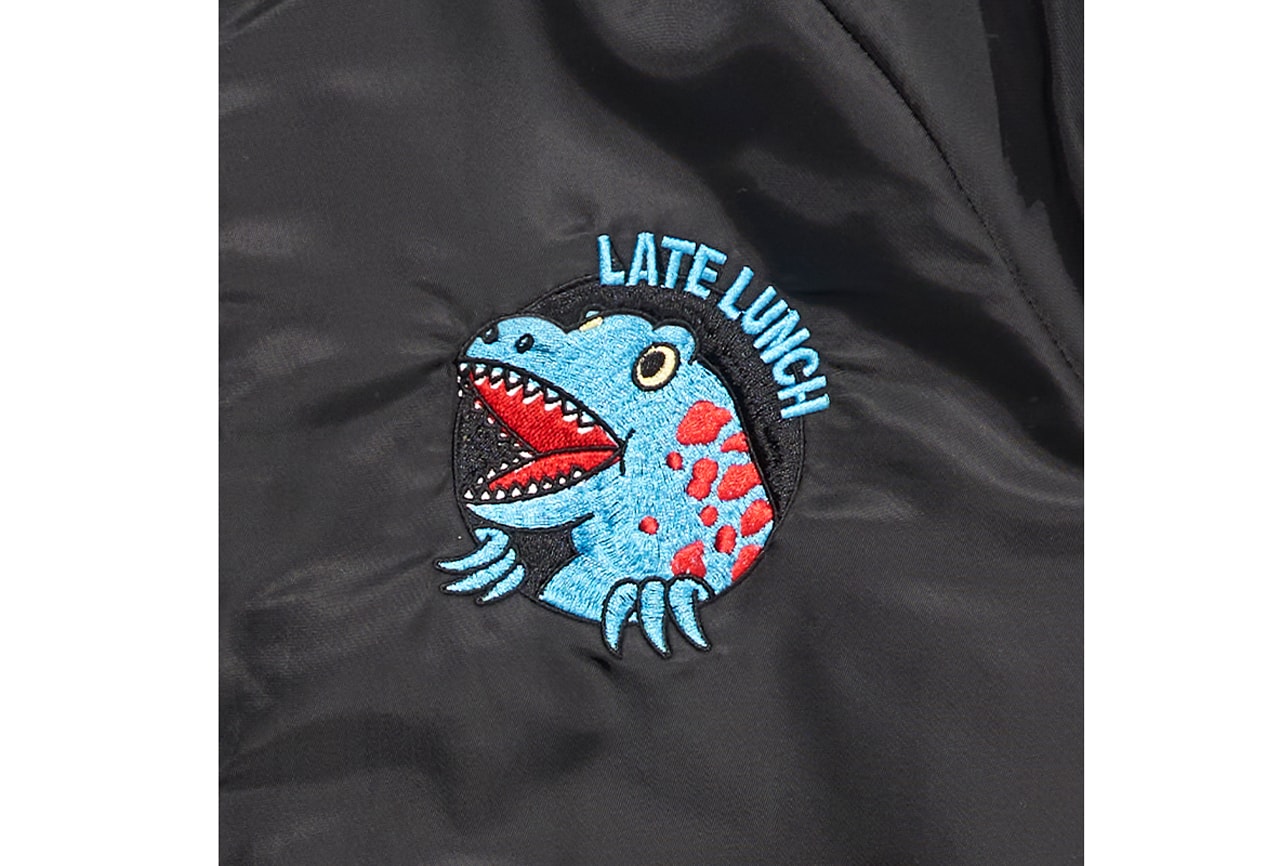 3 of 10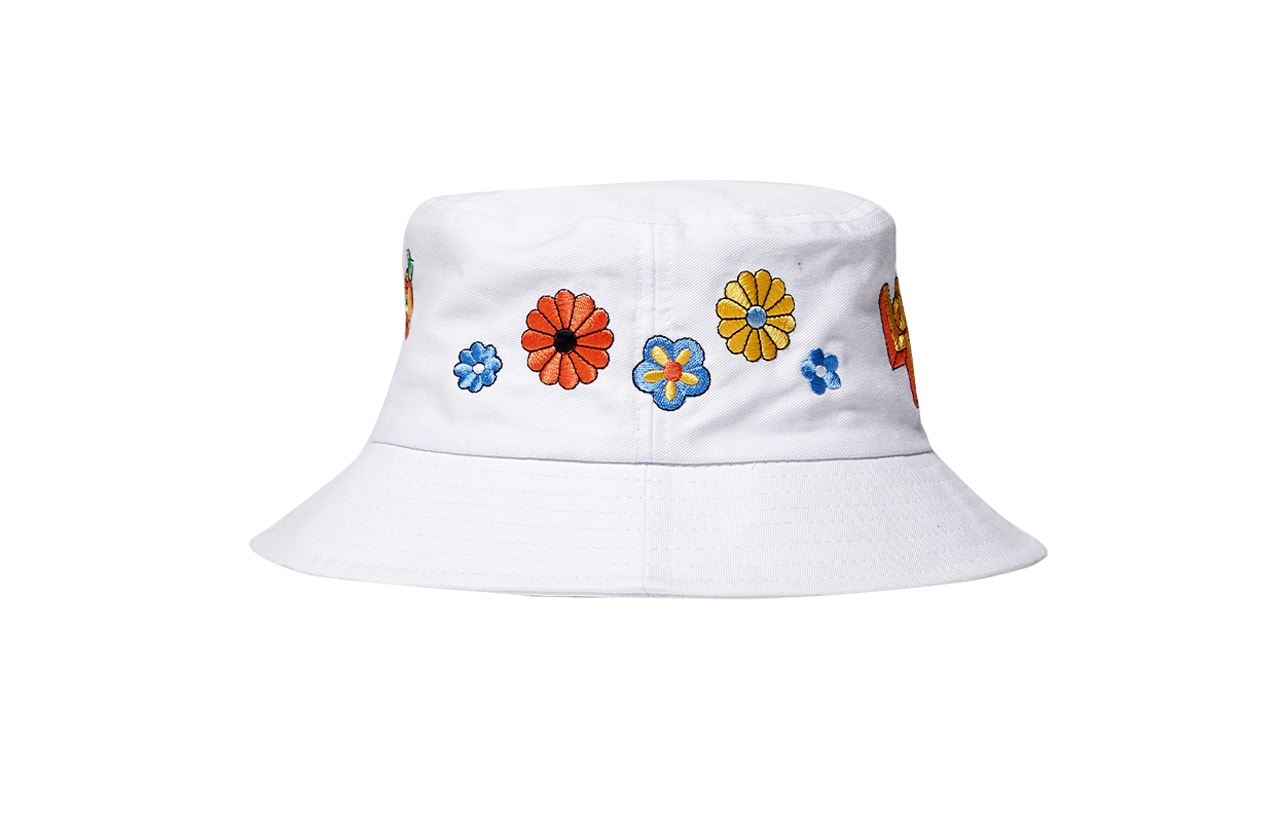 4 of 10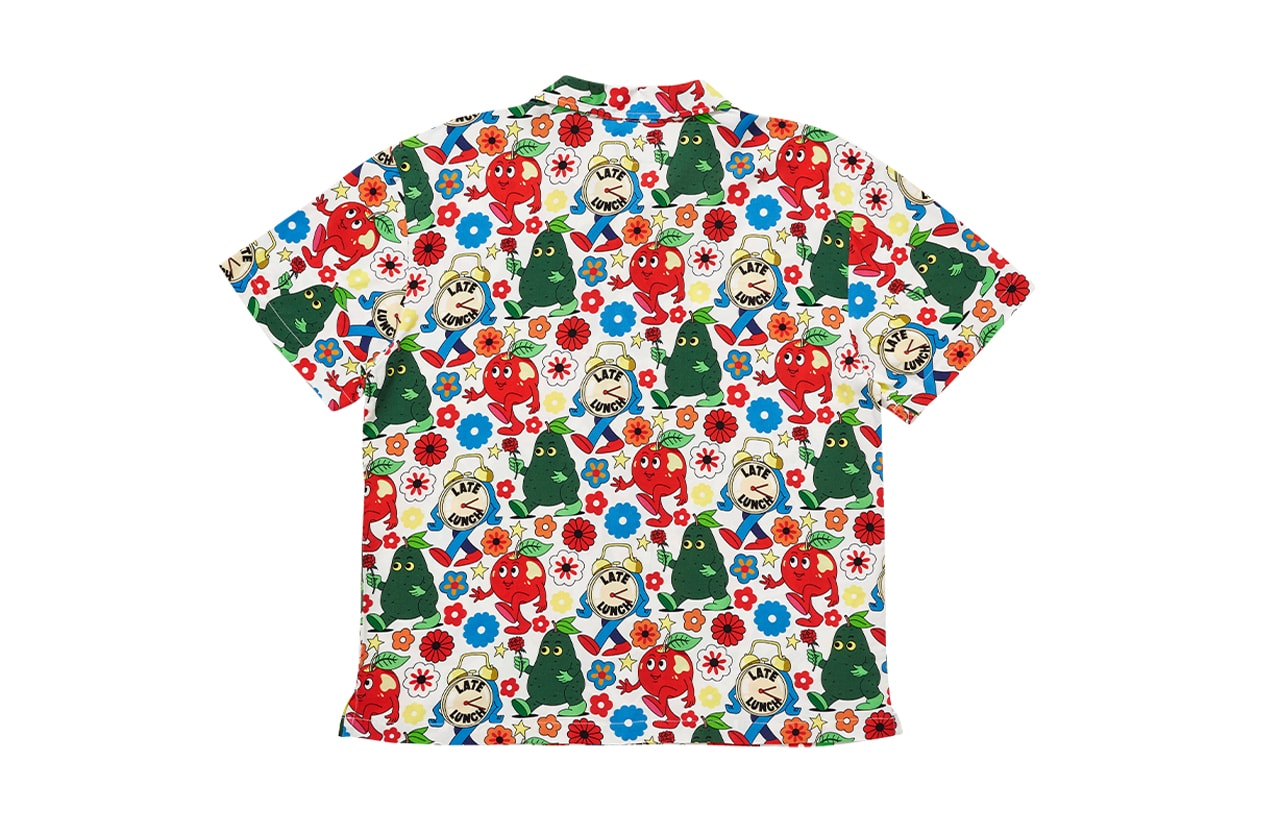 5 of 10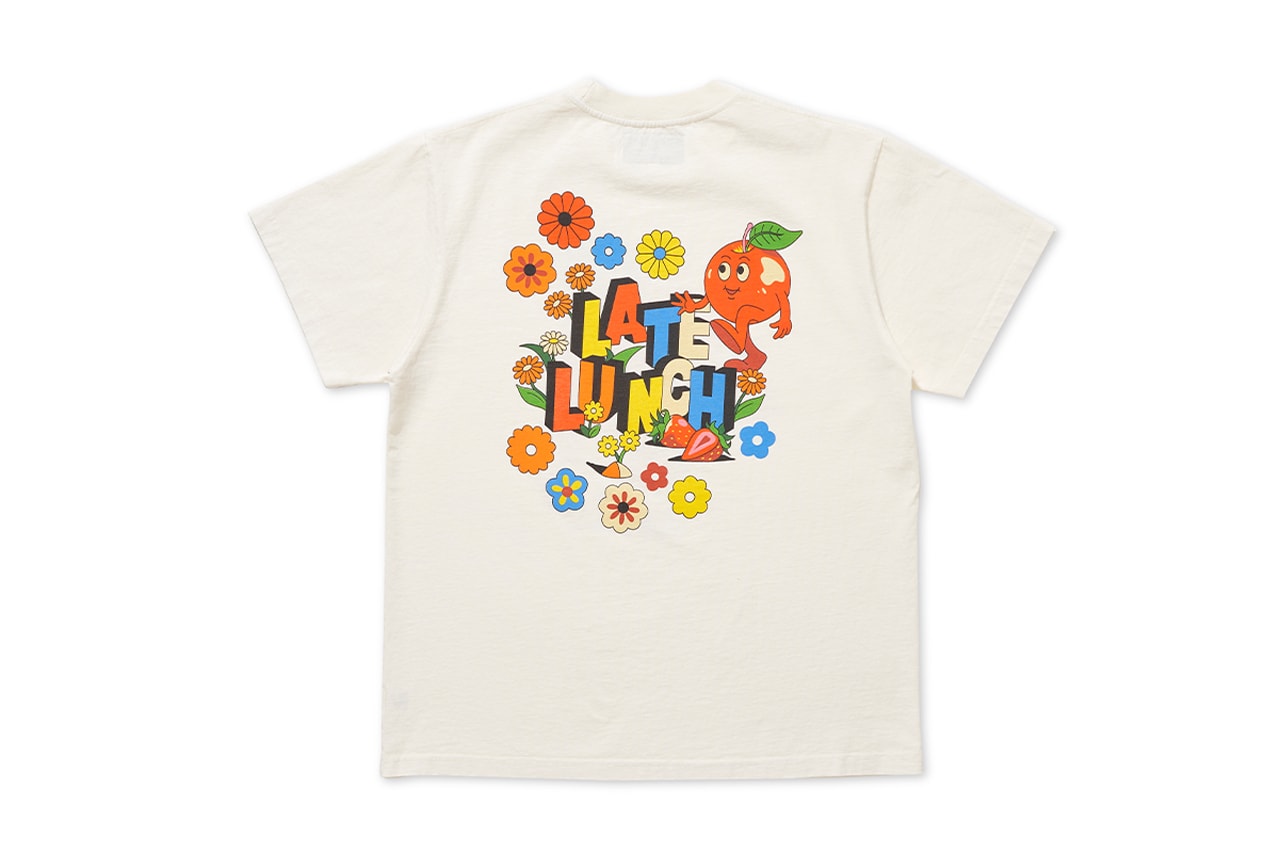 6 of 10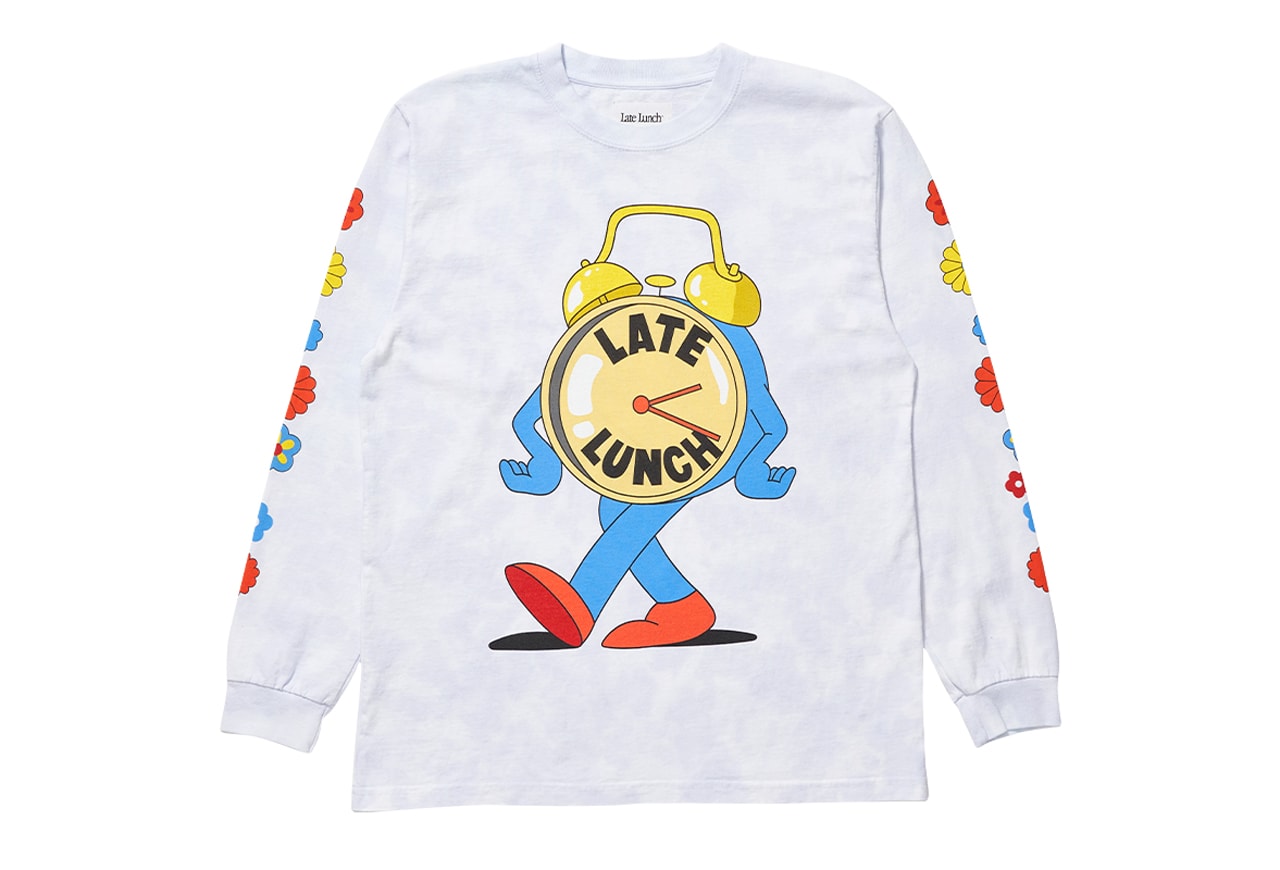 7 of 10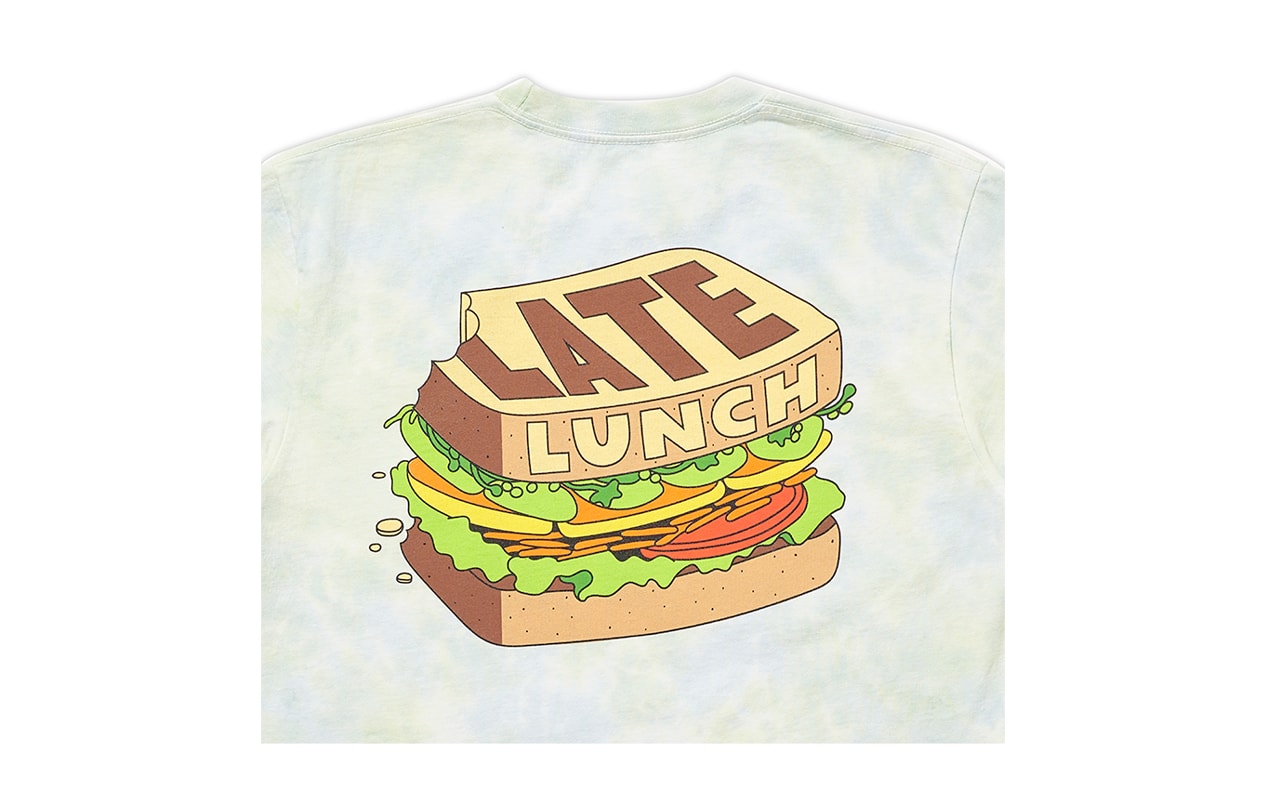 8 of 10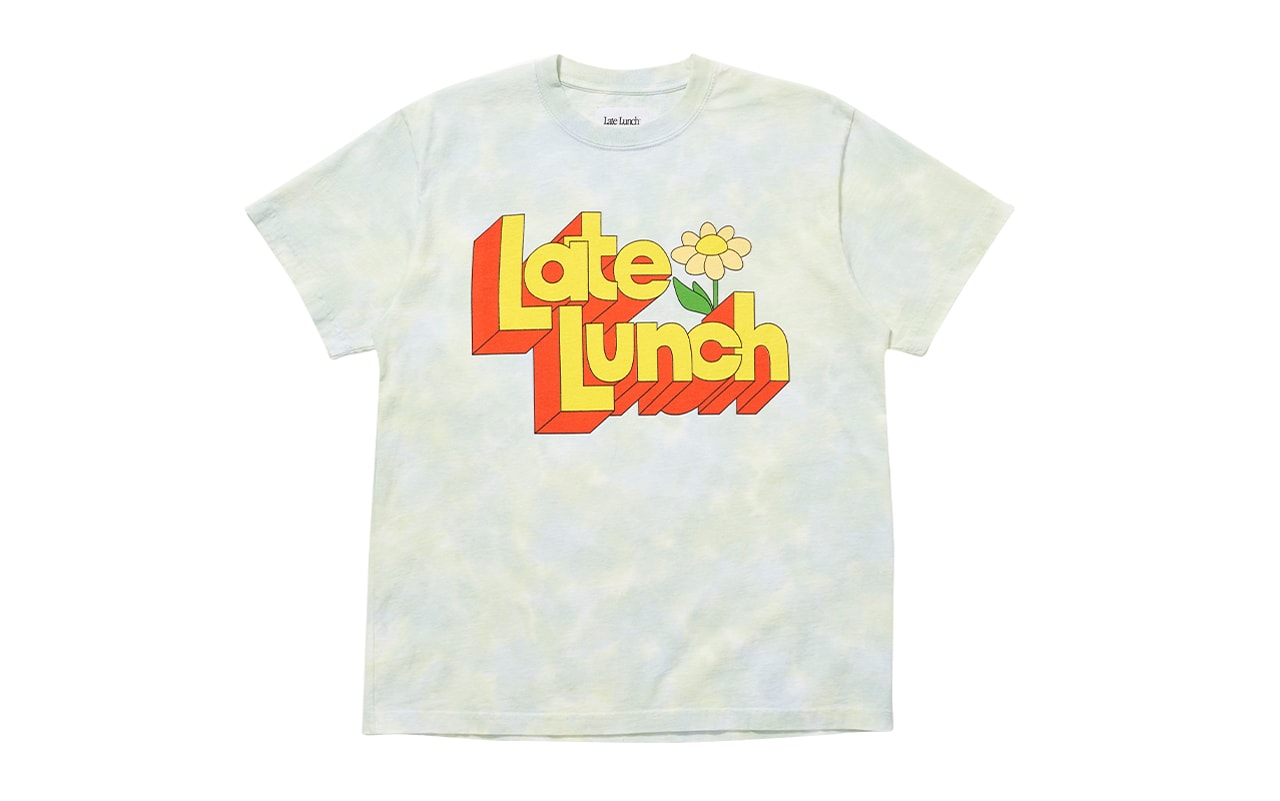 9 of 10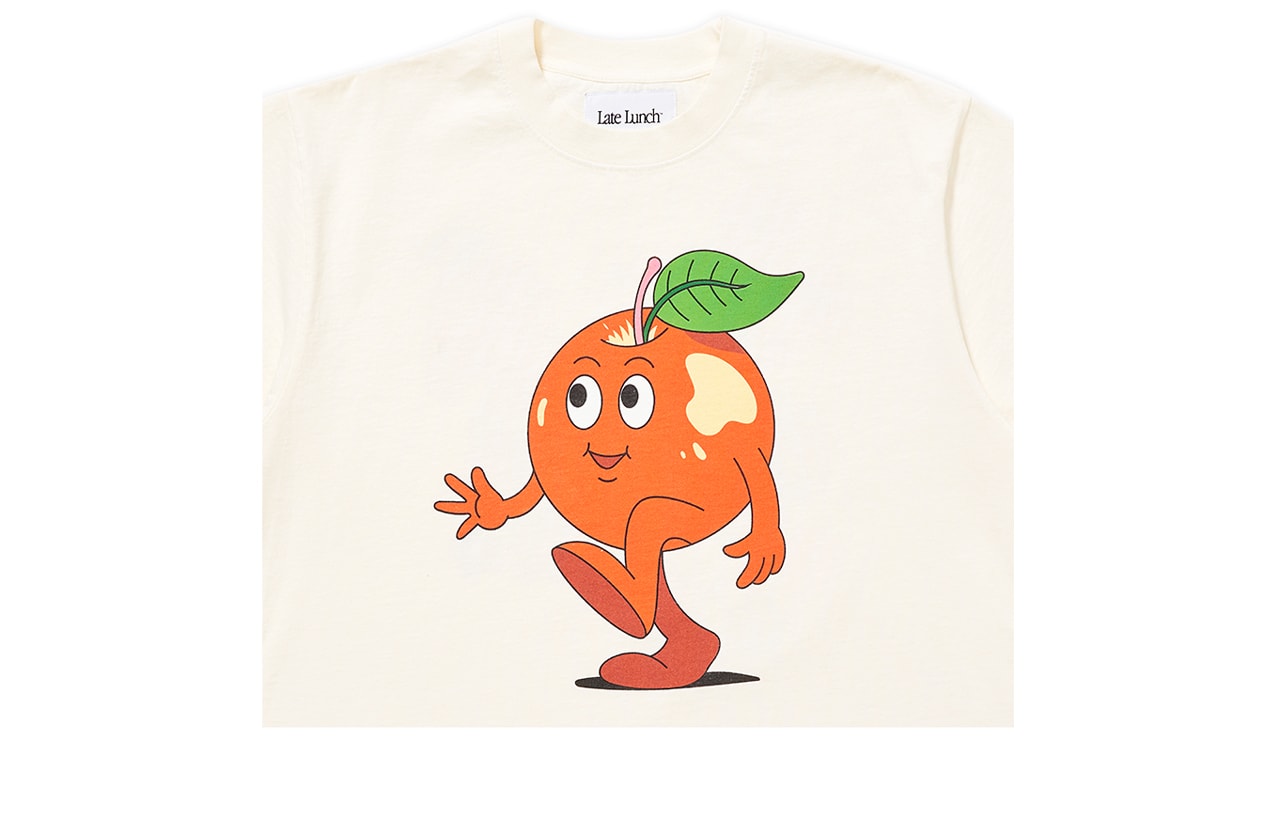 10 of 10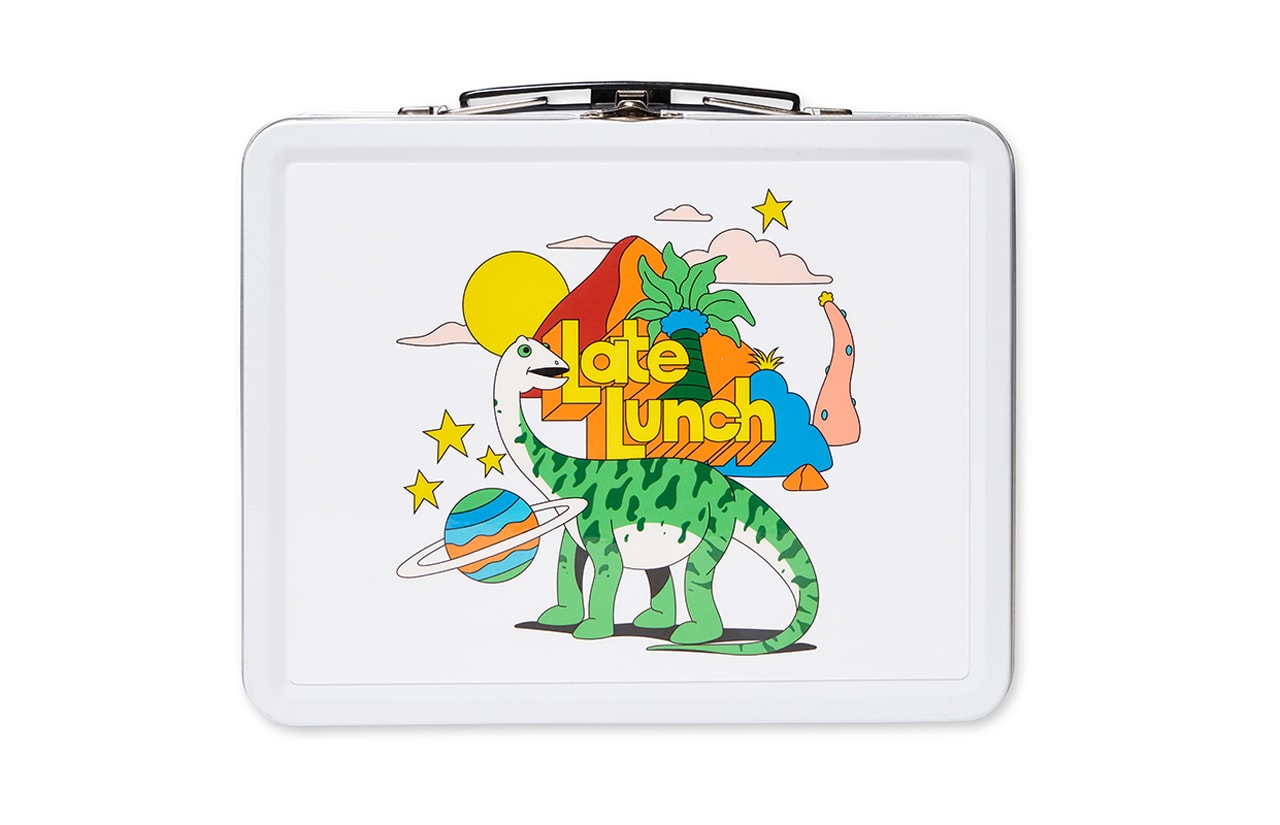 DABSMYLA, are a husband-and-wife team of artists from Melbourne, Australia, known for their fun, floral, multimedia works, which evoke a vintage feel through a markedly contemporary lens. From small paintings, to full-scale physical installations, to massive murals that dot the globe, their style takes cues from graffiti, Mid-Century patterns, and early animation. This year, they've partnered with sneaker & vintage clothing aficionado, Sean Wotherspoon, for an exclusive collection of apparel and home goods for his new "Late Lunch" brand.
ERIC HAZE + MISTER CARTOON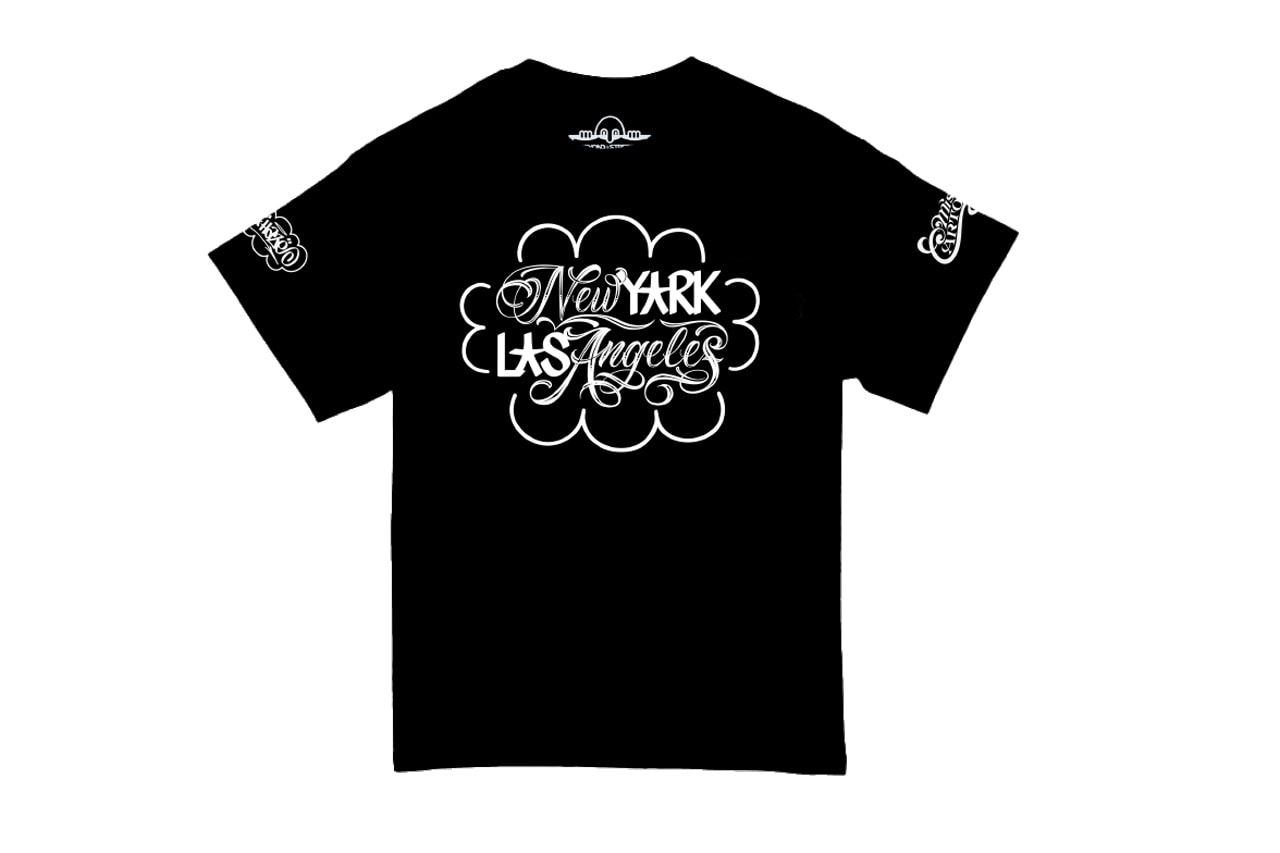 ERIC HAZE and MISTER CARTOON, both legendary artists, designers and illustrators, behind some of hip hop's most iconic logos, have teamed up to raise money for animal rescues on their respective coasts. In an unprecedented east coast/west coast combined effort of the graffiti world, together the pair designed this exclusive MISTER CARTOON x HAZE tee, featuring their respective iconic touches— including HAZE's signature hand-style and CARTOON's fine-lined script— perfectly repping their respective cities of NYC and LA. Profits will benefit Flatbush Cats to help spay and neuter feral cats in Brooklyn and donations will also be made to Downtown Dog Rescue, a volunteer nonprofit providing services for low income pet companions in LA County.
Felipe Pantone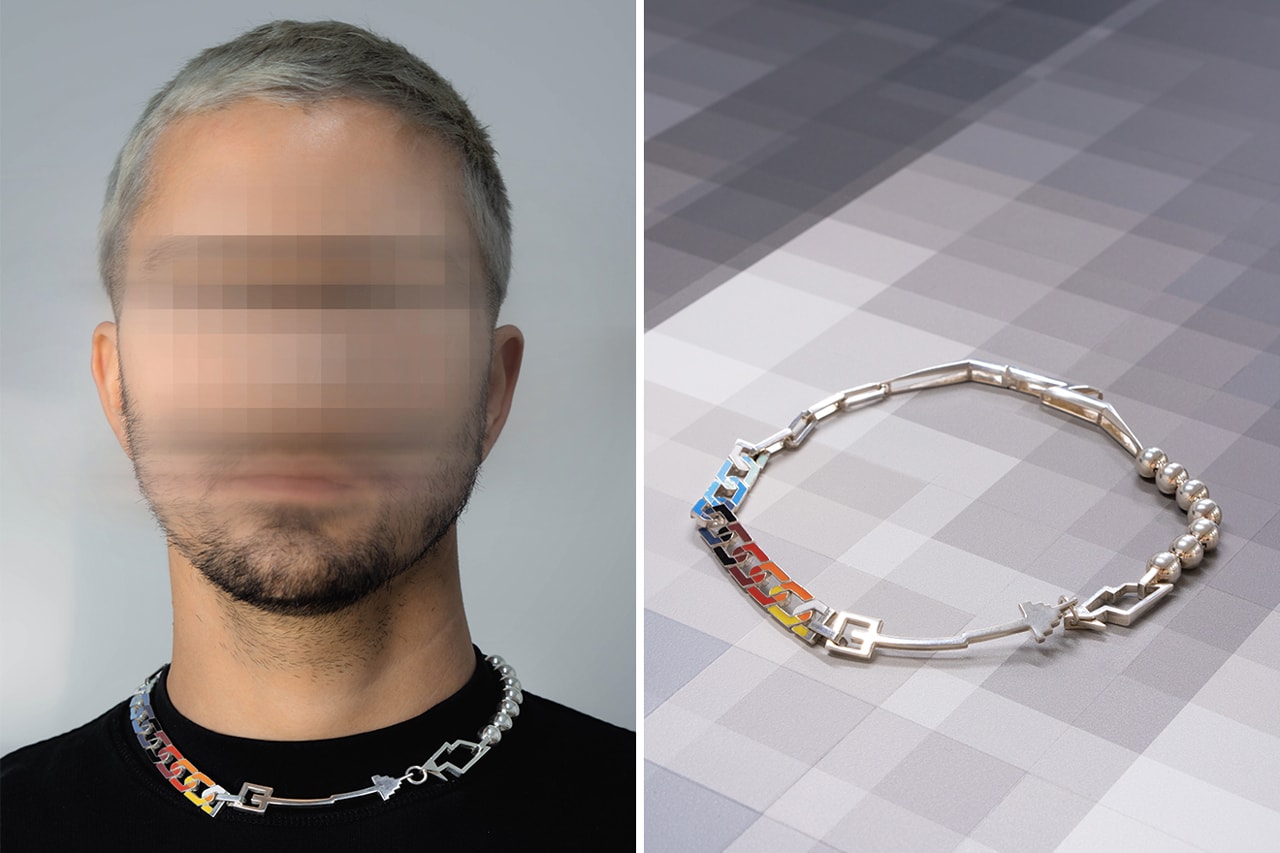 Argentinian-Spanish artist, Felipe Pantone, mashes analog forms with digital imagery, creating glitches full of neon gradients, geometric shapes, optical patterns, and jagged grids. His sculptures and kinetic art feature high-contrast colors, geometrical patterns, and Op Art elements to create motion and challenge perspective in a mix of computer-generated graphics, conventional graffiti, typography, and abstraction. The interdisciplinary artist now pushes his fine art into the jewelry sphere with this exclusive piece — working his magic in metal — this time as an electrifying multicolor necklace in 925 silver and synthetic enamel.
Garbage Pail Kids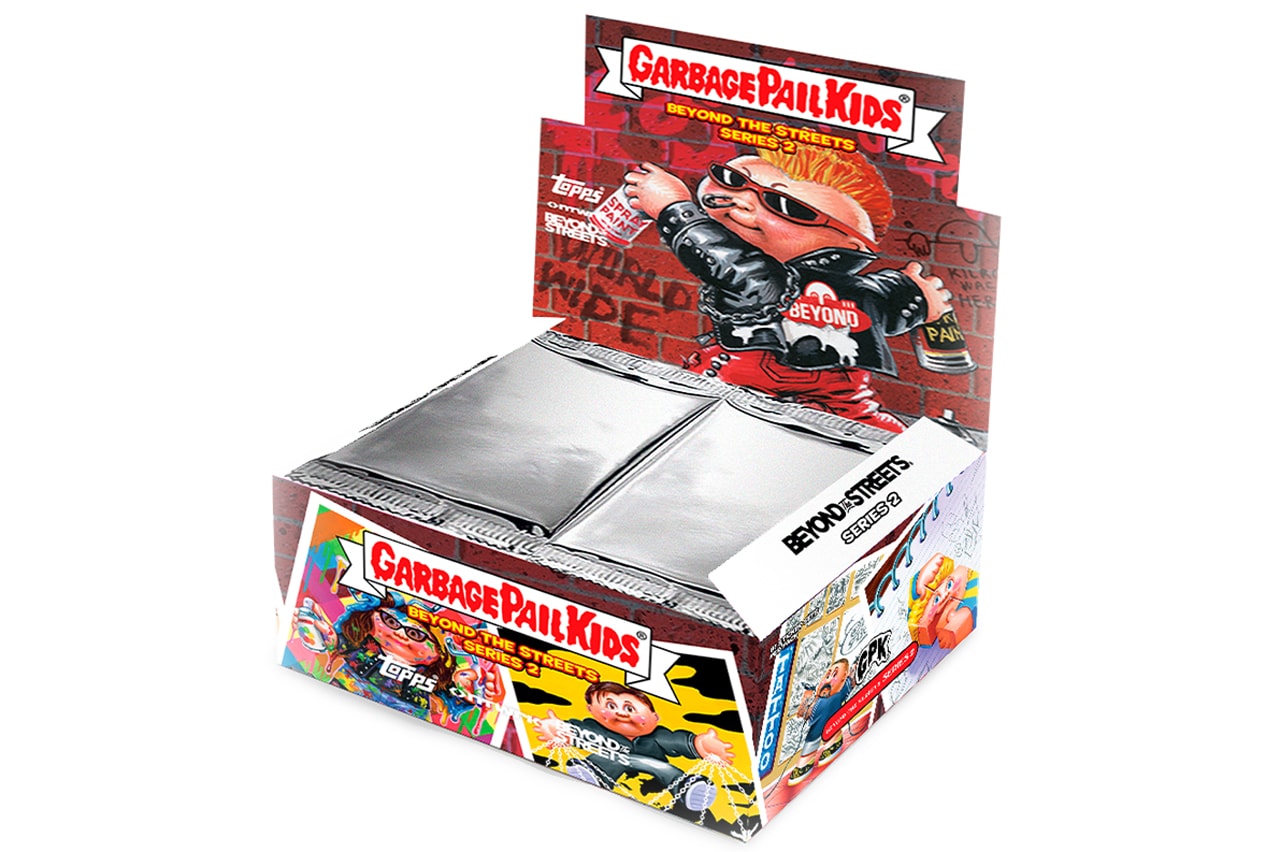 In 1985, the Garbage Pail Kids were released to the world by the Topps Chewing Gum company as a spit in the eye to the syrupy cuteness dominating pop culture at the time. The sticker trading cards featured pus-faced, melting, mutated or otherwise exploding children getting into all kinds of mischief, drawn by a rotating cast of artists. Kids were so crazy for Garbage Pail Kids at one point the cards were banned in many schools as packages flew off the shelves. Making a comeback in the early 2000s with new collectibles, the nostalgic series stole the hearts of kids and adults everywhere once again, with new toys, comics and a new clothing line. Now, NTWRK and BEYOND THE STREETS are leaning fully into this, partnering with Topps, to release an exclusive limited-edition line of new cards, an 81-sticker set featuring 20 contemporary artists, including illustrator Joe Simko.
Honoring the tradition of two-card sets, each artist has drawn a GPK-style self-portrait, paired with one of the classic characters, adding their own twisted takes on the iconic brand. The cards come in a sealed full-color blind box of 20 packs, each holding 8 cards, guaranteeing a wild mix. The artist roster includes Alex Pardee, Andrew Thiele, Dakota Cates, Diego Bergia, DEFER, Mario DESA, Sophia Enriquez, Huskmitnavn, JK5, Crocodile Jackson and many more. While bonus artist Joe Simko created original never-seen-before Garbage Pail Kid characters of the following people — TAKI183, KILROY WAS HERE, SABER, MISTER CARTOON, POSE, Estevan Oriol, the pervasive letter "S", Maya Hayuk, Tal Cooperman and Cleon Peterson.
HuskMitNavn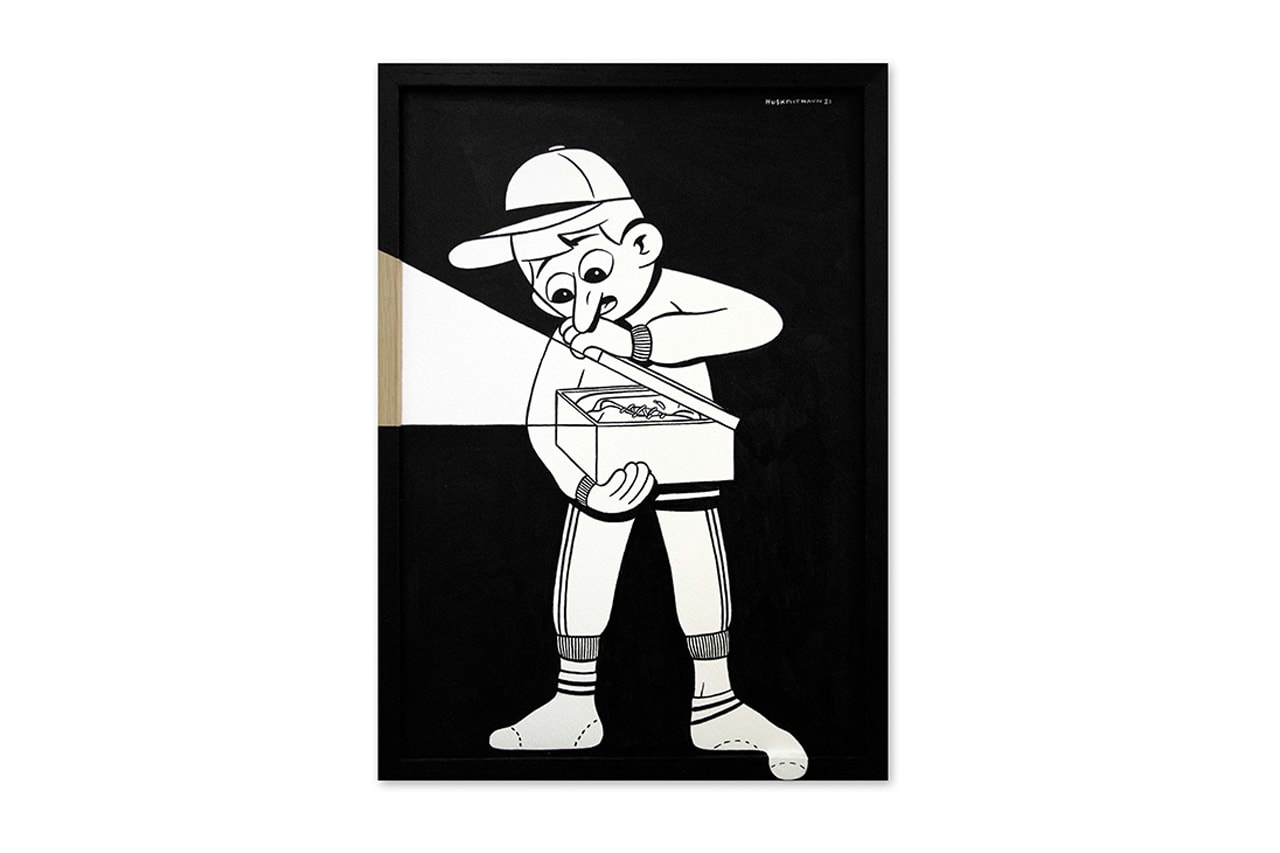 HuskMitNavn, which means 'RememberMyName' in Danish, has become one of Copenhagen's best loved and most successful artists over the last 2 decades, working in media ranging from painting, drawing and murals to installation, cartooning, product design and social media. His drawings often feature a three-dimensional element by way of folded, torn or otherwise manipulated paper, like the Scandinavian tradition of paper cutting.
BEYOND THE STREETS Virtual Art Fair is proud to present ten of HuskMitNavn's original (1/1) drawings, bitingly satirical and fancifully funny as always. Handmade with acrylics on paper and 3D elements, the piece is framed and signed by the artist.
Rello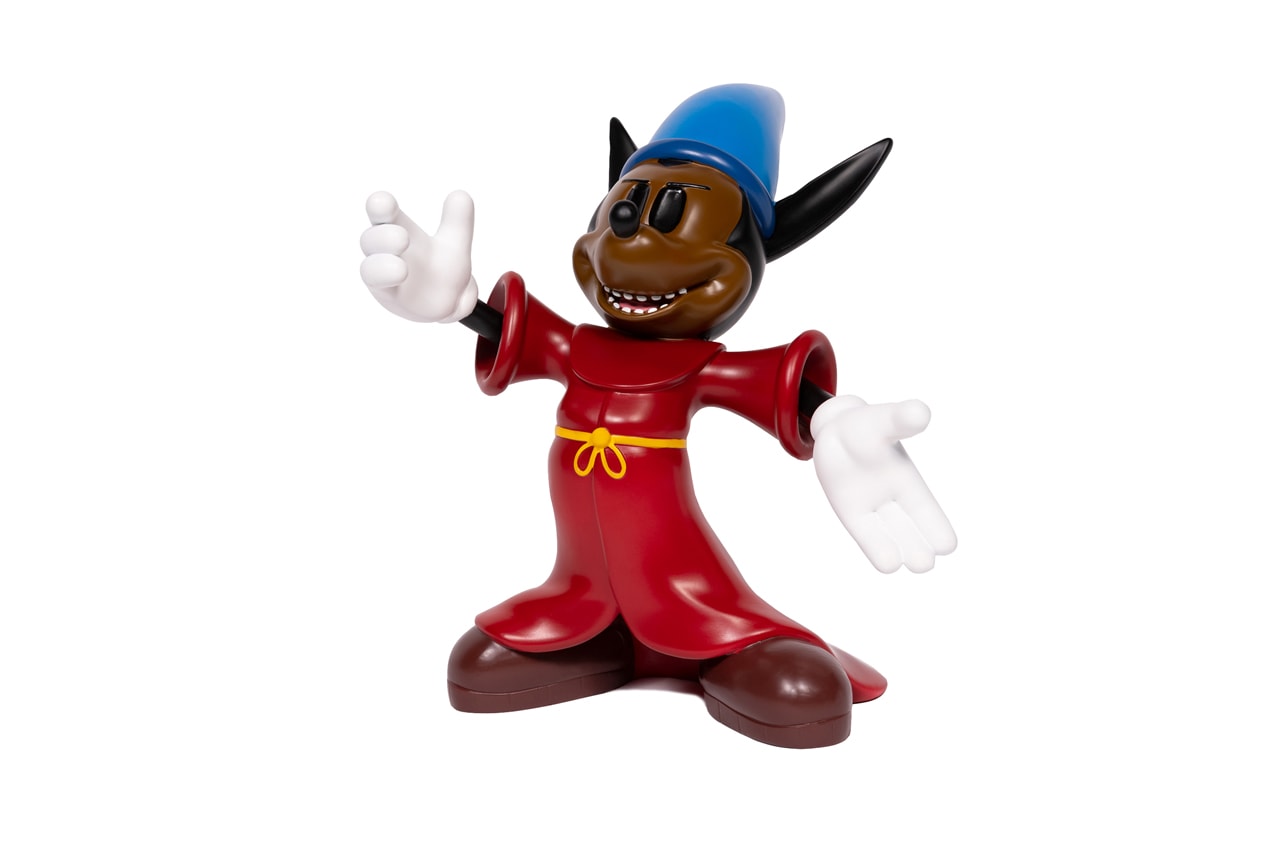 Pop artist, Rello, is based in Chicago, where he founded Lost Paradise Design House and streetwear line "Fat Tiger Workshop." As a self-taught artist, Rello has been producing art for over a decade now. The debut of his "Ruby and Ozzy the Bad Mouse" characters during his "Please Interpret as Black" exhibit questioned traditions of exclusion with his re-imagining of iconic representations while promoting love and connection.
For BEYOND THE STREETS Virtual Art Fair on NTWRK, Rello's initiative "Art can heal the world" will include original embroidered art pieces, an exclusive BEYOND THE STREETS x Rello collab T-shirt, prints from his archive and his "Wizard of Ozzy" Statue, featuring his infamous Ozzy the Bad Mouse character. Portions of the proceeds from this release will go to Community Goods, a non-profit organization dedicated to closing the gap between the arts and underserved students in the Chicagoland area.
Spacebrat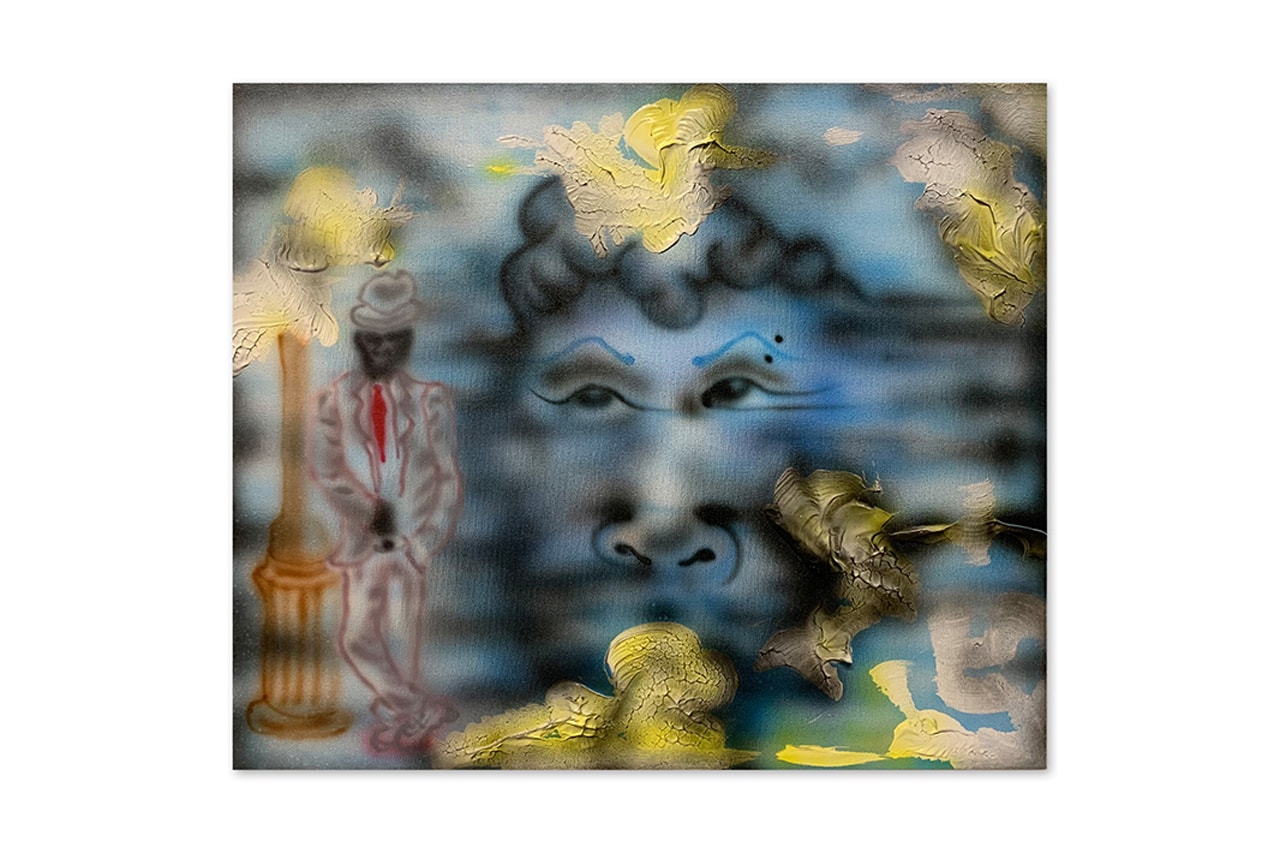 26-year-old LA-based designer Jasmine Monsegue known as, Spacebrat, is a designer who customizes haute couture with airbrush skills and her hip-hop sensibility, bringing life to galleries and runways around the world. Her work has been known to manifest on furniture, paper, canvas and clothing, defining a new generation of artists wielding the airbrush as a tool for limitless creation. She created four original airbrushed paintings on canvas, exclusively for BEYOND THE STREETS.
Shepard Fairey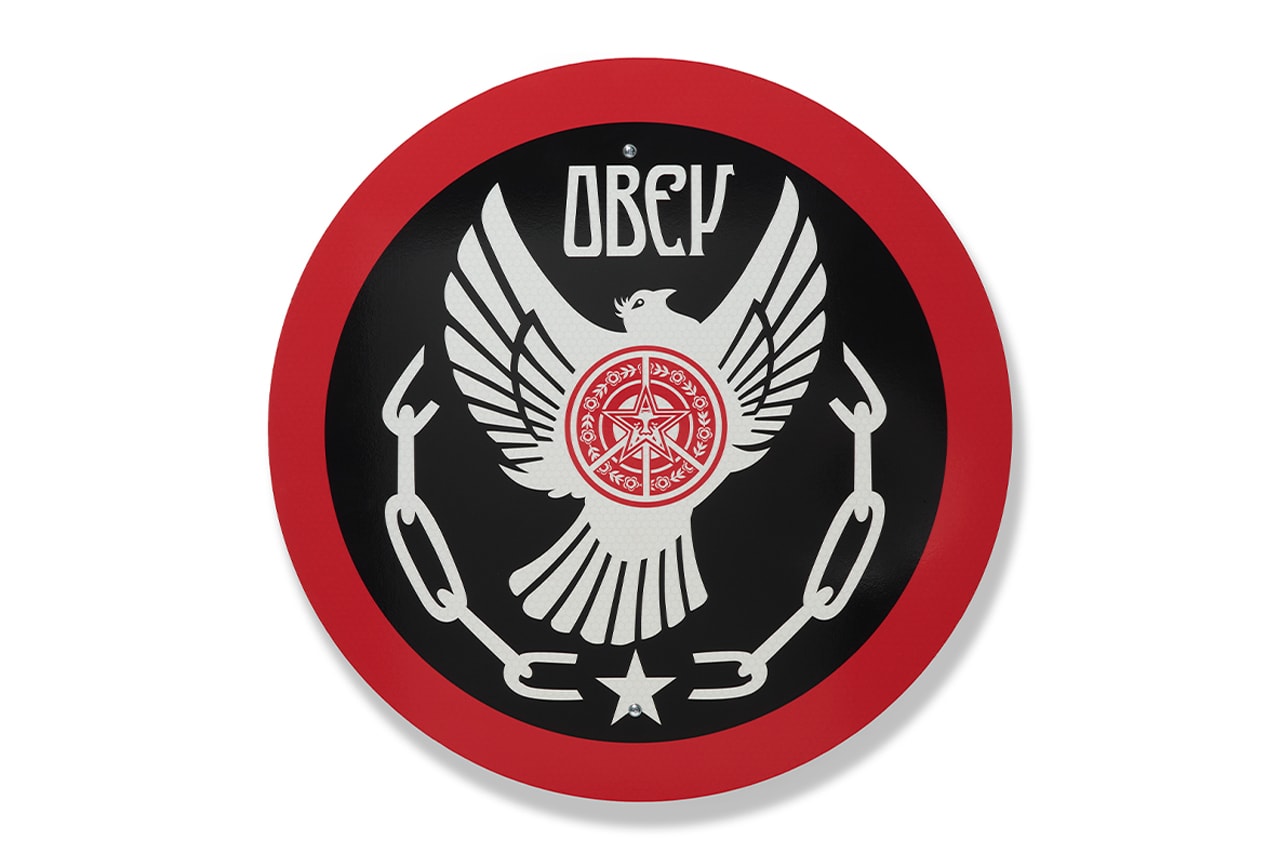 Shepard Fairey's name and work have become synonymous with the words "street art," thanks to all he has given to the culture. He first became known for his relentless "Andre the Giant Has a Posse" sticker campaign, which started in 1989. Widely distributed by the skateboarding community, the stickers — an experiment born of German philosopher Martin Heidegger's phenomenology movement — appeared throughout the world and evolved into the OBEY campaign of stickers, posters and stencils. Fairey went on to specialize in socio-political silkscreened posters, creating images for some of the biggest names in music, film and politics.
For BEYOND THE STREETS, Shepard created a new, limited edition "Peace & Freedom Dove" 30-inch diameter circular metal sign that is signed. "The Peace & Freedom Dove sign is a reminder to strive for peace and harmony using the same utilitarian medium that citizens encounter for common sense directions," Fairey says about the sign. "Finding a diplomatic path to peace and harmony requires creativity, courage and a willingness to break mental chains of fear and paralysis."
Todd James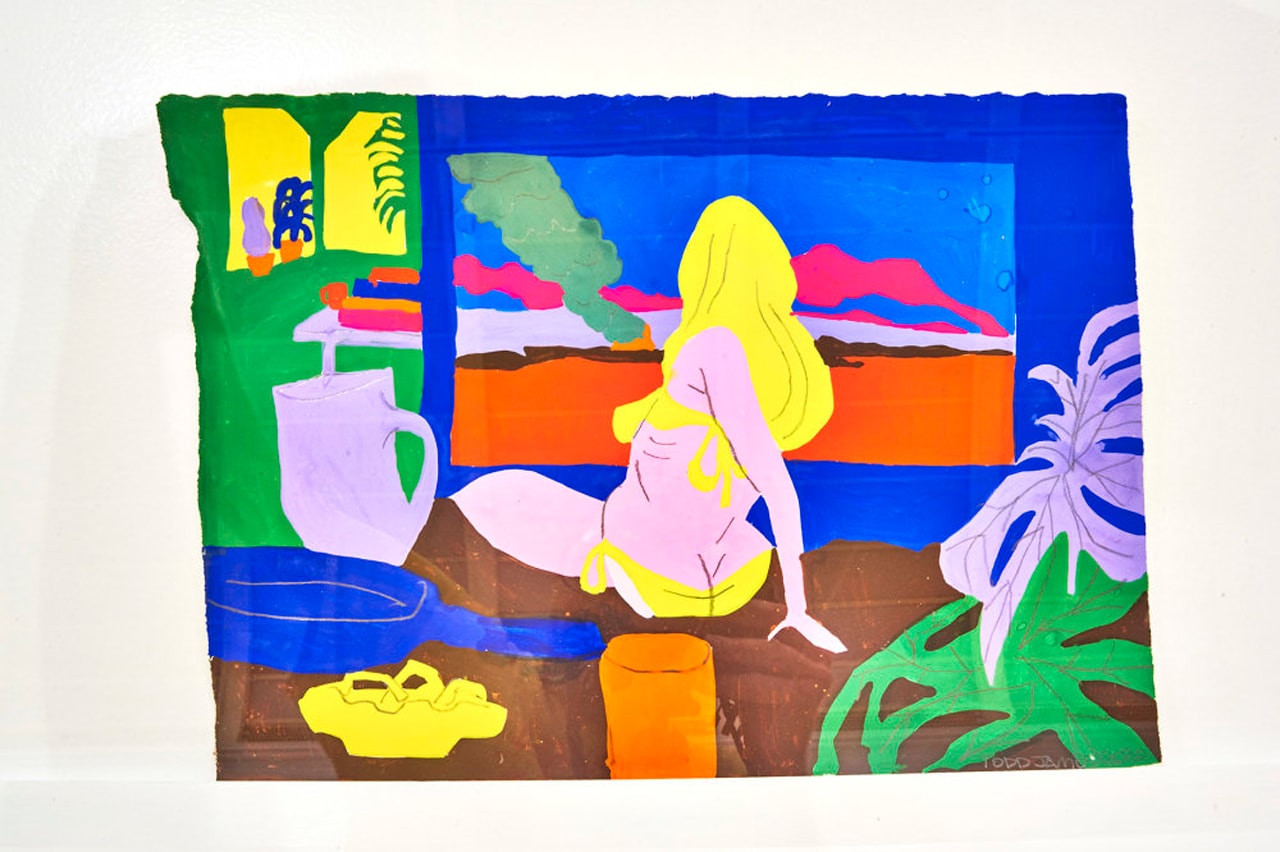 Todd James became known for his day-glow silhouettes after many years of painting New York City subway trains under the name, REAS. His vibrant compositions have since been shown all over the world, in video games, on TV shows and album covers for the likes of Eminem, Mobb Deep, Iggy Pop and many more. James' paintings present everyday tableaus in pop-art primary colors so for NTWRK's BEYOND THE STREETS fair, he created a survey of smaller scale paintings.
MADSAKI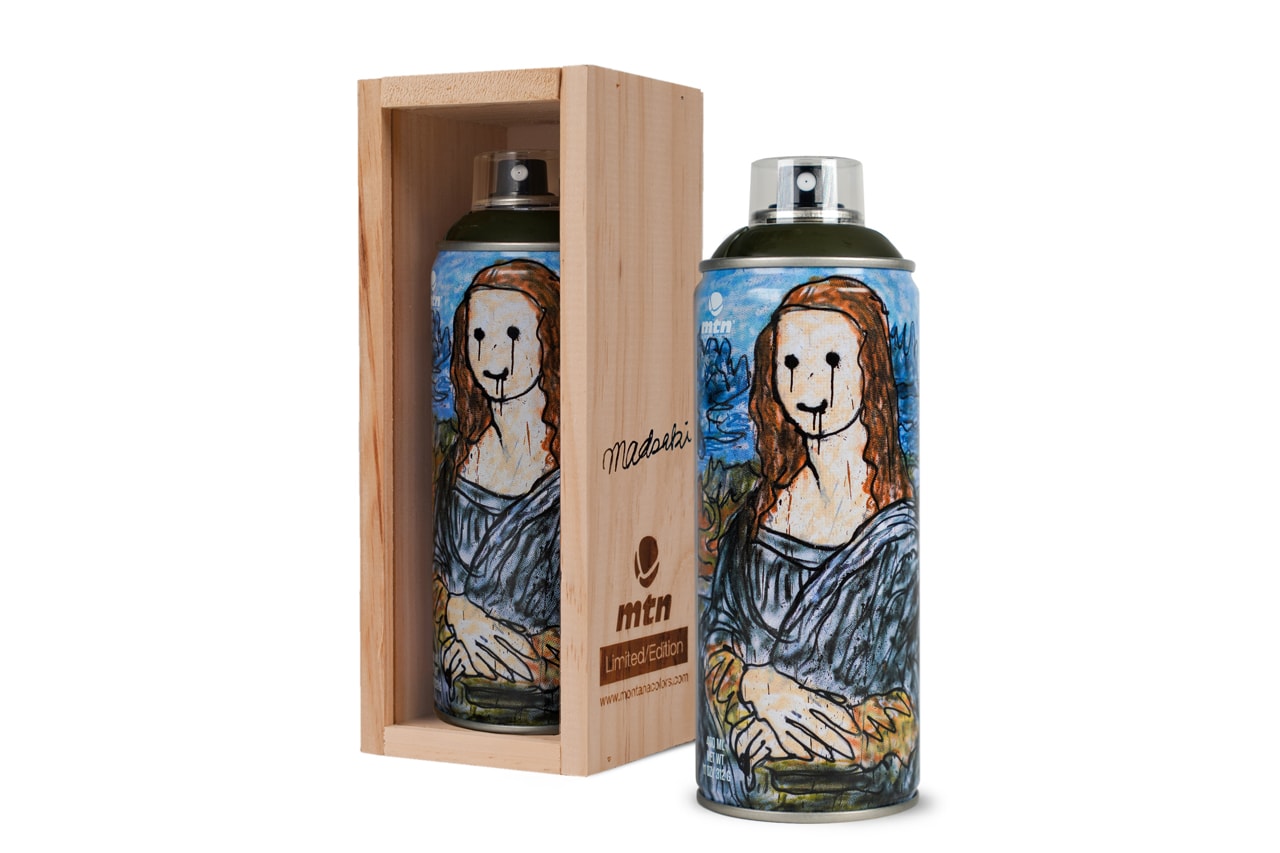 For this piece, MADSAKI immortalizes one icon with another, remaking the Mona Lisa with BEYOND THE STREETS and Montana Colors. Born in Osaka in 1974, and relocated to New Jersey at a young age, MADSAKI graduated from the Parsons School of Design in New York (BFA, 1996) and was a member of international artist group, Barnstormers, before starting his solo career. Both satirical and sentimental, aggressive yet vulnerable, MADSAKI has used graffiti influences as a way to express the frustration and alienation of his bicultural identity and to critique the value of art.
Kenny Scharf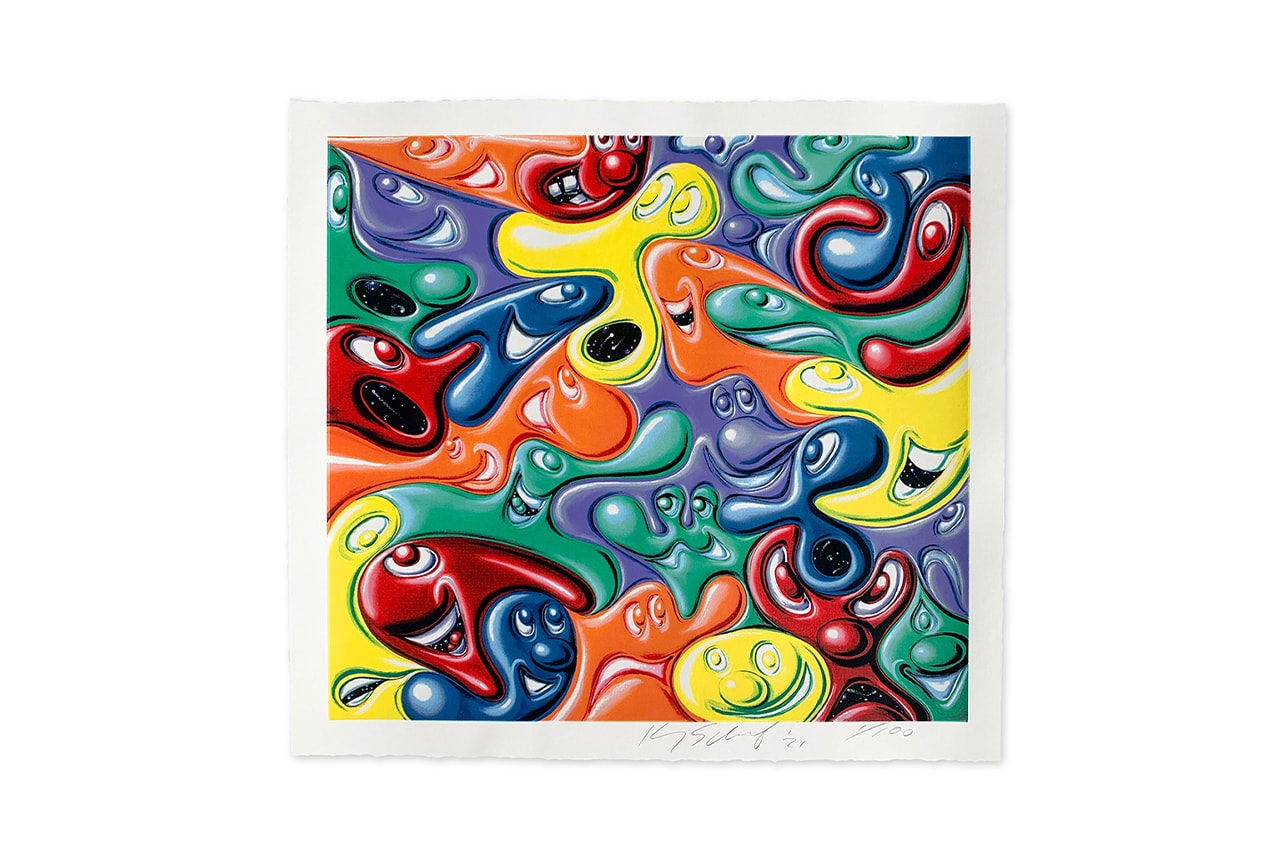 Kenny Scharf grew up in LA's San Fernando Valley and moved to New York in the late '70s to attend the School of Visual Arts, where he became roommates with Keith Haring and found himself in the middle of the 1980s East Village Art movement. In the swirl of the downtown scene, Scharf created his trademark Cosmic Caverns, an immersive experience of Day-Glo paintings and Black Light, which doubled as disco parties. He is known for his stylized aliens and colorful pop images, in the form of large-scale murals, and, only slightly, smaller-scale canvases. BEYOND THE STREETS teamed up with the artist to produce a 17 color, limited edition screen print based on his 2019 painting entitled "YUMMY." This one will for sure make you drool.
Don't miss your chance to cop these exclusive drops at the second annual virtual art fair, taking place on December 1 and 2. Head to NTWRK's BEYOND THE STREETS for more information now.