Is it Time to Invest in Virtual Fashion?
The market for 'crypto-clothing' is booming — and reaching eye-watering prices.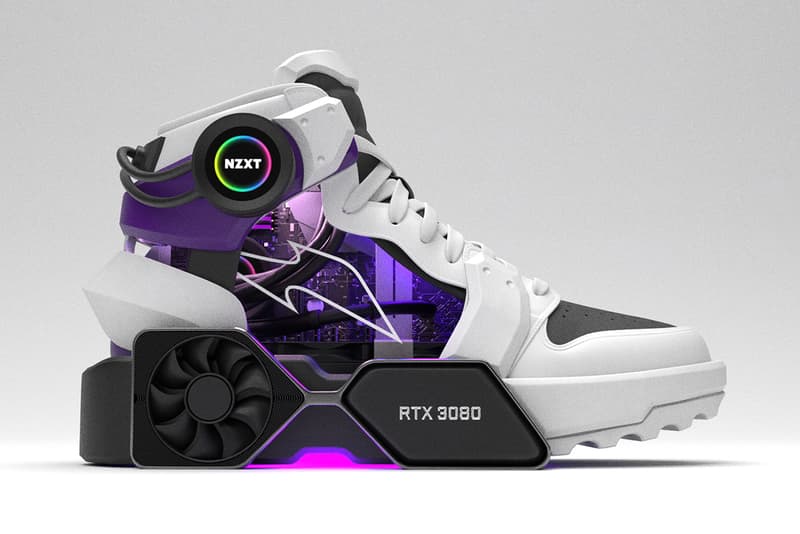 Early last year, an image surfaced of Elon Musk at the 2018 Met Gala, wearing a pair of sneakers unlike any other. The so-called 'CYBERSNEAKER' was designed by RTFKT Studios, and was inspired by the launch of Musk's highly divisive Cybertruck. The sneakers boasted a blocky, brutalist-inspired aesthetic that was reminiscent of the truck's design, finished with an exaggerated sole unit and a Nike-esque swoosh along the side. Musk was the first person ever to have been seen wearing them.
Except that he didn't wear them at all.
In reality, the sneakers were digitally applied to an existing photograph of Musk (who had, in fact, worn a fairly pedestrian pair of patent dress shoes to the gala). The modified image was shared to RTFKT's 600,000 Instagram followers, many of whom believed it was a real photograph, and the post's comments were quickly flooded with enquiries about where the footwear could be bought. Though the shoes do not exist — at least, not in the physical world — they were eventually sold for $15,000 USD. One bidder had even offered $40,000 USD for the pair, until they learned that they had not, in fact, been worn by Musk.
Welcome to the world of virtual fashion, where reality and unreality are hard to distinguish.
"We see ourselves as the new age Supreme, for a digital audience."
RTFKT was officially founded in January of last year, though its founders — Benoit Pagotto, Steven Vasilev and Chris Le — had begun posting content a year earlier, creating digitally-manipulated images designed to spread like wildfire across the internet. On their Instagram feed, Air Jordans appear to levitate in response to a Gucci-monogrammed Infinity Gauntlet; Kanye West and DJ Khaled appear side-by-side in blown-up, tricked-out footwear, and a PlayStation 5-branded sneaker (no, not the awful Zara one) is taken for a debut stroll. Though the shoes defy all logic (and, in many cases, verge onto the IP of existing sneaker brands), RTFKT's posts have swiftly amassed a growing audience, fascinated by these virtual products and eager to obtain them.
But RTFKT is more than a content creator: their imaginative and otherworldly designs can be bought as virtual products. The brand auctions one pair each month on their website, where customers can bid using cryptocurrency. The winning bidder receives exclusive use of a custom AR filter, which allows them to virtually 'wear' their sneakers on Snapchat, Instagram, and other social channels. RTFKT have also begun collaborating with various video gaming engines, which will enable players' in-game avatars to wear their purchases. So far, every pair released by the brand has sold out, even at a price tag that averages $15,000 USD, and have sold for as much as $40,000 USD. The brand is now exploring a more accessibly priced version, which will retail for around $100 USD, and will be created in limited runs of 100 virtual pairs. A series of yet-to-be-announced fashion collaborations is also slated for later this year. As Vasilev puts it, "We see ourselves as the new age Supreme, for a digital audience."
Their success — and the scale of their ambitions — is a testament to the growing power of virtual brands, which are capitalizing on our increasingly digital existence. And their ascent has been accelerated by the COVID-19 lockdowns, as consumers have been forced to spend ever-increasing amounts of time living, working and socializing online. "We got lucky with the pandemic, in a sense," says Pagotto. "It reinforced our vision, which otherwise might have been a bit premature. Now the fashion industry is starting to take a deep interest in virtual spaces."
As the boundaries between our physical and digital lives become ever more blurred, brands like RTFKT challenge us to consider which of those is the most important. After all, when so many sneakerheads are seeking the clout of copping a hard-to-find style, isn't an online space the best place to show them off to a wider audience — even if they don't exist anywhere else? "We're creating a kind of metaverse where you can use these items," says Vasilev. "And in some ways, it's more real than reality. When we posted the Elon Musk image, the internet thought it was real," he continues. "That image got around fifty million impressions. So if that many people saw the image, then what makes it real, or not?"
The virtual market has extended beyond sneakers, too. Tribute, a 'contactless cyber fashion' brand founded last year by designers Filip Vajda and Gala Marija Vrbanic, offers virtual clothing to its customers, with styles that are largely inspired by '90s clubwear. After paying for a garment, customers are invited to submit an existing (and Instagram-ready) photograph of themselves, which is edited by the brand using CGI to digitally 'dress' them in their purchase.
"Virtual reality is becoming mainstream culture."
Vrbanic, who was inspired to launch Tribute by the virtual clothing offered in games like Grand Theft Auto V and The Sims, has been astonished by the reaction to such a young proposition, even with prices that can reach up to $699 USD for a garment. "The sales have been really great," she says. "When we started, we didn't have any expectations. We thought we'd just put it on Instagram and see what the reaction was. But almost instantly we started getting a following and orders. It has been so far above our expectations."
Vrbanic believes the brand's success represents the rising power of a new — and growing — Gen-Z consumer, who has grown up at the intersection of fashion and gaming. "They are two worlds that have always been perceived as being very far apart from one another," she says. "But look at me: I'm that consumer. Video games have become much more mainstream. And that whole aspect of virtual reality is really becoming mainstream culture." It's a shift that RTFKT also acknowledges, and one that has unearthed a largely overlooked segment of consumers. "It's gamers with a streetwear mindset," says Le. "It's the kids who are collecting pieces from Yeezy and Off-White, but wearing them to flex on stream."
"They are overlapping," agrees Pagotto. "Yes, there are gamers who are into streetwear. But most streetwear kids are also casual gamers, at least: the kind of guy who's playing Fortnite once a week. So they have a virtual life, too."
Gen-Z aren't the only consumers taking an interest. The 37 year-old pseudonymous collector known as Whale Shark was one of RTFKT's first customers, purchasing their 'X' sneaker last year for 22 ethereum (approximately $27,000 USD, at the time of writing). Whale Shark was an early investor in Bitcoin (for what he describes as a 'fairly sizable amount') and is now a prominent figure within the 'crypto-collectible' community. For him, purchasing the sneakers was a "no brainer" as an appreciator of digital objects. "It was one of the first ever digital sneakers," he says, "so it was just an amazing opportunity to own a piece of history." His own inventory of digital collectibles — which includes virtual sneakers alongside digital art pieces — has "skyrocketed" in recent months, and is expected to exceed $10,000,000 USD in market value by February.
Yet the wider market may take some time to catch up. "There's a clear divide, I think, with people who 'get' it and people who don't," says Ryan Mullins, the CEO and Creative Director of the virtual sneaker company Aglet, which allows customers to acquire digital sneakers in an addictive, Pokémon Go-like format. "Some people still look confused when you tell them that people spend money on goods like virtual sneakers, or a virtual hoodie," he says. "They say things like "that doesn't make sense." But it does make sense. It's literally happening."
For his part, Whale Shark believes that the complexity of purchasing digital products — which often involves crypto currency, and an understanding of blockchain technology — is currently a barrier to entry for many consumers. "I don't think it can really gain wider adoption without removing that friction," he says. Nevertheless, he is certain that these kinds of items will, eventually, become more mainstream, and views them as a canny investment. "The mass market hasn't really caught onto these yet," he says, "but it's moment is coming. I think digital collectibles are actually more suited to the next generation of collectors, because they live more than 50 percent of their life online. We're at the start of a very long revolution."
Indeed, the appetite for virtual products is already growing at an exponential rate. Recent research published by Statista suggests that consumer spending on 'skins' — which allow consumers to modify the appearance of their characters within video games — will reach $50 billion USD by the end of 2022. It was, perhaps, inevitable that fashion would infiltrate this world, even if it has been slow to capture the gaming market (with a few notable exceptions). "The dynamics of virtual fashion are no different than the social dynamics governing how one flexes in real life: it makes sense that people would want their virtual self to rock some heat, as that's where they spend most of their time hanging with friends," says Mullins.
Virtual fashion also has a few significant advantages over real-life clothing: for one, its sustainability. Aside from using no materials in their creation (aside from the electricity powering the machines used to build them), they also involve zero shipping, zero packaging, and zero waste. Plus, in their conception, they present an uncharted creative opportunity for designers. "There's no limitations," explains Le of the process behind RTFKT's sneakers. "We don't have to think about engineering, or how a sole unit should be constructed, or if it'll work for an athlete. For us it's a purely aesthetic challenge: how to make the sickest frickin' shoes possible."
Yet that presents its own difficulty: the prospect of limitless possibility can be a paralysing one. Vrbanic, when producing Tribute's collections, found herself caught by surprise. "We thought the design process would be quicker," she says. "But it takes the same amount of time, or even longer. It's like, if you make a T-shirt, it doesn't need to have sleeves, because there is no function for a sleeve in the virtual world. But then, is it still a T-shirt?" She believes there is a kind of 'uncanny valley' in virtual clothing design – meaning her creations can't veer too far into the unrecognizable, and that the styles she creates need to have some rooting in the garments we know in real life. "At the moment, we're making things that look like an enhanced version of physical items, so people can get more familiar with them," she says.
Curiously, though, while the infinite space of the online world should allow for limitless quantities of their designs, virtual brands are largely opting for scarcity. RTFKT's sneakers are currently only ever produced as one-of-one editions, while Tribute's pieces are produced in strictly limited runs that will never be repeated. In that regard, the brands are taking their cues from their real-life streetwear counterparts. "It's what we've seen with brands like Supreme or Louis Vuitton," says Vasilev, "having collectible pieces that are hard to get – it drives value and status." Vrbanic agrees: "It would be stupid to make digital clothing available in infinite numbers," she says. "It's nicer to have something that's limited."
That could shift, in time, as new brands enter the virtual space, and the landscape becomes more competitive. But for now, the brands are focused on expanding the possibilities of what they can offer consumers — hampered only by the limitations of what current technology can allow. RTFKT, for instance, hopes to develop a real-life shoe fitted with digital screens, whose color could be changed via the user's phone. "Right now the technology isn't there to create that," says Vasilev, "but we're working on the research now." Vrbanic, meanwhile, is concentrating on expanding Tribute's range, and refining its offer. "Really, we know what our customers want," she says. "They want things that they'd never wear in real life."
"Things that aren't possible."