Drake, Post Malone, Eminem and Others Named Most Streamed Artists of the 2010s
Dominated by hip-hop artists.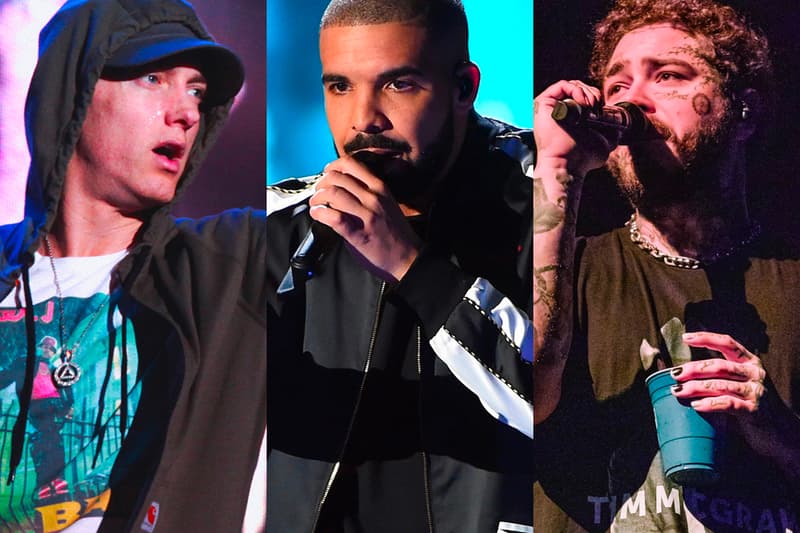 Drake, Post Malone, Eminem and Future are among a handful of artists that have been recognized as the most streamed artists of the 2010s.
The official statistics reflect how hip-hop has become the dominant music over the last 10 years. According to ChartData, four of the top five most-streamed artists are rappers, with Drake topping the list at 36.3 billion streams, significantly outscoring the runner-up's numbers by a wide margin: Post Malone trailed behind in second place with 18.9 billion, followed by Eminem, with 17.8 billion; Ariana Grande, 13.9 billion; and Future, 13.9 billion. At number six is The Weeknd, with 13.6 billion streams; followed by Taylor Swift (seventh), 13.3 billion; while XXXTentacion (eigth), 13 billion, Ed Sheeran (ninth), 12.9 billion; and Rihanna (tenth), 12.8 billion, rounded off the list. Rap and hip-hop, overall, didn't just become the most favored genre of the decade, but also of 2020. Other honorable mentions include Juice WRLD, who was one of the most streamed on Spotify in 2020, and Lil Baby, who's LP My Turn became the most-streamed album of 2020.
Scroll below to see the list of the top 10 streamed artists of the 2010s.
In case you missed it, Lil Nas X's "Old Town Road" has become the most certified song in music history.
Most streamed artists of the 2010s decade (US audio & video; via Nielsen)
#1 @Drake 36.3B
#2 @PostMalone 18.9B
#3 @Eminem 17.8B
#4 @ArianaGrande 13.9B
#5 @1future 13.9B
#6 @theweeknd 13.6B
#7 @taylorswift13 13.3B
#8 XXXTentacion 13B
#9 @edsheeran 12.9B
#10 @rihanna 12.8B

— chart data (@chartdata) January 10, 2021