David Hasselhoff to Auction 14-Foot Statue of Himself from 'The SpongeBob SquarePants Movie'
With a starting bid of $100,000 USD.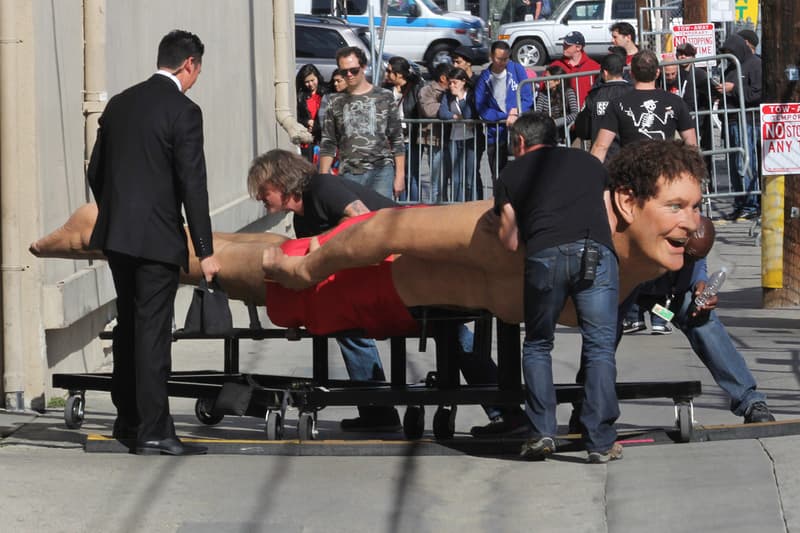 David Hasselhoff's gigantic statue from The SpongeBob SquarePants Movie is going up for auction.
Aptly named "Big Dave," the figure stretches out to 14 feet long and is an enlarged image of a shirtless Hoff with red board shorts — a homage to his days on Baywatch. In the 2004 Nickelodeon film, however, Big Dave uses himself as a boat for SpongeBob and Patrick so they can quickly return to Bikini Bottom and give King Neptune his crown back.
Hasselhoff announced the auction of Big Dave on Instagram, sharing a short video that sees him standing atop the statue. "Everything goes, including Big Dave," he said. Bidding begins at $100,000 USD but the actor is hoping for the item to go for $750,000 USD to $1.5 million USD.
The figure is just one of the many memorabilia in The Hoff Auction, and will be joined by the likes of autographed articles of clothing, signs scripts, a Baywatch pinball machine and a selection of cars such as a 1961 SL190 Mercedes and his own replica of the KITT from the '80s TV show Knight Rider.
Live bidding for The Hoff Auction begins January 23.
Elsewhere in entertainment, Zack Snyder clarified what kind of new footage can be expected in the upcoming Justice League: The Snyder Cut.