We Can All Be The Next Face of Gucci — Thanks to Deepfakes
RefaceAI is betting on artificial intelligence as fashion's new frontier.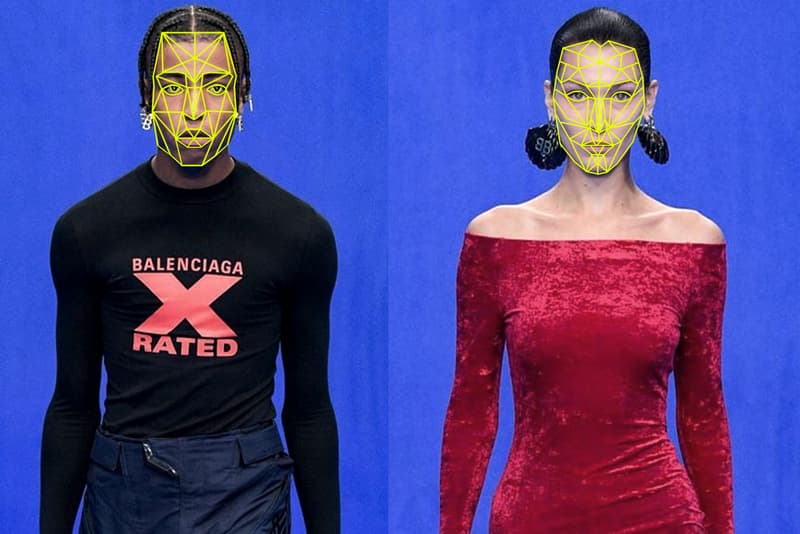 It's one thing to wistfully gaze up at a billboard and imagine yourself on it, but to actually become the advertisement — to put your face onto Lana Del Rey's body — is a different proposition. I speak from experience when I say it's equal parts alluring, addicting and slightly unsettling. For the first few moments, it's a welcome, if uncanny, glimpse at your glamorous alternate life. But gradually, the Black Mirror of it all somewhat supplants the thrill of seeing yourself in a bouffant, spritzing perfume with Jared Leto.
And this entire emotional journey can be yours with one selfie and 10-ish seconds of your time on the Reface app, which uses advanced GAN (Generative Adversarial Network) technology to recognize and transfer any face onto a select image. Basically, you "deepfake" yourself.
The Ukranian-based app has steadily climbed download charts; at one point, RefaceAI surpassed TikTok, Instagram and YouTube to take the #1 seed on the U.S. App Store's free-download ranking. Though the app is known and used primarily for uploading images of oneself into popular gifs, RefaceAI co-founder and CBO Dima Shvets told HYPEBEAST the company is eager to explore commercial opportunities — including those with fashion.
So how exactly does it work? RefaceAI says the app's technology is different from the deepfakes you might have seen on the news. "'Deepfake' itself is a definition that's been used really broadly recently, but it appears sort of between machine learning [and] deep-learning technology," says Anastasiia Marushevska, RefaceAI's Director of Communications.
She goes on to explain that "deepfake" doesn't refer to the technology so much as the types of media produced; the technology itself is almost always artificial intelligence. Deepfakes can modify different aspects of an existing image or video: change a face, what someone is saying or the language they're speaking in, for instance. "It just depends on how you use it," she added. And for many users, that might mean putting their face into a Gucci ad, like the one RefaceAI made available on their app.
This isn't the first dance between fashion and the latest in cutting-edge technologies — nor is it Gucci's: in 2019 the brand debuted an augmented reality "try-on" of its Ace sneakers and Gucci's first digital sneaker is coming this month. What's new this time is many of the IRL spaces where we used to interact with brands don't function the way they used to; "this event is indefinitely postponed," "our store is open but the dressing rooms are closed," "our showroom is open, but you have to take your temperature and pinky-promise not to cough." You know the drill.
Brands — and the ecosystem of models and influencers who support them — have also been forced to diverge from their usual M.O., opting for digital fashion shows and Zoom photo shoots instead. So, out of desperation (or just boredom), consumers, brands and influencers could be poised to get more experimental with how fashion operates virtually. At least, that's what RefaceAI is betting on.
"We didn't sign any concept," Shvets said of the Gucci ad included on the app. "We told [the Kering Group], 'Guys let's see what is the virality and engagement in our application in making promo videos.'"
"Actually it blew our minds because in a day it resulted in more than one million 'refaces' done, 400,000 shares made," he continued. "That's how we showed Gucci that our personalized approach of creating the content, how brands can interact within this content, can actually [help] their brand when using our application for promos. It's a great tool for doing that."
"Every time someone is doing a face swap, it's becoming a new piece of content with new meaning and a million options."
What makes RefaceAI's deepfakes (or face swaps, as the company calls them) different is the speed and customization possible with the technology. "Deepfakes of Obama or stuff like this, created a lot of buzz at some point," Marushevska says, referencing deepfakes' more nefarious applications. "These sort of deepfakes require days or weeks of work. This is not some regular user just opening his laptop and doing high-quality deepfakes. And, in this case it works only with those specific two faces."
"In our technology, we use GAN. And thanks to GAN and thanks to several different approaches we use, our technology works with every face. So we have neural networks that are actually trained to recognize every face," she continues. "Now if you open the Reface app, you can do the face swap in several seconds. And soon it's going to be working in real time. Our approach is the most advanced not just in terms of quality of the swap but also in the quality of the production of this technology for end users."
The ease and speed of RefaceAI's app is its calling card. And that's in part what's allowed the company to gain ground so quickly: creating product launch content for companies like beauty brand Vivienne Sabo, partnering with John Legend and Miley Cyrus for promo videos, and reaching the everyday consumers who've earned RefaceAI 20 million installs and a 65 percent virality rate.
So why would a fashion brand want to get a piece of the action? And what might "deepfake advertising" look like?
Marushevska explains that body swapping deepfakes will be RefaceAI's new frontier, which would push the door even wider for virtual photoshoot possibilities — even clothing try-ons (contactless clothing shopping actually isn't totally unprecedented). "If we take fashion again, regarding COVID and the way the world has changed, it probably will be smart for brands to consider using some digital forums. Not just to have models and photoshoots and video shoots; it will be crucial to have another option for it in case anything happens. So I think brands will start working towards it more and more to have other options which are smart enough but still digital."
"Maybe the viewer will be the next character in these movies."
As for advertising, Shvets outlined a hypothetical partnership: let's say ReFaceAI teamed up with Cristiano Ronaldo and a sportswear brand. RefaceAI puts out a call to its users to film a short clip of them acting out a script and doing their best football moves, Ronaldo chooses the best clip, swaps his face and body and the rest is history. "In that case, everybody wins," Shvets says. "Cristiano won't spend his time to go to some specific region or country to make the commercial, brand benefits from getting real engagement in their native content — makes it more engaging."
And, yes. Maybe this does still sound a bit dystopian — if not just creepy. But for better and worse, artificial intelligence and deepfakes have already made their way into fashion.
The Japanese tech company DataGrid used GAN technology to generate eerily lifelike computer-generated models. Artist Robbie Barrat used AI to generate a deepfake Balenciaga runway show and later assisted with a real Acne Studios collection. LVMH developed an artificial intelligence solution with which consumers detect counterfeit products using their smartphones through one of the firms in its accelerator program.
That's not to say there couldn't be barriers to success. Deepfakes or face swaps — whatever you want to call them — have a bad reputation to say the very least, which could rub some potential users and brands the wrong way. Submitting your face to be manipulated this way might cause some to feel concerned about matters of privacy. RefaceAI has said they don't use any sort of facial recognition technology or use the images in any way other than in-app functionality, and facial feature data is stored for only 30 days after your last use of the app. Even so, users might be understandably distrustful.
But RefaceAI is optimistic that viewers' impulse to be a part of the content they love will win out. "Content is created, for instance [when] a music video is uploaded on YouTube, then some TikTokers are taking this music video and they create some other content on top of it," Marushevska explains. "Every time someone is doing a face swap, it's becoming a new piece of content with new meaning and a million options."
"Now if you open the Reface app, you can do the face swap in several seconds. And soon it's going to be working in real time."
"The next step is to create the market for it. Because right now we see the usage of it now there, but we believe it's actually a next step of customization of the media we have. For instance, if we talk about what Netflix did to the media in general, they changed how we watch movies or TV series, but the next step can be: what is the role of the viewer in this? Maybe the viewer will be the next character in these movies."
The creepy factor is still there, but RefaceAI might be onto something. I'll willingly admit I saved and favorited my Gucci deepfake for easy access, to show anyone who didn't believe I could do as good of a job as Lana Del Rey — as did a million or so other people according to the company.
You could attribute the allure of a high-fashion "re-face" to a mixture of vanity, morbid curiosity and perhaps the desire to be part of an elite, insular world that mostly wants nothing to do with you. Call it what you want, but that's a winning combination in fashion.