How to Make a Takibi Bonfire and Grill with Snow Peak
Lessons in upping your grill game — just in time for the weekend.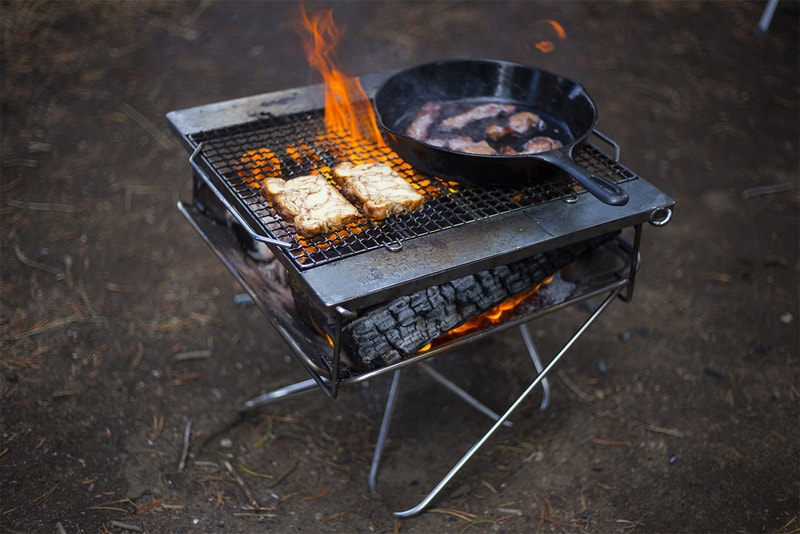 There's no time like late summer to get grilling, so take your outdoor cuisine to the next level by building a Takibi bonfire. In this HYPEBEAST How-To, Snow Peak walks through everything you need to know to get cooking with the Japanese-style pit.
First things first, set up the grill itself. This is pretty straightforward: all you need is the base stand, base plate and the fire-and-grill base unit. Using two types of wood for the fire makes for a hot, sustained burn, so Snow Peak adds kindling and longer burning logs to the grill. After arranging them into a triangle shape, with the bark end facing the farside of the unit, the fire ignites.
Snow Peak mentions you can leave your fire as is — just gather around with friends and enjoy — but if grilling is what you came for, there's a few more steps to follow.
Wooden charcoal is the first step to getting you fire grill-ready, added beside some smoldering logs with all the charcoal's air pockets pointing in the same direction to promote air flow. Once the charcoal turns gray, it's time to start dividing it up into three different sections for three different types of heat. With the fire ready, Snow Peak latches on the grill attachment, adds a variety of meats and vegetables to the grate and gets a proper barbecue going.
Check out the video above for the full breakdown and check out other culinary editions of HYPEBEAST How-To, from making shoyu ramen to strawberry jam.