Can a Runway Show Work on Film?
Highlights from the first day of Paris' Virtual Fashion Week.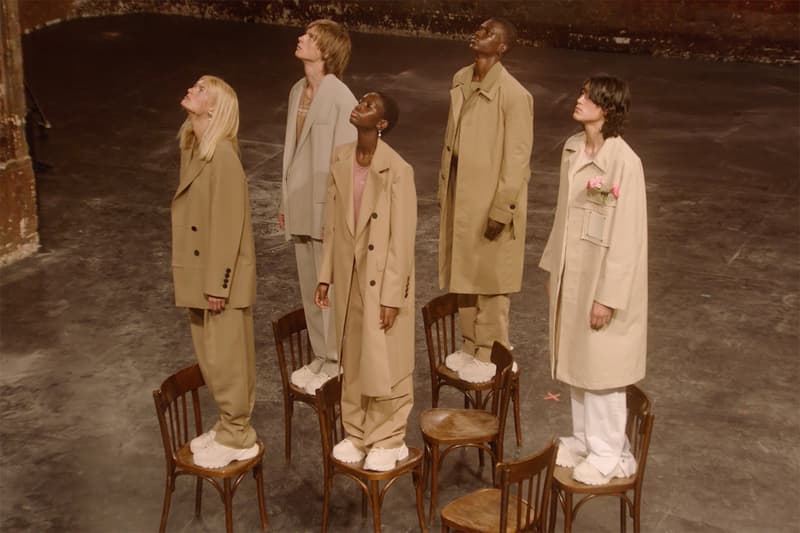 If nothing else, the Spring/Summer 2021 collections will be remembered as a season when designers had to dig deep. With runway shows cancelled, and many brands struggling with the production of their collections, designers have been forced to find new ways to show their work. So far this season, that's included exhibitions, talent shows, zines, and dummies.
The virtual edition of Paris Fashion Week launched today, with a number of heavyweight labels confirmed to participate: Dior, Louis Vuitton, Dries van Noten and Rick Owens are among the labels who will be showing collections over the weekend. At the start of proceedings today, a number of labels used the opportunity to experiment with presenting their collections on film. Here are the highlights.
Études
Études – the Parisian design collective launched in 2012 – opened Paris Fashion Week with a short film showing looks from the SS21 collection. A diverse cast of models wandered the streets of Paris, in a refreshingly unpretentious move: where the brand's previous shows have sometimes been bogged down by their own desire to appear "arty", this video grounded the collection, suggesting a real-life environment where most of the clothes made sense. The pieces themselves veered towards the oversized, with deconstructed outerwear and voluminous shirting coming to the fore.
CMMN SWDN
CMMN SWDN's designers, Saif Bakir and Emma Hedlund, opted to mimic the formula of a traditional runway show: within a sparse set accented only with a few sheaths of wheat, models walked for an imagined audience. The brand has found popularity among retail buyers for its wearable and unchallenging take on the trends, and the SS21 collection was a roll-call of what's fashionable now: boxy tailoring, fringed tunics, flares, and granola-70s colours.
Wooyoungmi
Wooyoungmi focused on dance for the presentation of its SS21 collection. In a short film inspired by the seminal choreographer Pina Bausch, a series of models moved between tableaus within an abandoned 19th-Century theatre in Paris. Dance performances are frequently a fallback for fashion films, but it's easy to see why: the video emphasises the fluidity of the new collection, and adds a dynamism to a lineup of everyday pieces: simple coats, wide-leg trousers, denim, and slouchy tailoring.
BLUEMARBLE
BLUEMARBLE is one of the newest names on the schedule: founded in 2018 by designer Anthony Alvarez, it offers a colourful, freewheeling approach to streetwear-inspired pieces. For its SS21 collection, the brand was inspired by Alvarez's dual nationality, taking influence from both New Jersey and the French Rivera. For its SS21 video, the brand shows a its models 'runway walking' through an incongruous series of real-life settings: parks, streets, museums, an underpass. Like Études, the brand's film benefits from showing its clothes in the real world, instead of a runway setting: it gives a sense of the context where Alvarez sees them existing. The clothes themselves are a mish-mash of prints, with a hippie-ish aesthetic that's in line with menswear's ongoing look back to the 1970s.