Dive Into the World of Pearls With These 12 Pieces
The world is your oyster.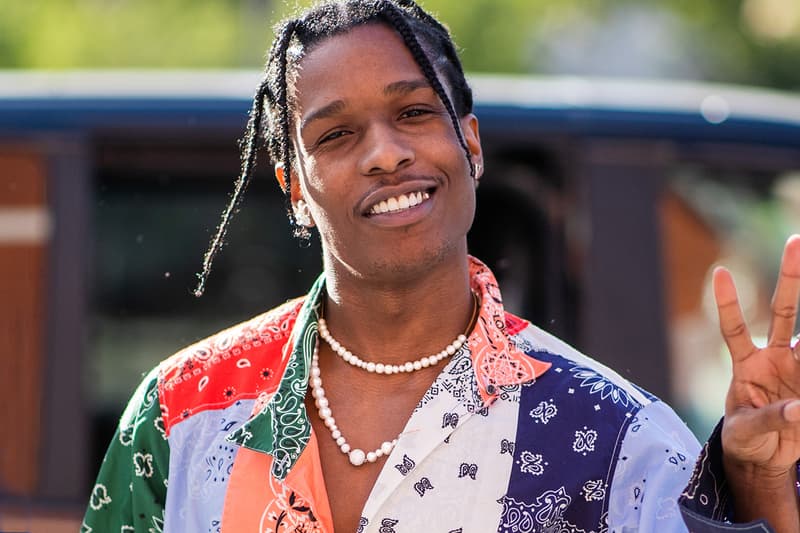 Like it or not, pearls are officially, and quantifiably, cool. Some of music's biggest names have regularly sported pearls in recent months — A$AP Rocky, Young Thug, Pharrell Williams, Harry Styles and Usher, to name just a few — and Lyst's recent Virtual Window Shopping: Jewelry 2020 report confirmed that searches for "men's pearls," as well as "silver" and "chain" are on the rise.
Buzz around men's jewelry is nothing new but the trends have been particularly daring over the past couple of years. This change may reflect the shifting sensibility of menswear, which has increasingly blurred the lines between traditionally feminine and masculine silhouettes. Bringing pearl jewelry over from the women's department was only a matter of time.
HYPEBEAST rounded up some of our favorite pearl and pearl-inspired pieces from Maison Margiela, MIDNIGHT STUDIOS, Ann Demeulemeester and more for this shoppable intro to the world of pearls.
First Steps
Pearls don't always have to be the main event. If you're not ready to overhaul your jewelry look just yet, MIDNIGHT STUDIOS offers up its Pearl Padlock Wallet Chain as a solution. The faux pearl strand also boasts silver-plated dual clasps and hardware engraved with the company's initials.
In lieu of a solitaire pearl ring a la A$AP Rocky, try MAPLE's pearly twist on the class ring. The Canadian jeweler pulls inspiration from art-deco ornamentation for the small flowers and line detailing on the band, beautifully framing the mother of pearl centerpiece. Mother of pearl, also known as nacre, is derived from the inner shell layer of mollusks which produces pearls.
Polish streetwear brand MISBHV grew out of Warsaw's infamous club culture and is known primarily for its garments, but the company has a covetable selection of jewelry as well. This faux pearl-sterling silver hybrid features a lobster clasp fastening and the two materials join together with the company logo: a Medieval script "M." MISBHV's twist on silver and pearls would look great stacked up with WWW.WILLSHOTT's Split-Pearl Bracelet.
Pearls have started to trickle through men's jewelry, but it still won't hurt to get acquainted with the women's department. And this ring from Maison Margiela is still available in larger sizes. The gold-tone signet offers just a peek of the faux pearl trio under the band.
Classics
In addition to making custom pieces for some of music and fashion's biggest names, Hatton Labs has a great selection of ready-made gold, silver and, of course, pearl jewelry. Each of their pieces is hand-crafted in London's Hatton Garden District, long the city's epicenter for all things diamonds, gems, and jewelry. The Classic Pearl Chain is a great place to begin your collection — ripe for layering but bold enough to stand out on its own.
Los Angeles based-brand Polite Worldwide offers a pink freshwater pearl strand. Eco-conscious and socially responsible, this piece is handmade using sustainably and ethically sourced materials. You can opt for either sterling silver or rose gold metal, and the necklace is available in 15, 17 and 18-inch lengths.
Mikimoto is a pearl powerhouse. Since 1893, the Japanese brand has made its name on giving customers the best pearls money can buy. It's founder, Mikimoto Kōkichi, pioneered the first cultured pearls: those created by a pearl farmer under highly specific conditions. Because of the company's intensive process, their pearls are highly revered, so much so that Rei Kawakubo tapped the brand for a capsule collection of seven necklaces with COMME des GARÇONS with prices ranging from $2,800 to $39,000 USD.
IN GOLD WE TRUST brings its contemporary vision to timeless jewelry silhouettes. The Silver Pearl Necklace is a case in point. The Parisian label mixes a freshwater pearl strand with a brass-plated ball chain, joining them with gold tone hardware and spring-ring clasp.
Twists
Y2K conch shell necklaces get an upgrade with this piece from Ann Demeulemeester, distilling '90s nostalgia and the contemporary pearl craze into one cohesive piece. The iridescent shell spotlights the pearl nestled inside and hung with silver metal. The silver-tone metal T-bar clasp opposite is engraved with the company's logo.
Chloé's Snake Pearl Drop Earrings are a masterclass in metal mixing and another reason to spend some time in the women's department. The gold-tone brass snake head features an emerald glass eye, and the pearl hangs from a silver-tone half-hoop.
This delicate necklace from Alighieri is crafted with more than just jewelry in mind. Each of Aligheri's collections is inspired by passages from Dante's Inferno. The Hatton Garden-based brand created this piece using freshwater pearls, a sterling silver chain, and 24 carat gold-plated bronze for the clasps.
For those interested in replicating Harry Styles' 2017 Met Gala look, Seb Brown's Crunchy Earring does the trick. These pieces are crafted using nine carat white or yellow and keshi pearls, which form as a byproduct of pearl cultivation. The earrings are semi-permanent, designed to be bent to close through the ear hole. Sold as singles, these earrings come with a slight discount when purchased as a pair.