Reopening Has to Mean Reinvention
As New York City reopens, retailers need to find new ways to connect with consumers or risk falling behind.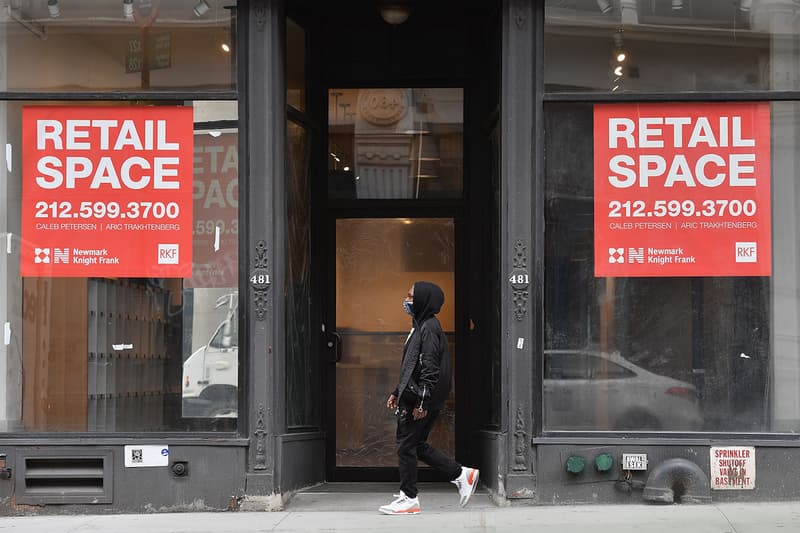 Certainly, online shopping means clothing shopping has remained a viable business throughout the coronavirus pandemic. And even with increased unemployment across the United States, customers are evidently still shopping.
But now, certain states are preparing to — or in some cases already have — allow brick-and-mortar retail stores to reopen after weeks of closure. New York City entered phase one of reopening on June 8, in which retailers are allowed to open for curbside pickup; they will be able to open more fully on a yet-to-determined date for phase two. That uncertainty puts local retailers in a tricky position — when to prepare to reopen? And how? And, will customers or employees even feel comfortable returning if reopening is possible?
For certain shops, allowing for zero-contact pickup isn't enough to bolster what made those stores successful in the first place — a sense of community and interaction. As the e-commerce boom has already shown, brick-and-mortar retailers today need to offer far more than just good product in order to remain in business, and the coronavirus pandemic has only exacerbated that conundrum.
"My customers are my favorite part of my job," Round Two co-founder Luke Fracher told HYPEBEAST. "Talking to the customers every day, like that's a big reason why us as owners are still in the store so much, is because we enjoy our customers and enjoy interacting with them."
The vintage streetwear shop closed its Lower East Side store, along with its other outposts across the country, on March 17 — a few days before New York City mandated the closure of nonessential businesses on March 22. According to Fracher, while the staff was aware that closing the store was merely a matter of time due to the pandemic, they were still hopeful they might be able to reopen in a matter of weeks.
"We initially put a reopen date, so that should tell you we thought it was just going to be a kind of like, close, make sure everything's good, and then reopen," Fracher said. "And obviously the situation is I think more serious than people in our age group, or at least me and my peers, thought it was going to be."
"Talking to the customers every day, like that's a big reason why us as owners are still in the store so much."
Round Two has since established an e-commerce platform and implemented curbside pickup at its Los Angeles store, but for Fracher, customer service and the brick-and-mortar experience are still very much the "cornerstone" of Round Two.
How to keep that experience intact is a crucial question Fracher and other retailers face as they reopen in a new environment of reduced in-person interactions. NOAH in nearby Nolita, which was once one of Manhattan's most bustling neighborhoods for shopping and dining, similarly acted as a point of socialization as much as a place to buy clothes. "We have a big community, and the shop is very much a place where people can come in, hang out, relax, and just kind of like a meeting point," Jason Boehm, general manager of the popular menswear shop, told HYPEBEAST.
Even prior to closing, NOAH was already trying new models to limit in-person contact. The store switched to an appointment-only model on March 16, ceasing in-person operations along with the rest of the city a few days later. Boehm expects that appointments will be a viable path going forward, albeit with more precautions such as mandated face masks and increased cleaning, and he predicts other retailers will do the same.
"As soon as the orders are lifted, I assume we're just going to go back to that appointment only, what we were doing before. And I know a lot of other stores are starting to do that. I saw in L.A. Union is beginning to do that. So I guess that that will be the new normal going forward," he added.
Other stores meanwhile have looked to transmit the experience once found in store to an online space. "One of the most important features of our retail stores is the experience and education," said Ian Anton, U.S. brand manager for Richardson, which closed operations at its store in New York's Lower East Side on March 15. "Customers would come by to hang out, chat with the staff and check out rare unique books from our selection, including our own Richardson Magazines — all while learning and sharing ideas."
"As soon as the orders are lifted, I assume we're just going to go back to that appointment only."
For the time being, Richardson is experimenting with a podcast, Richardson Radio, led by its magazine editors, to maintain a connection with its community. Anton says the store will follow whatever guidelines are implemented by New York to open its Lower East Side outpost, but with stores in Los Angeles and Tokyo, it has also been able to experiment with other models to create an engaging, and safe, shopping experience for its consumers.
At a recent Supreme T-shirt launch at its Tokyo flagship, the store utilized an online lottery system to give winning customers a time frame in which to pick up their items from the store, without incurring the lines usually associated with Supreme drops. "The concept worked and allowed us to disperse stock to customers over a few days without any overcrowding — just one of the many various plans we've been exploring and discussing internally," Anton explained.
But for some, appointment-only shopping or designated pick-up times don't offer the same spontaneity or accessibility of traditional shopping. "Personal shopping has never been a huge thing for us," Fracher said of the possibility of implementing personal shoppers at Round Two. "I prefer a much more democratic approach to retail."
For Dom Adams and Will Sharp, accessibility and interaction were key motivations to opening their store SOMEWHERE® in Washington, D.C. in the fall of 2019. "We just want to open a cool shop in our hometown, and sell brands from around the world that are hard to get, specifically here because D.C. is a little bit of a fashion desert," Sharp said.
The multi-brand boutique and coffee shop found a receptive audience, with its last major launch taking place on March 8. "We had just come off of a huge collaboration with Diet Starts Monday. We literally had like 500 people outside. It was great. And that was on that Sunday. And then that Monday, all hell broke loose," Adams said. "So we went from having like 500 people outside to having two people come in."
Washington, D.C. instituted its stay home order on April 1 — and is now preparing for a first phase of reopening, which allows for curbside pickup for retailers. But the lack of interaction is particularly difficult for streetwear retailers, Adams and Sharp feel, as the sense of community is what separates buying a T-shirt from them from buying from anywhere else. "This greater streetwear fashion world is communal. People really find comfort in friendships and stuff like that in this world. And how do you garner that and how do you keep that conversation going in a meaningful way?"
This month, SOMEWHERE® has implemented a new approach to maintain some sense of a brick-and-mortar shopping experience. The store launched a "window shop" on May 13 where customers can shop items displayed in the window by scanning the corresponding QR code, with the purchases then delivered to their home.
Adams and Sharp acknowledge that the window shop will not lead to a huge influx in revenue, but what they do hope for from these tactics is increased innovation and experimentation in the retail space. "This isn't really a money play. This is sort of a, let's figure out how to still tell a brick and mortar story in a world of just non-stop 'Brick and mortars are dead! Malls are dead! Every retailer's going out of business.' Which is just part of our thesis for having a store in general is like, hey, there's a new way to run retail. It's just very different from our predecessors."
For retailers to open again however, they need to ensure their employees feel safe enough to return to work. Karl Orotea was laid off from his position as a social media manager for Soho's IF Boutique in order to be able to file for unemployment benefits, with the understanding that he could return to the store once it reopened. "I'm very blessed and privileged to actually be on unemployment and have gotten it earlier than most people, because I'm sure a lot of people right now are having trouble getting it," he told HYPEBEAST.
"There's a new way to run retail. It's just very different from our predecessors."
IF's doors have been closed since March 17, but Orotea is hesitant to go back to work in a retail environment after seeing the lack of protections and government support for frontline workers. "Workers don't really want to go back to work just because they know if a reopening happens, there's gonna be a skyrocketing of cases," he said.
The bustling environment that surrounded shops like IF may not return even if their doors open and employees return, however. "I don't know if it'll ever actually go back to being like that until maybe next year," Orotea said, pointing to potential travel restrictions between the United States and other countries. "America is so dependent on the Chinese consumer. I would say like half of our business, happens to be from China."
It's those same consumers that supported many of those stores who were also subjected to anti-Asian racism as the coronavirus spread in the U.S. "It's ironic when our country constantly broadcasts xenophobia with no appreciation for the people where almost all goods are clearly manufactured from these days," Orotea added.
IF has weathered past crises, Orotea acknowledges; having been open under the same ownership since 1978, the store has survived its share of financial ups and downs. But as many retailers are experiencing, there is no clear roadmap for how to come out on the other side of a crisis like the current coronavirus pandemic. "We're trying to solve an unsolvable problem," Sharp said of his and Adams' initial reactions to the conundrum.
"We just have to really reinvent ourselves," he continued. "That's pretty much it. So if anyone finds hope in that, that will be great for the market. Because Dom and I really believe in physical retail and the stories that you have to tell through it.