8 Drops You Don't Want to Miss This Week
Featuring Supreme, Stüssy, GOLF WANG, Awake NY, Palace and more.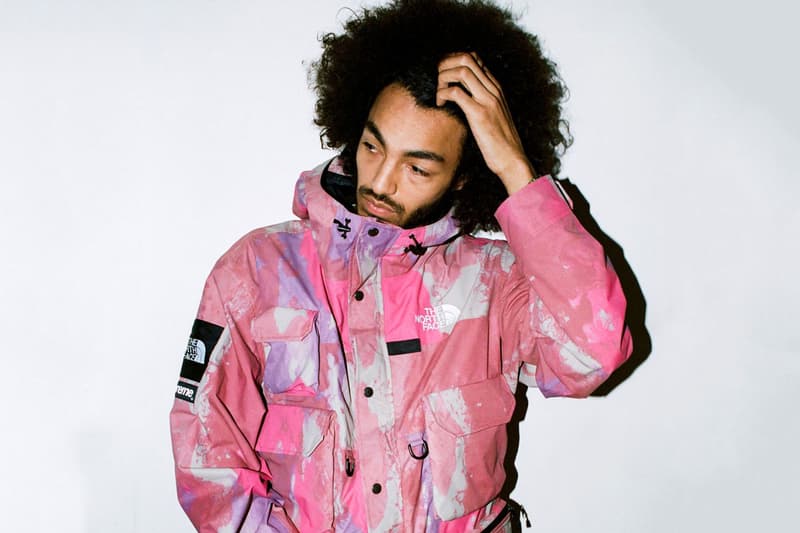 With another week we have yet another installment of our product drops series. Leading the list is the release of Supreme's newest Spring/Summer 2020 offerings, along with the Week 2 release of Palace's Summer 2020 collection.
Week 13 from Supreme features the second collaboration of the season with The North Face. The water-resistant nylon cargo range also features a charity One World T-shirt. 100 percent of the profits from the special top will be donated to GlobalGiving's Coronavirus Relief Fund, to help provide resources to frontliners and vulnerable communities.
Notable collaborations this week come in the form of a concise Zip-Off Cargo Pant range from Stüssy and Gramicci, the Takashi Murakami x PANGAIA World Bee Day capsule and GOLF WANG's Levi's team-up. Other standouts include the Kid Cudi c/o Virgil Abloh "Pulling Strings" T-Shirt and "Leader of the Delinquents" merch range, along with Tom Sachs' Fanta Black Longsleeve T-shirt. Rounding up this week's product drops is the release of Awake NY's SS20 collection.
Tom Sachs Fanta Black Long Sleeve T-Shirt
Always delivering ingenious artful cultural items, Tom Sachs recently released his latest purchasable art, the Fanta Black Long-Sleeve T-shirts.
A quirky interpretation of the soda brand's logo informed by the blackest black paint in existence, the top is centered around a bold label print. Moreover, the left sleeve features the text: "It won't fail because of me." While the right sleeve is embellished with "Tom Sachs Color Systems 6MBGH." Printed on a Fruit of the Loom blank by LQQK Studio, the artist is seemingly poking fun at the blackest black paint in existence, Vantablack — a material developed by Surrey NanoSystems in the United Kingdom.
When: Now
Where: Tom Sach's Webshop
Kid Cudi c/o Virgil Abloh "Pulling Strings" T-Shirt & Merch Release
To celebrate the release of "Leader of the Delinquents," Kid Cudi has also prepared a concise merchandise release for his first solo track since December 2016.
For the monumental drop, Cudi tapped longtime friend Virgil Abloh for the Kid Cudi c/o Virgil Abloh "Pulling Strings" T-Shirt features a sketch by Abloh that references when Cudi playfully expressed his displeasure to tabloid news website TMZ back in 2012. On the back of the shirt is a title of the track scrawled reminiscent of Jean-Michel Basquiat's text style. Other merch offerings come in the form of limited edition pressings of the "Leader Of The Delinquents" single on 7" vinyl, 12" picture disc and cassette with the artwork from Virgil.
When: Now
Where: Kid Cudi Webshop
Awake NY SS20 Collection
Back for SS20, Awake NY has returned with a selection of streetwear favorites perfect for the season.
A stand-out theme throughout the range is Awake NY's collaboration with artist Sam Friedman, which includes a silk camp shirt and 5-panel camp cap bearing original artwork. Other standouts include a colorful mohair cardigan, the Embroidered Roses flannel shirt and the corduroy chenille patch baseball jacket. More notables are the signature logo pieces and other graphic pieces marked with political slogans like "in God we trust, in the President we don't" as well as a quote from Nelson Mandela and the "civilizing the uncivilized" pieces.
When: Now
Where: Awake NY
GOLF WANG x Levi's 501 Jean & Trucker Jacket
To celebrate this year's 501 Day, GOLF WANG has teamed up with Levi's to put a colorful twist on the classic 501 '93 jeans.
Along with a vintage fit Trucker Jacket, the denim bottoms have been given a boxier, higher waist fit than other 501 cuts, although it has the same straight-leg cut to match Tyler's slouchy preferences. Aside from the multicolor polka dot print, the collaboration is finished off by a co-branded sizing patch and GOLF WANG logo complete with heart and flower on the back pocket.
When: May 20
Where: GOLF WANG
Takashi Murakami x PANGAIA World Bee Day 2020 Capsule
To mark World Bee Day 2020, sustainable clothing company PANGAIA has teamed up with Takashi Murakami on a four-piece capsule. The special range is launching inline with its Bee the Change Fund in partnership with Milkywire, which aims to protect and preserve vulnerable and endangered bee species across the world.
The chemical-free 100 percent GOTS certified organic cotton T-shirts and recycled material hoodies are decorated with Murakami's signature flower bomb and smiling flower designs joined by a colorful bee character. Coming in "Cobalt Blue," "Off White," "Orchid Purple" and "Saffron Yellow," the T-shirts is a statement about how bees support our ecosystem, while the hoodies are complete with a dual-branded stamp.
When: May 20
Where: PANGAIA
Supreme SS20 Collection Week 13 Release
Keeping its Spring 2020 releases coming, Supreme has now readied the Week 13 drop of its latest seasonal collection. Coming with its latest collaboration, the New York imprint has teamed up with The North Face once again.
Arriving in three colors, the second collaboration of the season is a cargo range that includes a jacket, vest and convertible zip-off belted pants all constructed of water-resistant nylon. Accompanying accessories include an adventure tote, camp cap with removable sun shield and a floatable keychain.
Marking the team-up is the charity One World T-shirt, 100 percent of the profits will be donated to GlobalGiving's Coronavirus Relief Fund. Coming in either black or white, the front of the special top is marked with a graphic of the Earth with text "Supreme/The North Face, One World One Purpose, 2020" written below.
Accompanying standout garments include the Franklin Hooded Sweatshirt, Mosaic Silk Short-sleeve Shirt and Glitter Football Top. Other notables are the Racing Soccer Jersey and matching Water Shorts, Nueva York Short-sleeve Top and 2-Tone Denim Camp Cap. This week's boldly branded accessory comes in the form of the Fujifilm instax Mini Instant Film (Pack of 10).
When: May 21, Japan Release May 23
Where: Supreme Online
Gramicci x Stüssy Zip-Off Cargo Pants
Continuing to deliver collaborations, Stüssy recently tapped outdoor label Gramicci for its latest team-up.
Coming together, the duo has put together a rugged pair of cargo pants done in Earthy "Clay" and "Camo." Accenting the style are functional elements like a secure built-in nylon belt, zip-off capabilities and a patented gusset crotch that enhances movement for activities like climbing, hiking and more. The zip at the knee allows the silhouette to transition into shorts as a seasonal option for the summer.
When: May 22
Where: Stüssy
Palace Summer 2020 Collection Week 2 Release
Following the inaugural release of its Summer 2020 collection, aside from its adidas Skateboarding Puig Pro collaboration Palace has prepped another diverse drop from its latest seasonal collection. Leading the Week 2 drop is the full print collage Fruity Jacket, '90s-inspired Jeanius Crew Sweater and simply branded Felt P Hoodie.
The London-based brand has readied some layering items like the proper Boojie shirt, series of Basically A Longsleeve T-shirts, striped Expenser T-shirt and short-sleeve knit Tex Polo. Rounding up the Week 2 selection are warm-weather favorite Swim Shorts and Speedway Shell 6-Panel Caps.
When: May 22, Japan & China Release May 23
Where: Palace & Palace_Skateboards WeChat