Jay Worthy and Harry Fraud Debut 'Eat When You're Hungry Sleep When You're Tired' EP
Featuring Guapdad 4000, Larry June, Big Body Bes and more.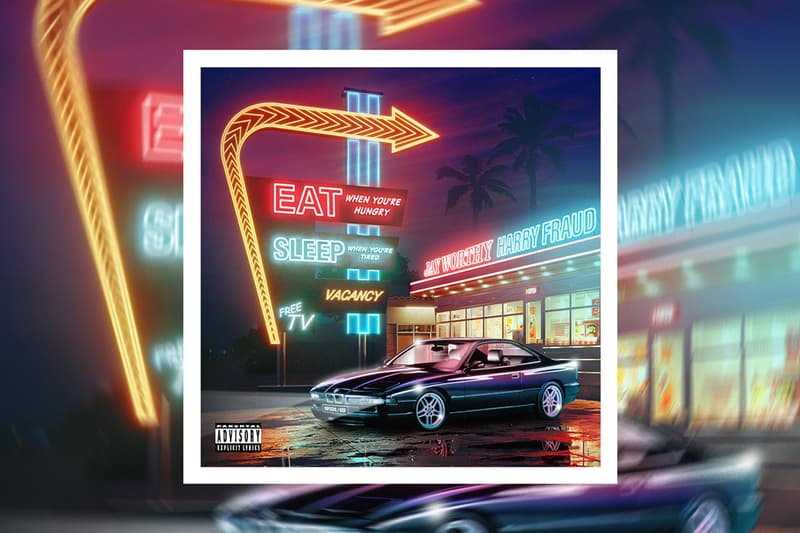 Earlier this week, Jay Worthy tapped frequent collaborator, Bay Area rapper Larry June for the 1980's inspired "Can't Be Stopped", the first single from Worthy's collaborative Eat When You're Hungry Sleep When You're Tired EP with producer Harry Fraud. The project is now available on all streaming sites with features from Guapdad 4000, G Perico and Big Body Bes.
Worthy has been keeping busy all year. At the top of 2020, the rapper dropped his series of collaborations with some of his favorite West Coast artists for the vinyl B-side-inspired Two4one. With Worthy's latest effort, Harry Fraud's production truly shines and creates a cohesive experience for the rapper to wax poetic on. The entire offering comes off as effortless in the best way imaginable.
"When I moved to New York City, I told Body to link me with Fraud as I always knew we would make something special," Jay Worthy told HYPEBEAST. "Next thing you know we were locked in doing an EP. We was in the studio til 7AM every night. It had my sleep schedule and eating all f*cked up. The shit was fun though. I'd do it all over again."
"When me and Worthy first linked up we just started going through a bunch of old music. As we were listening to all these songs from the 60s, 70s and 80s we started to key in on the same stuff and were chopping them up as we went. We didn't necessarily start with the intent of making a project, but before we knew it the project had made itself," Fraud revealed.
"Hard Knock High" pays tributes to Kobe and finds Worthy admitting he was never going pro playing ball with the amount that he was smoking in high school. Fraud's smooth saxophone loop echoes in the background. Larry June's melodic chorus on "Can't Be Stopped" is the perfect fit for the retro g-funk setting. The duo of Guapdad 4000 with G Perico on "Ice Cold" will leave you hoping the two create their own collaborative EP together somewhere down the road.
Listen to Eat When You're Hungry Sleep When You're Tired below. In more music news, read the strange story of how Shia Labeouf's screenplay about BROCKHAMPTON's Kevin Abstract won a screenwriting award and an amateur competition.