Three Chefs on the Power of a Good Cookbook
With restaurants closed, chefs explain why a cookbook is more than just recipes.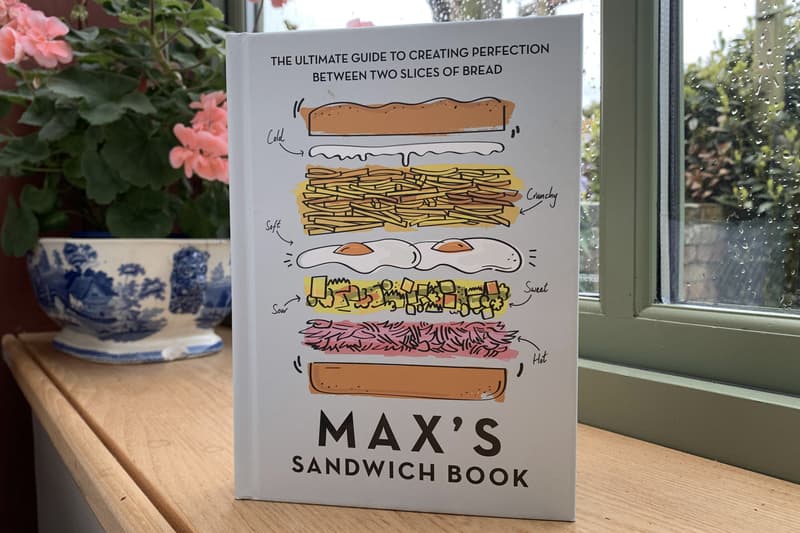 What makes a good cookbook? Is it the recipes, photography, the writing, the storytelling? For some chefs and cookbook authors, it's a combination of all of the above. Those who cherish their cookbooks do so not just their recipes, but also the memories they hold. 
Now that the usual melting pots of socializing — also known as restaurants — are closed, a good cookbook is a way we can all channel our inner chef. As we all spend more time indoors, practicing hobbies such as cooking can be a way for us to not only learn a skill, but to also develop connections over food. 
HYPEBEAST spoke with Max Halley of Max's Sandwich Shop and the author of Max's Sandwich Book: The Ultimate Guide to Creating Perfection Between Two Slices of Bread; Russell Norman, founder of POLPO and POLPO: A Venetian Cookbook (Of Sorts) author; as well as Alvin Cailan, the founder of Eggslut, AMBOY and the author of AMBOY: Recipes from the Filipino-American Dream to discuss the importance of cookbooks, and why they're more than just a collection of recipes.
Read on to find out about their fondest cooking memories, some stellar cookbook recommendations and how a poem by Seamus Heaney perfectly sums up sentimentality in cooking.
What makes a good cookbook?
Max Halley: It all begins with good recipes and beautiful writing. No matter what else you have (lovely fonts, great pics), if you don't start there, you can do one. End of. A quick glance at many of Elizabeth David or Jane Grigson's classics and you know that fantastic typesetting and bougie photography aren't what is required for a cookbook to be good. Don't get me wrong, I love and am often to be found flicking through a beautifully designed cookbook, but if that's all it's got, it ain't that good.
Russell Norman: All the best cookbooks tell stories. Take something potentially dry and dusty like Pellegrino Artusi's Science In The Kitchen And The Art Of Eating Well — the book comes alive because of Artusi's physical journey through the regions of Italy and his intellectual and culinary voyage of discovery.
Alvin Cailan: A good cookbook has soul. The story behind the dishes, the reason the author chose to write that recipe into their book brings a cookbook to life. Sometimes a good cookbook doesn't even have to have pictures, good cookbook authors and chefs can describe a dish so vividly that it inspires me to cook immediately. I love when that happens.
What is your first memory of cooking from a cookbook?
Halley: My mom and I used to make a no-churn lemon ice cream called Lemon Whizz Cream from a kid's cookbook I had when I was about seven years old, even younger perhaps. I remember the no-churning being a real clincher as who the f*ck had an ice cream machine at home in 1989? Who the f*ck has one now? My mom still makes it, 30 years later. I have no idea where the book came from or what it was called.
[Halley, who is quarantining at his parent's house, later asked his mom for the name of the book. It is called Kitchen Wizard by Deborah Jarvis].
Norman: The River Cafe Cookbook. I can remember the first recipe I attempted, too: the penne carbonara. I couldn't work out why my efforts were never as shiny and glossy as the photograph. I discovered later that there was a slight cheat on the photo!
Cailan: I was six years old, my best friend spent the night at my house and the next morning we decided to make pancakes for my parents. My mom had a cookbook next to the bread box in a cupboard. We got a frying pan, mixed all the ingredients in the pan itself and my dad walked in and laughed out loud. He grabbed the pan from us, explained our mistakes and took over. 

What about cookbooks can foster memories? 
Halley: Cooking from them. I doubt there are many people lying on their sofas thinking to themselves, "Sh*t! The font they used in that no-churn ice cream cookbook I had 30 years ago was on point!"
Norman: Food and memory (particularly aromas) are so closely linked that recipes and cookbooks occupy the same territory, I guess.
Cailan: For me, there are two kinds. One, could be from a fine-dining chef, their story could be so inspiring. However, you can't make any of the recipes because they're so intricate and nuanced. Two, books that have recipes that change the game, a new way of making something you thought you had already mastered. That, makes you go "ahh," moment. 
When you write a cookbook, how do you decide what style of writing to use? 
Halley: It shouldn't be a decision, it should be the language and style that you talk and communicate in every day — the more contrived it becomes, the sh*tter and sh*tter it gets. God, that's profound, isn't it?
Norman: I try to engage the reader in the same way I am engaged when I start shopping, growing or cooking. If something delights me (new season baby artichokes from the island of Sant'Erasmo, for example) then I hope it will pique the reader's interest, too. I like to keep the style conversational without being annoyingly matey.
Cailan: When I wrote AMBOY, I really just let my words flow. I tried to keep my voice in it as much as possible. Cursing, warning you in the middle of a recipe not to skip a step that might be considered redundant or unnecessary.
How does photography contribute to the overall experience of a cookbook? 
Halley: Massively! It's become a huge part of cookbooks, hasn't it? There is something about seeing what it's meant to look like and how good it could look that entices you into cooking it in the first place. It also makes it, literally, nice to look at. 
Photography can also be an extremely useful tool for explaining things. In my cookbook, there is the recipe for the focaccia we use for all our sarnies at my Sandwich Shop. I can't imagine trying to do that recipe without the photographs. How do you write down what a proving bread looks like and at what point it has proved enough? Nightmare! Photography there, is absolutely essential to make sure the recipe is clear, and more likely to work.
Norman: A good photograph can sell a recipe far more effectively than beautiful prose. I stared at the ratatouille baguette in Alastair Little's Keep It Simple for ages! 
Cailan: Photography is huge nowadays, people want to digest the book with their eyes. Luckily my good friend Wyatt Conlon shot AMBOY, he's been covering my entire career. AMBOY is a genuine photo series of my life, from the eyes of someone who is actually in it. 

Aside from recipes, what else can you learn or experience within a cookbook?
Halley: A good cookbook doesn't just show the individual recipes within it, it explains the writer's approach to food, cooking and flavor. With my Sandwich Book (the best book about bread since the Bible) for example, the idea was never just to show people those specific recipes. It was to show how I approach making sandwiches generally. To tell people about my sandwich theory: hot, cold, sweet, sour, crunchy, soft — the secret of delicious. Getting people to think about those six things when putting a sandwich together, makes their sandwiches better. 
Encouraging people to see how much of something might be mixed into mayonnaise, what might happen when something is deep-fried and how many crushed up crisps you can get into that, were three of the main things I wanted people to take away.
Norman: I like little vignettes and stories. All my cookbooks have relevant and (I hope) entertaining breaks from the recipes.
Cailan: You learn a lot about a chef, their cooking style and influences. For example, I'm Filipino-American, born in Los Angeles and raised in a predominantly Latino neighborhood. I studied French culinary arts and I've worked in new American restaurants. All of that information and experience influence the cookbook.
What makes us want to hold on to certain cookbooks or pass them down through generations? 
Halley: Cooking is emotional and sentimental — just look at me getting all weepy over some f*cking lemon ice cream. Food reminds us of people, of places, of good times (and I'm sure bad). This might seem to be a bit poncy but I don't give a sh*t, there's a Seamus Heaney poem about him peeling potatoes with his mom that answers this question perfectly. She has sadly died and he is remembering her.
Norman: Cookbooks can be like diaries, particularly when splattered with egg or stained with squid ink. Even better when annotated. They can become very personal.
Cailan: Most books that have been handed down to me have greatly inspired the person who gave them to me. They probably passed them onto me because they wanted me to feel what they felt or felt it necessary that I read it at that moment in my life. The French Laundry Cookbook was given to me in culinary school. I was handed the Joe Beef cookbook when I became a chef de partie. I was in a rut and I was given Julia Child's book and it inspired me. Giving people cookbooks is an awesome tradition!
Which cookbooks, or which recipes in particular, mean the most to you?
Halley: Apart from my own humble work of genius? Marcella Hazan, The Classic Italian Cookbook. The Tuscan meatloaf recipe is a work of art comparable to Da Vinci. My dad has cooked it since I was a kid and I made a sandwich with it in my original screen test for Vice many years ago which kicked off loads of fun. Anthony Demetre's Today's Special is just brilliant. I used to work for him and the stuffed cabbage recipe brings joy to my heart and life regularly.
Caz Hildebrand and Jacob Kenedy's The Geometry of Pasta is bloody brilliant. My two favorite recipes in there are the medium tomato sauce at the beginning of the book (which I make in massive batches and keep in my freezer for hangover lunches) and the courgette and prawn sauce which is the very definition of summer. Harold McGee's On Food and Cooking isn't really a cookbook, but is perhaps the most useful, valuable and important book about cooking and food ever written.
Norman: My copies of the Artusi book I mentioned earlier, The Harry's Bar Cookbook, and The Silver Spoon are the ones that mean the most. And I'll take Harry's Bar recipe for Croque Monsieur, please!
Cailan: I love the Joe Beef cookbook, it's really a cuisine that influences my style of cooking. David Chang's Momofuku book was epic, his food was so crave-worthy and inspiring. All of Thomas Keller's cookbooks have been my bibles. His recipes are my guidelines.