Inside Mike Dean's Quarantine Escapism
Kanye West and Travis Scott's go-to producer let the ideas flow and ended up going solo.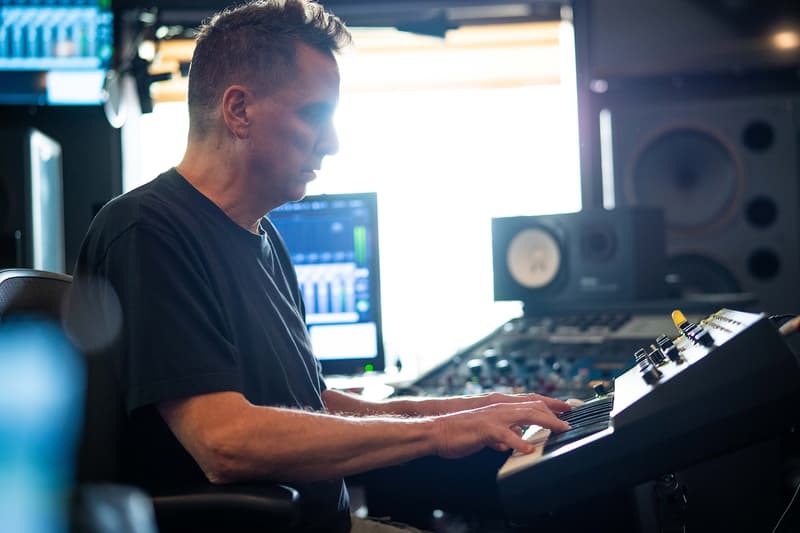 Houston-born producer Mike Dean is the hip-hop world's version of Six Degrees of Kevin Bacon. You'd be hard-pressed to find someone in the music industry today who he hasn't either worked with or who his sound hasn't touched. For nearly three decades, Dean has been a part of some of the most important movements in rap.
He helped shape the sound of the Geto Boys and Scarface in the early 1990s. That connection with the legendary rap collective from his hometown eventually led him to Kanye West during the recording of Scarface's 2002 project The Fix.
"We were just two producers with a high taste in music. The first time he came over my house to produce we just clicked," Dean told HYPEBEAST of his initial sessions with Kanye. "I think just the scope has changed. We're both still very passionate about music. He's into a lot more things than I am. I'm not interested in making clothes and shoes, sh*t like that. I just want to share my music."
Dean left an indelible mark on one of the last decade's most important and luxurious rap albums — West's My Beautiful Dark Twisted Fantasy, where Dean lended a guitar solo to "Devil in a New Dress." He also was one of the earliest producers in Travis Scott's corner — his production with the fellow-Houston artist dates back to the days leading up to Scott's first mixtape Owl Pharaoh, and he's had a hand in each of his subsequent releases, too.
Now Dean has taken a surprising turn as a solo artist based on weeks of Instagram live streams while cooped up in his studio during the coronavirus quarantines. He describes the period as a free-flowing session inspired by his long standing fandom of progressive rock. Instead of being inspired by collaborative prompts from Kid Cudi, Pusha T or 2 Chainz, Dean took his love of Pink Floyd, King Crimson and Yes and ran with it, ultimately culminating in the other-worldly 4:20.
This project isn't a DJ Khaled-esque compilation where a handful of Mike's most famous and powerful friends lend guest verses. This is an album-album. It's an experimental, instrumental-only project that's a psychedelic trip into electronica. Songs are better described as movements, and you're encouraged to designate the full hour-and-a-half runtime to listen. It's already inspired a handful of notable producers to reach out to Dean and ask his permission to sample from it. He doesn't mind either — in fact that was one of the reasons he made 4:20. "This project may not go Gold but I promise 10 projects will go Gold from sampling from it."
Mike Dean joined HYPEBEAST to talk about branching out from his frequent collaborations for his first solo project, life in quarantine and more.
---
HYPEBEAST: So after over 20 years making music, why did you decide to release your first solo record now?
Mike Dean: My workflow just slowed down. A lot of artists aren't coming around to work or get sh*t done, so I had extra the time.
When did you first have the idea for your Instagram livestreams and how did that affect the process of this record?
It was March 18 — I had a tweet that day that said, "Should I go live on Instagram?" I got a good reaction to it so I ended up doing it. It turned out pretty well. It was more about expressing myself and getting frustrations out, you know?
Frustrated how?
The isolation and having to stay home and sh*t.
How did you pre-plan the structure of the livestream performances?
It was all free-flowing. Every day before, I'd go in the studio and create like five loops. I'd mess around with the synthesizers and the sounds that I'd want to use for that day. Everything else was off the top of the head.
Has being cooped up in the studio during quarantine been any different than your usual process of making music?
Not much. Only difference is some days I'd go out for lunch or something but other than that I'd stay in the house and work.
Even with the album being so freeform and experimental, did you still pull anything you've done with Kanye, Travis or G.O.O.D. Music in the past for 4:20?
I pulled a couple of guitar sounds from old songs like "Devil In A New Dress." But I was inspired by Pink Floyd, King Crimson, Yes — older prog-rock bands.
There were definitely some Pink Floyd vibes in how the music took you somewhere else. It made me think of Pink Floyd's film Live at Pompeii from 1972. I started to think about what the visuals for 4:20 would look like.
That's crazy. I'm trying to figure that out now. I was supposed to do a deal with IMAX for the visuals but that's not happening with everything going on right now.
Now that you're a solo artist, where are you going to go from here?
I definitely want to pursue the solo stuff as a career but I'm still going to stick to the core artists that I work with — Travis, Kanye, Cudi and I have my M.W.A. crew who I'm going to keep mixing and producing with. That's the goal with this, to have it used in [movie] trailers and sh*t like that.
What do you say to rappers and other producers who may take your project and sample from it in the near future?
I'd encourage people to sample it. That's part of the reason I put it out, instead of doing Splice sample sh*t, I wanted to put out music that people could enjoy and even sample from. Mike Will hit be up asking if he could sample from the album. Timbaland hit me up this morning telling me how much he loved the album and I told him, "Sample away, dude."
That's a great way to look at it, that the longevity of 4:20 is going to inspire and influence countless projects and songs down the road.
I'm thinking about doing a remix contest this next week too. I'm trying to figure out where to do it, maybe we could do a collaboration on HYPEBEAST, that'd be cool. Have kids submit their songs and the HYPEBEAST staff could maybe pick their favorite five. Get some company to donate their equipment.
What were your go to instruments when making this album?
I used a new set-up in the studio that I don't use a lot. I used a Moog Mother and a Moog Matriarch, a Behringer POLY D and a few old, stray synths along with the KORG.
You've been doing this a long time now — how have you been able to stay fresh with new sounds and be the one who sets trends?
One of my tricks is just bringing new equipment into my studio all the time. You can't keep using the same keyboards or same set-up, that way new sounds and new inspirations come. And just being imaginative, you know?
You also had a hand in Travis Scott and Kid Cudi's recent joint-project "THE SCOTTS." How'd that come about?
We were just in the studio every day, smoking weed and hanging out. They're a really good team — it kind of reminds me of Watch The Throne because it was Kanye who looked up to JAY-Z as his mentor, his hero. Travis and Kid Cudi are the same because Cudi has been his real mentor, you know?
The music industry has already changed so much two months into the quarantine. On one hand you have these positive effects like live-streaming and remote collaborating. But then there's no concerts, record stores, physical spaces.… Are you worried about those changes?
Not really. I think it will all work out. That's kind of small compared to what's going on in the whole world right now. There are a lot of people out of work though. All the crew for tours from people like Travis or Kanye, they're out of work, so I feel for them.
Did you do anything particularly special for this 4/20 with the release of your debut solo album?
I mean, we just smoked a lot of weed [laughs]. I was smoking joints because I just quit tobacco three months ago. We did a lot of live streams that day. I was on with High Times magazine which was cool.
Listen to Mike Dean's debut solo project 4:20 below. Dean is also selling limited edition "Day One" t-shirts with all proceeds going to to homeless/COVID-19 related charities including the likes of Hugs No Slugs in Chicago, Star of Hop Mission for Homes in Houston, the YMCA Emergency Community Impact Fund in Los Angeles, and Ramadan Iftar Meals for Astoria and Long Island City in Queens, New York City. The limited run of t-shirts were created by Gustavo "Distrolord" Guerra with ethically produced USA organic cotton. Shirts are available today via Dean's official website.