How to Sneakerhead at Home
The best ways to stay connected to sneaker culture from the confines of your home.
As self-isolation becomes the norm for cities from New York to Hong Kong, a simple question arises for sneaker lovers: what keeps you connected to the culture when you can't leave the house?
Buying, selling, collecting and appreciating sneakers is still a very social hobby, one that typically entails a great deal of in-person or — more so in recent years — online communication. When you're firmly ensconced in your house or apartment that interaction becomes difficult, if not impossible.
Nevertheless, passions can provide a meaningful escape during turbulent times. So how do you remain an active participant in sneaker culture from the comfort of your home? There are two Ts on your side: technology and time. This duo bestows you with five ways to sneakerhead from home: clean, categorize, cultivate, connect and cop. Some may be divergent, some even contradictory, but they all have one thing in common: they're a great and potentially unexplored way for you to stay tapped in with your obsession.
Clean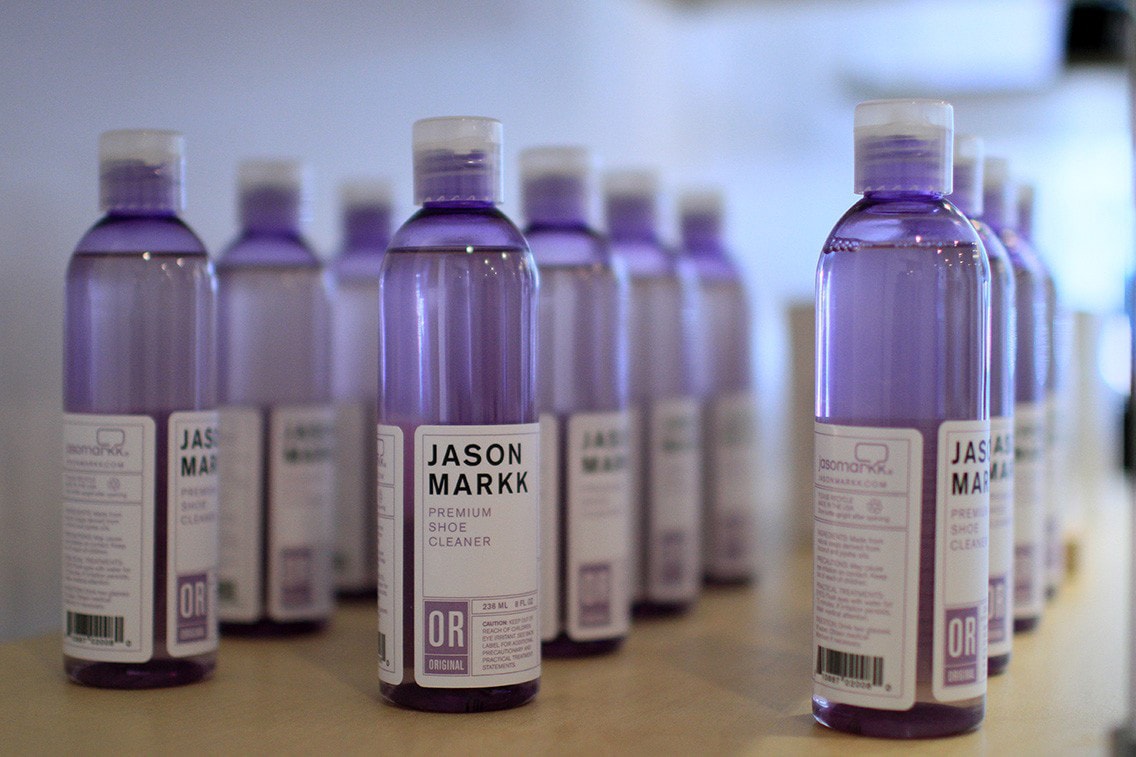 Let's face it: many of us sneakerheads who subscribe to the time-honored "rock, don't stock" mantra don't clean our kicks as much as we should. Most footwear aficionados would tell you that classic models like Air Jordan 1s, Nike Dunks and adidas Stan Smiths all look better with a little grime on them, and they'd be correct. However, the benefits of keeping your shoes clean are twofold.
First and foremost, analysis indicates that the coronavirus can live on the soles and uppers of shoes for up to five days. If you leave the house to get a breath of fresh air in a fresh pair (word to Fabolous), you may be unknowingly bringing an entirely unwanted guest back in with you. Although research on the different ways coronavirus can be transmitted is still ongoing, cleaning your kicks thoroughly with a special brush and a powerful solution from trusted brands like Crep Protect or Jason Markk is beneficial nevertheless.
Secondly, cleaning your sneakers also fosters a sense of calm and instills pride. Just imagine the feeling of accomplishment when your whole collection is sparkling clean. You'll be looking forward to getting all your kicks dirty again.
Categorize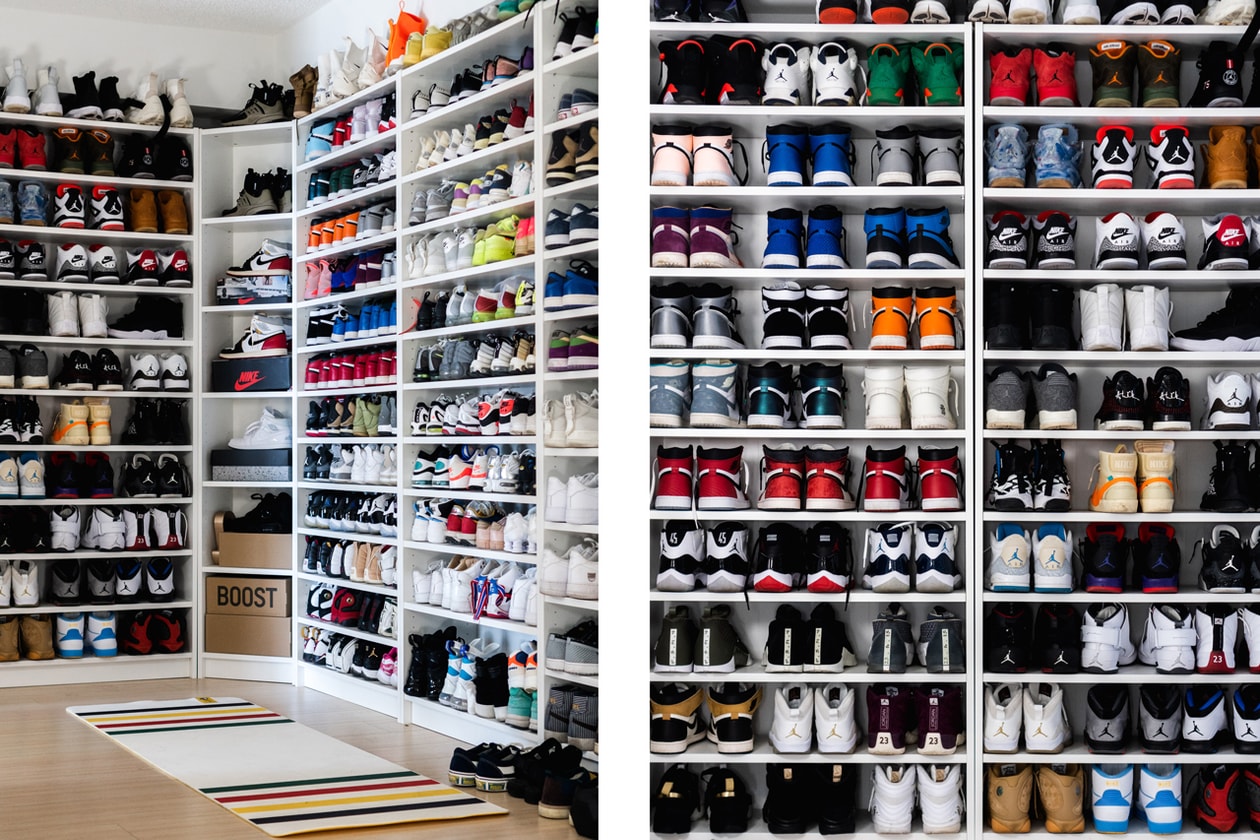 Fashion-conscious individuals often love to talk about paring down or organizing their closets, but the Marie Kondo-ing of sneaker collections isn't such a hot topic. In the madness of the never-ending hustle, bustle and constant stream of releases that make up today's sneaker game, it's easy to accumulate more than you even know what to do with. Maybe there are towering stacks of boxes in your room, maybe there's a pile of well-loved — or totally unworn — kicks sitting right by your door.
With newfound time on your hands, you can finally wade into the waters and take stock of your collection. Figure out what brings joy. Figure out what you wear and what you don't, although you probably already knew that deep down. With these realizations come a rare opportunity to do the unthinkable: let some shoes go, either by selling or donating.
Nostalgia was, is and will always be a large part of the allure of sneakers for many. But make sure the pairs you own are nostalgic for a specific reason, not nostalgic for nostalgia's sake. And who knows? By pruning your collection, you just might rekindle a passion for a pair or silhouette that you'd forgotten about. You can organize and refine too, with products like drop-front boxes and shoe trees.
Once you've decided which shoes you no longer want, there are several outlets for you to move your inventory. Are they deadstock? Let 'em fly on StockX. Been worn a few times? Throw 'em up on Grailed, eBay or GOAT. Feeling generous, and would rather help the less fortunate than line your pockets? Plenty of charities like It's From The Sole would be more than happy to take the kicks off your hands post-quarantine.
Cultivate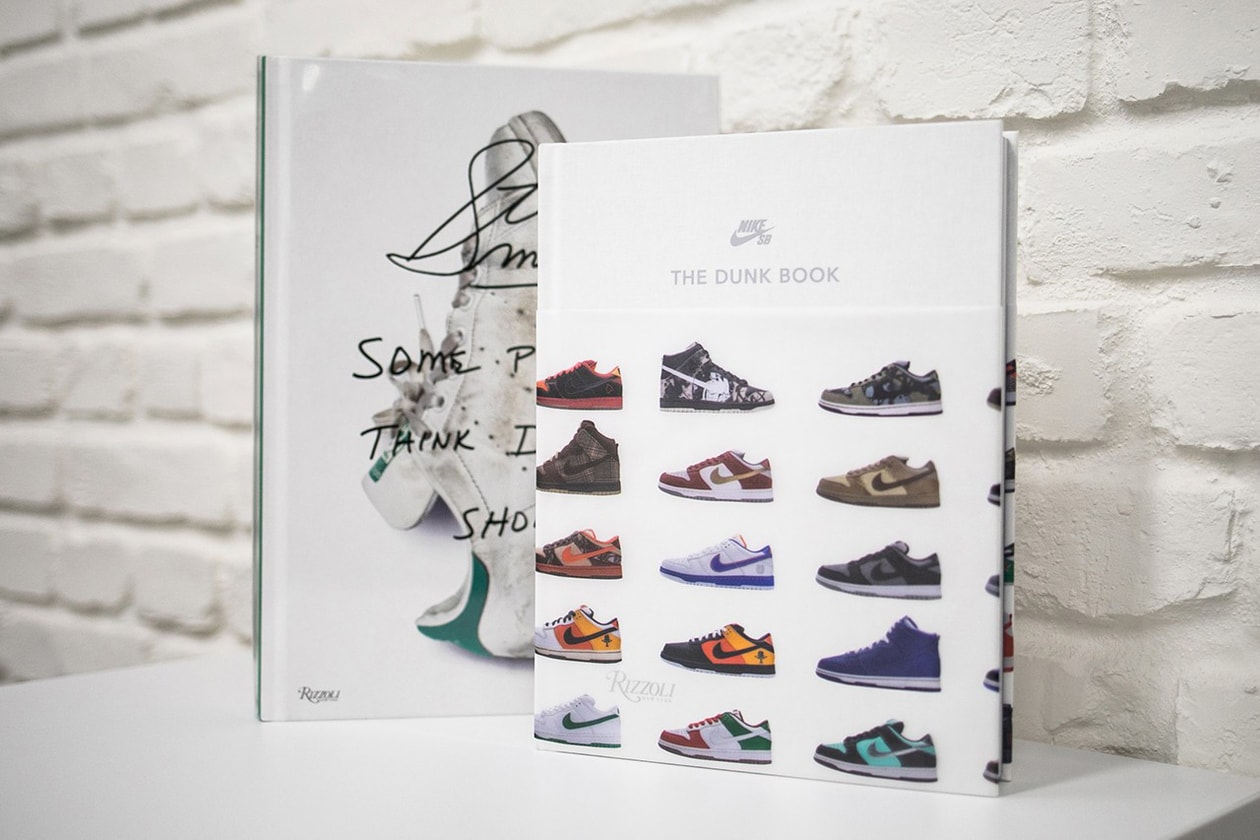 It's never a bad time to educate yourself, but now's a decidedly robust moment to do so. As much as Animal Crossing: New Horizons's customizable outfits or the wild tale of Joe Exotic on Netflix's Tiger King may provide appealing distractions from the malaise of being bound to your couch, you have a tremendous opportunity to spend some time digging deeper into the world of footwear.
If you're looking to crack open a good book, there's a plethora of options. Haven't read Nike founder Phil Knight's Shoe Dog yet? You can learn everything you ever wanted to know about the story behind the Swoosh, all while being peppered with amusing and inspiring anecdotes. Looking to get a primer on sneaker history as a whole? Kicks: The Great American Story of Sneakers unpacks the rise, fall and journey of athletic footwear. If you're looking for a more design-focused perspective, Rizzoli has several titles like Sneakers x Culture: Collab and Stan Smith: Some People Think I'm a Shoe!
Prefer an immersive documentary? Look no further than cult classic Just For Kicks, a detailed-yet-unpretentious 2005 look at a subculture that was about to go mainstream in a major way. If you're a Jordan Brand loyalist, you could also check out 2018's Unbanned: The Legend of AJ1, which explores the historical significance of the now-omnipresent Air Jordan 1 by touching on its relationship to pop culture and sociopolitical issues. There's also great footwear video content on platforms like Nike SNKRS and (of course) videos on the HYPEBEAST YouTube channel like Behind the Hype: The Nike SB Dunk and The 10 Most Influential Sneakers of the Decade.
In short, sneaker collecting is a subculture made by story just as much as product, so take the opportunity to dive into the story even further. The more time you spend learning, the more you'll be invested in it.
Connect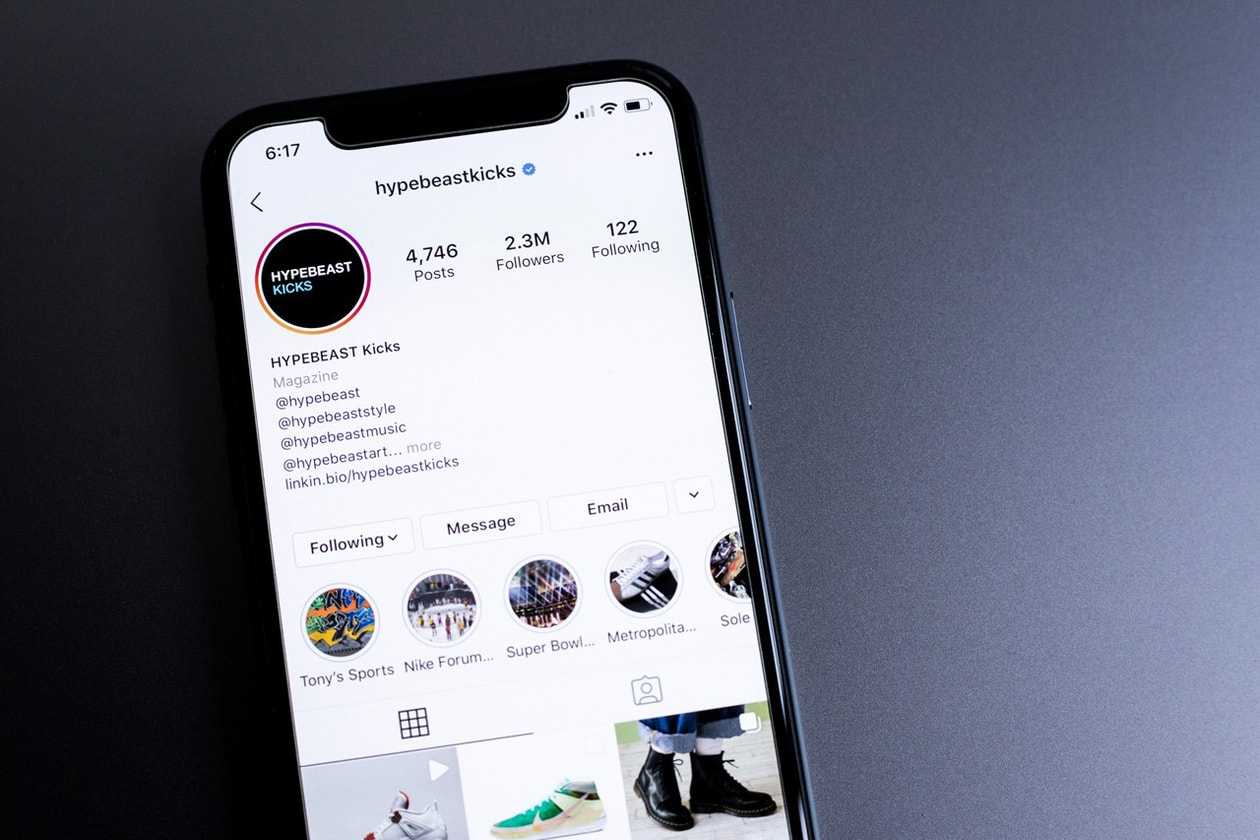 A large part of sneaker culture went digital well before we were confined to our homes. Although purists who've been collecting since the heyday of NikeTalk may bemoan the decrease of person-to-person interaction — be it at line-ups, meetups, conventions, etc — now is a time for all to take advantage of what digital connections have to offer. The global reach of platforms like Instagram, Facebook and Twitter offer new avenues for sneaker lovers to explore, connect, educate themselves and flex the best pairs from their collections.
Although Instagram has long been a buzzing hub of sneaker activity, it's undeniably ramped up in the past few weeks as sneakerheads settled in at home. From collection photos and the proliferation of "top 5" challenges, to archive pages like Classic Kicks, On Foot Archives, Very Advanced and Hidden NY that provide mini history lessons and an increased frequency of live broadcasts, IG has offered a real opportunity to connect. Want to dive in deeper? You can also follow specific hashtags for tailored content.
No matter if you're in a major city or a small town, there's likely a local Facebook sneaker group you can join as well. Although the buying, selling and trading aspect of these groups may prove more challenging in the current climate, it's an easy and effective way for you to connect with like-minded individuals in your area. There are a lot of opportunities to build digital communities, and — hopefully — some can eventually be moved into the physical realm as well.
Cop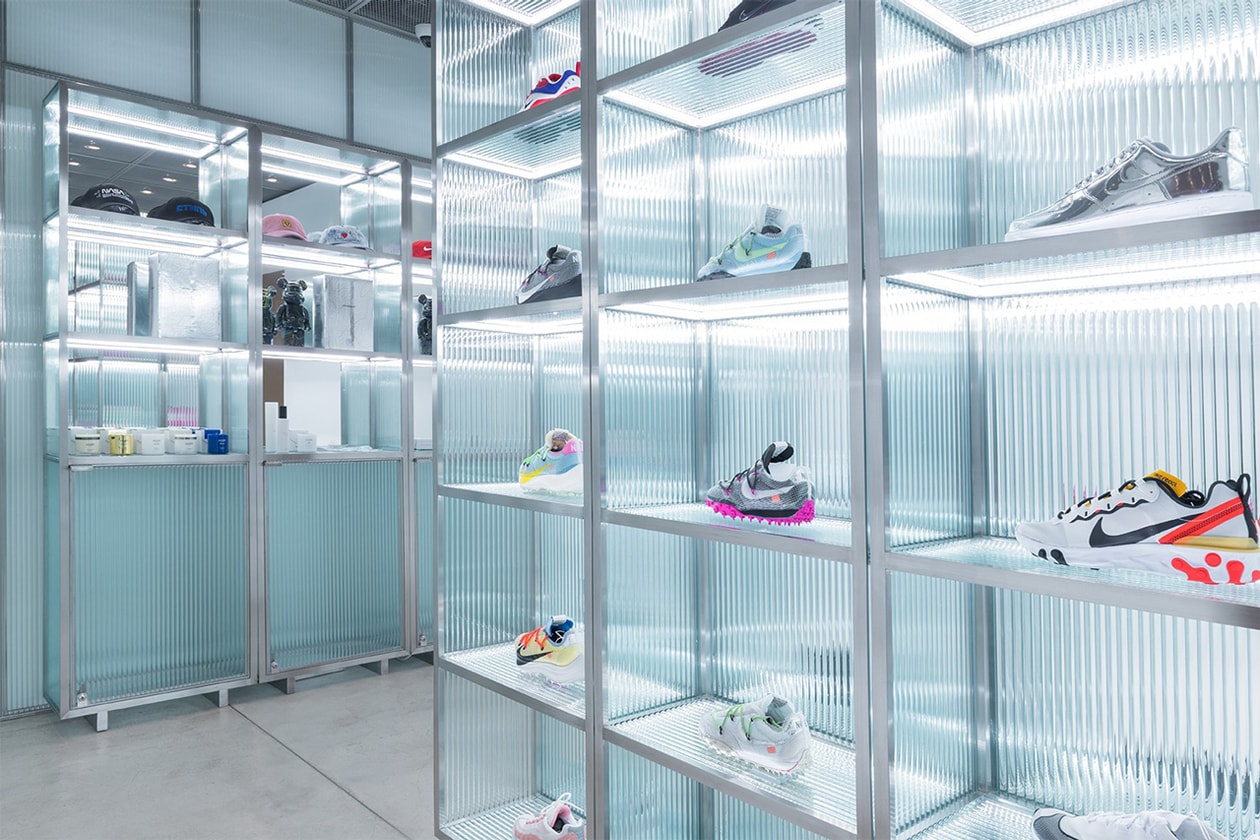 One of the chief contradictions of collecting sneakers is that even if you slim your collection down, you're likely to build it right back up. If you have the funds and are looking to acquire instead of relinquish, now's an ideal time to do just that. It's a buyer's market from both a retail and an aftermarket standpoint, so you can either solidify your selection or go hunting for that grail you've long been eyeing.
Big brands and small boutiques alike are having standout sales. Nike and Reebok are offering discounts and free shipping deals. Retailers like Sneakersnstuff, Notre, Bodega and HBX have marked down everything from Air Max 90s and Blazers to adidas Originals classics, plus stylish slides and fresh socks that are perfect for working from home.
If you're supporting one of these boutique retailers, you're doing some good too: many smaller enterprises have been forced to close their physical locations, which often provide a lion's share of their business. Acquiring products at a palatable price while helping outlets that have provided so much to sneaker culture weather the storm? It doesn't get much better than that.
On the other side of the coin, now's a great time to go grail hunting. The aftermarket is in a rare period of flux. Often tremendously favoring the seller, it's now leaning towards the side of the buyer thanks to the fear of supply chain disruptions and the uncertainty of what the summer may hold. If you've got the funds to spare, you might be able to get a pleasant price on the shoe of a lifetime: rare SB Dunks, OG Air Jordans, hard-to find YEEZYs. Scour eBay, Grailed, StockX and GOAT for that pair you've always dreamed about, throw out offers, and dig for deals. Come-ups are around every corner.