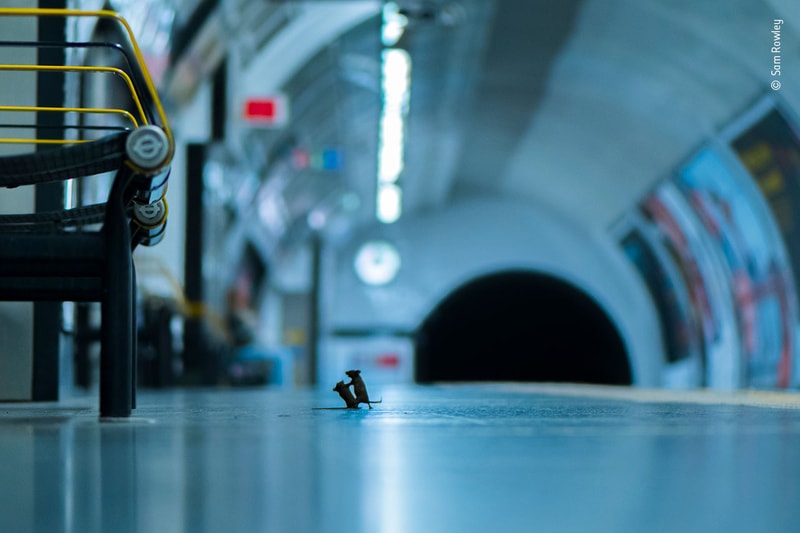 Squabbling Mice Photo Takes Home Esteemed Wildlife Photography Award
See the other top images from the annual competition.
---
The Wildlife Photographer of the Year (WPY) competition, which is developed and produced by the Natural History Museum in London, has officially crowned its champion for the 55th edition, choosing photographer Sam Rowley as the LUMIX People's Choice Award Winner. Rowley's image of two mice fighting over crumbs in London's Underground metro system, aptly titled "Station Squabble," has taken home the top prize for 2019, offering a rare and captivating glimpse into the everyday movements of the creatures.
Rowley was selected out of over 48,000 contest entries from 100 different countries. Alongside Rowley's "Station Squabble" photo, WPY also selected four other works to be recognized under the LUMIX People's Choice Award's "highly commended images" category: "Losing the fight" by Aaron Gekoski, "Spot the reindeer" by Francis De Andres, "Matching outfits" by Michel Zoghzoghi and "The surrogate mother" by Martin Buzora. Each shot is considered by the organization to represent some of the world's "best nature photography," with the other portraits featuring animals including orangutans, white arctic reindeer, jaguars and a black rhino.
"With the power to inspire curiosity and wonder, the images showcase wildlife photography as an art form, whilst challenging us to consider our place in the natural world, and our responsibility to protect it," WPY explained in a statement.
The Natural History Museum in London is spotlighting the selected imagery in an exhibition that is on view now until May 31. Visit the museum's website for more information and ticketing details.
For more art news, take a look at the works from Joakim Ojanen's first show in Asia.
Natural History Museum, London
Cromwell Road
London SW7 5BD