8 Drops You Don't Want to Miss This Week
Featuring Stone Island, Balenciaga, Off-White™, Aimé Leon Dore and more.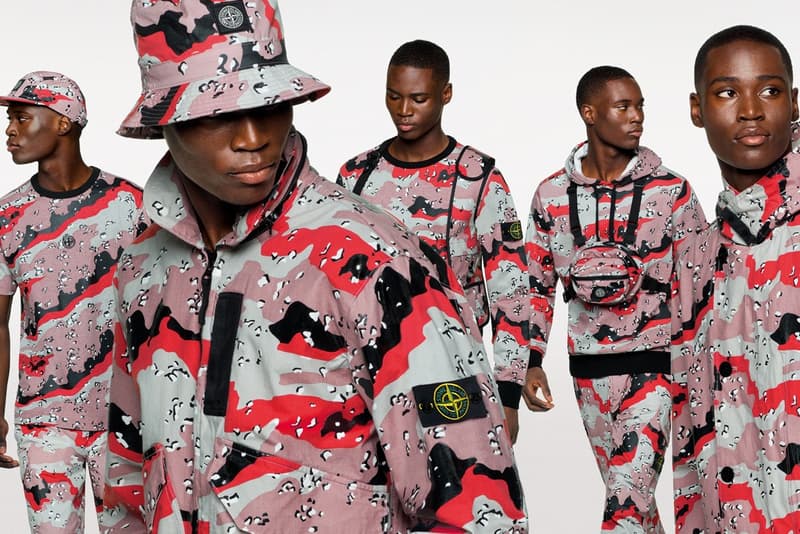 With another week we have yet another installment of our product drops series, this time marked by a host of standout releases. Leading the list is Off-White™ and Nike's upcoming Training Collection and Aimé Leon Dore capsule for its Porsche 911 "ALD 964" collaboration.
Other standouts include South Korean label LMC's Spring 2020 collection,  Made in Paradise's Fall/Winter 2020 collection and CROSS/PHONEZ's latest Ball Chain Case releases. Additional highlights include Stone Island's full desert camo SS20 capsule and NUMBER (N)INE's archive focused SS20 collection. Rounding up this week's product drops are the offerings from Balenciaga's Summer 2020 line up.
CROSS/PHONEZ SS20 Ball Chain Cases
Adding to the growing alternative carry trend in fashion, European accessory label CROSS/PHONEZ has prepared colorful new takes on its Ball Chain Cases. Available in Apple iPhone 11, 11 Pro, 11 Pro Max and older generation sizes, the cases serve as the first release from CROSS/PHONEZ's Spring/Summer 2020 collection.
Leading the range is an iridescent version that dynamically expresses tones of purple, blue and yellow, complete with a simple clear iPhone case. Accompanying color options include pink and red with tonal cases, along with green, purple and orange with black contrast trim cases.
When: Now
Where: CROSS/PHONEZ
Stone Island SS20 Desert Camo Capsule
Maintaining its focus on desert camouflage, Stone Island has now released a full SS20 capsule centered around the obscuring pattern.
Through an intensive craft process, the camo print is emblazoned on a host of CORDURA-infused nylon/cotton mouliné lightweight layering pieces. Garment-dying and multiple layers of printing create a three-color pigment bolstered by glossy, raised black polyurethane on the loomed textiles. The stark red, black, grey and white and washed-out black green or blue camo stylings help the capsule express a dynamic design sensibility.
When: Now
Where: Stone Island
Made in Paradise FW20 Collection
Hong Kong-based label Made in Paradise has prepared a new FW20 collection centered around risqué references. For the latest range of naughty yet playful graphic takes, the label has tapped female artists NARI aka LITTLE FUNNY FACE and Kelsey Niziolek.
NARI utilized her soft watercolor expressions to create the "Show Girl" capsule, comprised of T-shirts, socks and a set of air fresheners. Niziolek's used her subculture tinged illustrative styling to create a string of drug graphics playing off the label's name. Some standout items include the Lion Style Hoodie, Evander Holyfield Lend Me An Ear T-shirt, Unity T-shirt and Pop the Cherry T-shirt.
When: Now
Where: Made in Paradise.
Balenciaga Summer 2020 Collection
Moving into its SS20 collection, Balenciaga looked to revamp its house codes without sacrificing its acclaimed design ethos. Unveiled with an unorthodox lookbook, the collection again displays the new audience direction Balenciaga has adopted in recent years.
The latest seasonal line up ranges from flower-printed dresses to Balenciaga's signature boxy blazers. Razorblade earrings, chunky gold-trimmed sunglasses, "VIP" lanyards and new handbags also appear as accenting accessories.
When: Now
Where: Balenciaga, SSENSE
NUMBER (N)INE SS20 Collection
For SS20, storied Japanese label NUMBER (N)INE, has dug into its archives for a range of a blend of new styles and old favorites, tweaking some of its signature designs.
Fans and archivists will find an array of graphic T-shirts and hoodies, including tweaked iterations of NUMBER (N)INE's signature Fender-style logo, tribal camouflage pattern, "School of Visual Comedy" print and bold-face branding. Other notable items include a lightweight blazer, reversible parka, branded windbreaker, coaches jacket and washed-out denim jacket/pant set. Rounding up the range are metallic sling pouches and Kurt Cobain-indebted sunglasses.
When: Now
Where: NUMBER (N)INE
LMC Spring 2020 Collection
For Spring 2020, South Korean label LMC has put together an expansive range comprised of colorful styles inspired by '70s hippie sensibilities imbued with a slight grunge twist. Featured is an assemblage of light jackets, graphic T-shirts, anoraks, long-sleeves, ripped denim, clean trousers, tie-dyed hoodies, crewnecks and polos.
One noteworthy item is a red track jacket, embellished with contrasting black snakeskin prints. The inside of the collars are detailed with the scaly pattern, matching the shoulder panels that run from the front upper chest to the back. Other details like "LMC" branding at the front, bold "Lost Management Cities" at the back, a small black tab, waist pockets and an elastic hem round up the piece. Other garments like the bell-bottom dress pants, acid-dyed shorts, water-repellent zip-up jacket, checkered knit vest, plaid shirt, reconstructed sweater, olive field jacket and tribal-patterned button-up round up the expansive range.
When: Now
Where: LMC
Off-White™ x Nike Training Collection
Continuing their popular relationship, Virgil Abloh and Nike have put together a Training Collection in partnership with Off-White™.
The special range sees Nike's Pro pieces reimagined with a "youthful" outlook accentuated by bold graphics and a distinctive color palette.
Centered around a black and yellow color scheme, the capsule features items like leggings, biker shorts, sports bras and compression tops. Each style is marked by Off-White™'s signature brand emblems including the arrow symbol and circular "Off" logo, accompanied by graffiti designs throughout Rounding up the range are sporty accessories like duffle bags and pouches.
When: February 6
Where: Nike
Aimé Leon Dore Porsche 911 Carrera 4 "ALD 964) Capsule
Following the reveal of its one-of-one Porsche 911 "ALD 964," Aimé Leon Dore is now back with a capsule collection centered around the fully-functioning, restored piece of automotive history.
The range draws inspiration from the Porsche archives with "ALD 964" embroidery and an updated pegasus logo serving as main design points. Shades of off-white, muted grey tones, forest green and red are complemented by select houndstooth wool accessories by Loro Piana harkening back to the automaker's roots with a Schott leather car bag and toolkit. Premium leather driving gloves available in a range of four colors and a limited run of pins highlighting the iconic Porsche model round up the special capsule.
When: February 6
Where: Aimé Leon Dore & Jeffrey Deitch Gallery