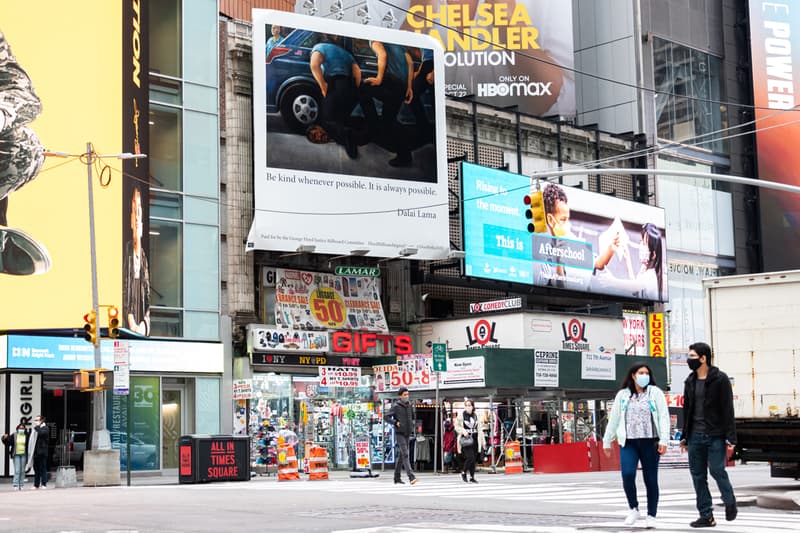 Billboard Company Rejects Artist's Mural of George Floyd in Minneapolis
Clear Channel Outdoor canceled the public display claiming it's too violent.
---
A national advertising firm called Clear Channel Outdoor rejected a billboard order for downtown Minneapolis last Thursday because it portrayed an artist's rendering of George Floyd's murder. The artist behind the work, 79-year-old New York native Don Perlis, received an e-mail from the company's account executive Beau Ryan claiming the billboard image was denied because it "depicts acts of violence," as per Artnet.
The imagery on the planned Minneapolis billboard is identical to the one that went up in Times Square in New York City back in October. It portrays Perlis' oil on canvas painting titled FLOYD that the artist made following Floyd's murder by Minneapolis police on May 25. The artist's piece, which was to be recreated on a 24-by-7-foot billboard depicts Floyd on the ground with his face looking directly at the viewer. Three police officers are also shown restraining him from behind with the fourth officer standing idly.
The New York billboard also featured a quote from the Dalai Lama: "Be kind whenever possible. It is always possible."
The Minneapolis billboard, which was planned to be installed at 1601 Hennepin Ave South on January 11, 2021, was going to feature a quote from Martin Luther King Jr.: "Injustice anywhere is a threat to justice everywhere."
The sponsor behind the public display of Perlis' creation was the George Floyd Justice Billboard Committee — a collective of New York-based artists who started an GoFundMe page to raise funds to install billboards featuring the work across the country. Identical billboards are slated to erect next month in Atlanta and Los Angeles.
"I realize in Minneapolis right now this is a hotbed issue, the city is bitterly divided," Perlis told Artnet. "It could be that people might think it's too inflammatory because the trial is coming up there." He added that while the painting depicts a violent act, it does not read as a violent image unless you are already familiar with the incident.
The officers who killed Floyd will go on trial in Minneapolis on March 8, 2021. Derek Chauvin, the officer who placed his knee on Floyd's neck, has been charged with second-degree murder. The other officers are currently facing charges of aiding and abetting second-degree murder.