Tesla Releases Its Own $250 USD Tequila
"Teslaquila" has arrived.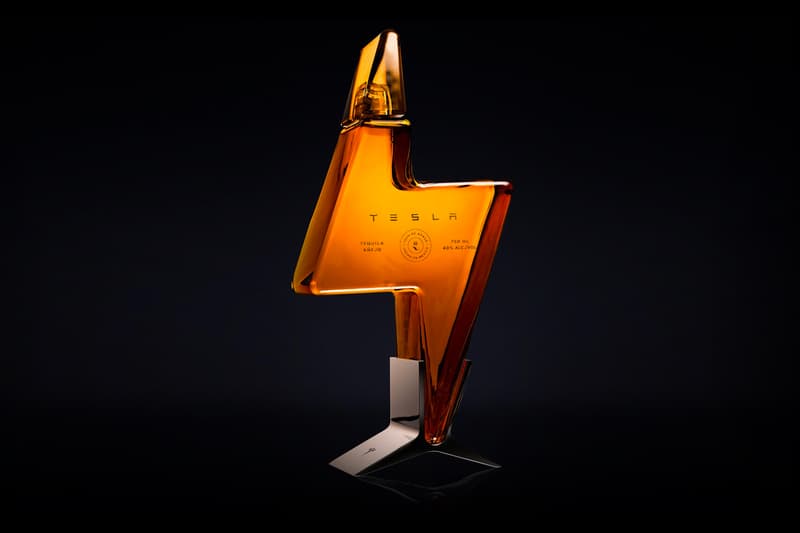 For fans of Elon Musk's American electric vehicle and clean energy company, you can now buy a Tesla-branded tequila.
Tesla Tequila first came up back in April 2018 in Musk's April Fool's Day joke that showed him passed out against a Tesla Model 3 surrounded by "Teslaquilla" bottles and holding a cardboard sign that reads "bankwupt." Later that year, Tesla officially filed an application with the U.S. Patent and Trademark Office to trademark "Teslaquila."
Only available in select U.S. states, the 40% ABV spirit is premium 100 percent de agave tequila añejo from sustainably sourced highland and lowland agaves aged in French oak barrels. Produced by Nosotros Tequila and fulfilled by Speakeasy Co, the tequila features a dry fruit and light vanilla nose with a balanced cinnamon pepper finish. The small-batch alcohol comes in 750mL handblown glass bottle shaped in the electric charge symbol.
Priced at $250 USD, Tesla Tequila is available now on Tesla's webshop with delivery set to begin late 2020.
Elon was found passed out against a Tesla Model 3, surrounded by "Teslaquilla" bottles, the tracks of dried tears still visible on his cheeks.

This is not a forward-looking statement, because, obviously, what's the point?

Happy New Month! pic.twitter.com/YcouvFz6Y1

— Elon Musk (@elonmusk) April 1, 2018
DISCLAIMER: We discourage irresponsible and/or underage drinking. Drink responsibly and legally.
For more food and beverage news, Muji's plant-based meat can be stored at room temperature.