Rafael Nadal Becomes Fourth Man in History to Take Home 1,000 ATP Tour Match Wins
Holding the highest win percentage at 83.3%.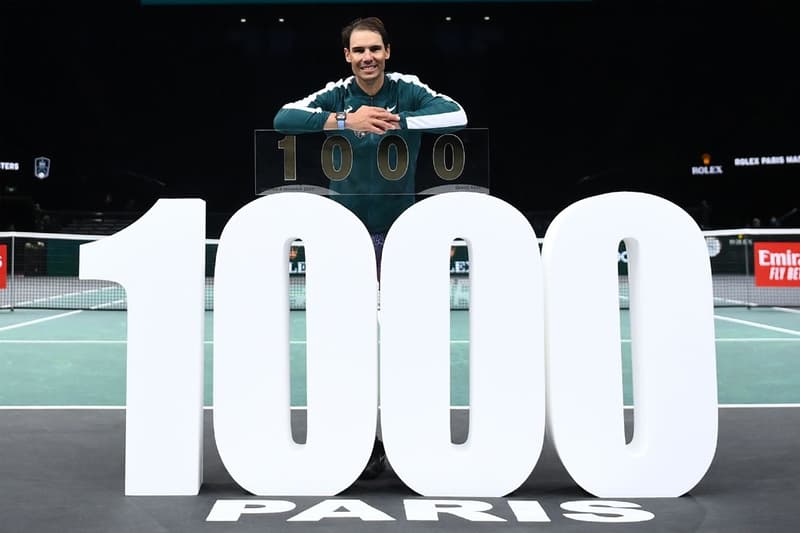 On Wednesday, tennis champion Rafael Nadal took home a victory over his Spanish compatriot Feliciano Lopez to reach the third round of the Rolex Paris Masters, marking the 1,000th match win for his career in the ATP Tour. He now joins only three other players who have achieved 1,000 wins in the Open Era, with Jimmy Connors leading at 1,274 wins, followed by Roger Federer at 1,242 and Ivan Lendl at 1,068. Most impressively, Nadal holds the highest winning percentage out of all players, with a 83.3 percent win rate.
Now aged 34, Nadal became a professional tennis player at just 15 years old, quickly becoming one of only nine people to win an ATP match in the Open Era before the age of 16. He won his first Grand Slam title when he was 19, defeating Roger Federer in the semifinals and Mariano Puerto in the finals of the 2005 French Open, making him the second male player ever to win the tournament on their first attempt and the first teenager to win a Grand Slam singles title since Pete Sampras' US Open victory in 1990. Since then, he has held the world number one ranking for 209 weeks, won the French Open a record-breaking 13 times, along with four US open titles, two Wimbledon titles, and one Australian Open title.
Elsewhere in the world of sports, Dana White has officially retired Anderson Silva from fighting in the UFC.