How Do You Trace a Century of the Great Outdoors? Look at the Catalogs
Utah State University's Outdoor Recreation Archive studies the past 100 years of the outdoor industry.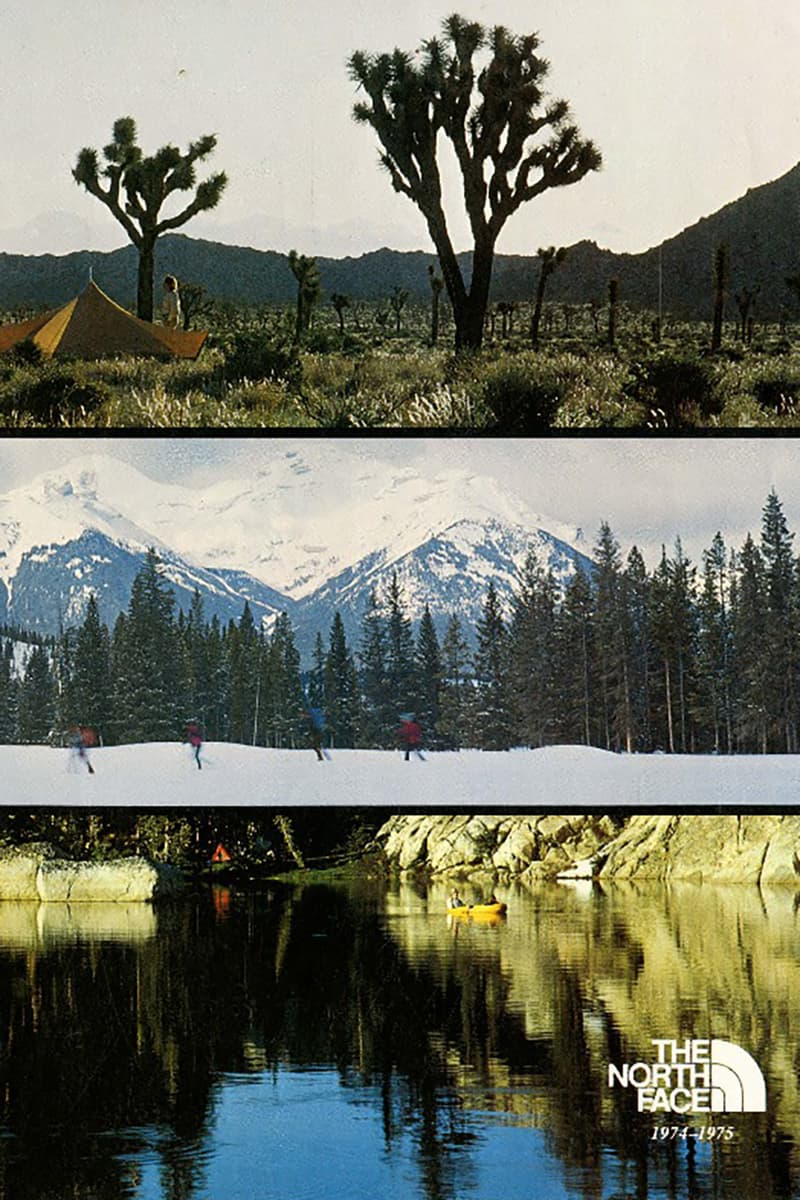 How Do You Trace a Century of the Great Outdoors? Look at the Catalogs
Utah State University's Outdoor Recreation Archive studies the past 100 years of the outdoor industry.
Utah State University's Outdoor Recreation Archive (ORA) currently encompasses around 3,000 outdoor catalogs from around 200 companies, ranging from a 1905 Abercrombie & Fitch catalog to a 2020 Altra Running catalog. Created as a joint effort between Utah's State University's Special Collections & Archives and the Outdoor Product Development and Design undergraduate program, the ORA is, in simple terms, a research collection of outdoor recreation history. And yet the seemingly niche academic project happens to fit perfectly with the ever-growing popularity of the outdoor style in contemporary fashion.
2020 saw the outdoor aesthetic boom in even greater popularity, with notable collaborations such as the Salehe Bembury x New Balance 2002 sneaker, the Greater Goods x Arc'teryx Artist Series, the Palace x Salomon XA COMP ADV sneaker taking center stage. 
In that context, the ORA acts as the handy tool for tracing the evolution of the outdoor style, allowing us to explore how the style of performance and outdoor gear has shifted over time. Key factors in the industry such as design, product and material innovation, and branding and marketing can be traced, timestamped and attributed to in one convenient place.
The physical collection, initially launched back in March 2019, is currently housed at the University and a digital exhibit lives on Utah State's library website for anyone to access. The ORA has also taken to exhibiting the archive on Instagram, launching an account in September later that year to reach a wider, non-academic audience and help grow interest around the history of the outdoor industry.
HYPEBEAST sat down with Clint Pumphrey, the manuscript curator at Utah State, and Chase Anderson, the coordinator for the Outdoor Product Design and Development undergraduate program, to discuss the success of the catalog collection. Read on to learn more about the design and marketing of the outdoor industry over the past 100 years and their hopes for the future of the ORA.
HYPEBEAST: Why do you think it's so important to keep an archive of the outdoor industry? What is the purpose of the Outdoor Recreation Archive?
Clint Pumphrey: One of the things I joke about is that I'm basically creating an archive of people's junk mail. If you get a catalog in the mail, what you do is you might flip through it, maybe you'll buy something, but really you're just going to chuck it in the recycling. Those types of materials are getting lost and somebody has got to be around to say, "You know what, this material is important and we need to preserve it and it does have historical value."
So while you may not think that your Patagonia catalog from 2019 is that important now, in 100 years it will be 100 years old, right? So we've got to try and get these materials while they're still out there and available. 
Chase Anderson: There aren't many people who are documenting the history and evolution of the outdoor industry. If anything, it's the modern outdoor industry that's been documented, everything from Chouinard onwards. Patagonia forward is where a lot of people feel like the outdoor industry starts and that's simply not true.
I've come across a lot of different companies when flipping through old catalogs and magazines and I do a quick google search of some of these companies — one example that I use routinely is Budd Davis Packs — and there's no record of this company really existing.
That shows me that there's a real power in what we're doing. Most of us recognize that if things aren't put online, it's as if they don't exist in a way. We're making these materials accessible so people can start to piece together the larger story of the outdoor industry.
"I think it's a very authentic industry that has strong values, that's just core to the outdoor industry."
The audience you're referring to for the archive might be quite different from the audience that you are catering for on your Instagram. What do you see as the link between the two?
Anderson: There was this idea that we had to get these materials into a more accessible format. You know, having them on a university website, sometimes that's enough of a barrier for people to access them.
Putting material out where the people are is really important. Right now, people are on Instagram, right? And in the future, when other tools develop, I imagine we're going to shift the archive in that way too, just to reach people where they're at. The people that appreciate the outdoors, including those interested in streetwear and sportswear and the outdoor influence in fashion, a lot of them are big on Instagram. Designers are also often on that platform looking for inspiration. That was a big driver. Whatever their motivation is for accessing the archive, I think the important thing is making it accessible. 
Pumphrey: I encourage any use of the collection. That's an archivist's dream, to have popular culture embrace the work that you're doing. The fact that people have found these materials outside of the university and academia is great.
What are some of your personal favorites from the catalog?
Pumphrey: I'm thinking about the catalogs that arrive in unexpected formats. One of the catalogs we got recently was actually mailed in a little box probably the size of a pack of playing cards. It was a North Face catalog. You open it up and it's a poster that folds out. I like those ones where they push the envelope of what a catalog is.
Anderson: Our L.L.Bean collection is growing significantly. These catalogs span the late '20s to present day. I feel like L.L.Bean was one of those companies that had a very distinctive art style. It almost looks like each catalog is hand-painted, beautiful outdoor vistas. You can just tell there was another level of care and attention that went into them. Some of that might just be a product of the time — these catalogs were the only connection that these companies had to the consumer so they needed to be engaging and beautiful.
Pumphrey: The one that I think surprises a lot of people is Abercrombie & Fitch. Most people know them today as a brand that pushed the envelope in the late '90s and early 2000s with their racy catalogs, but they started as an outdoor gear company. That was how they got their start. They made fishing and hunting gear and tents and stoves and lanterns and all the things you would associate with camping. 
Our oldest catalog in the collection is an Abercrombie & Fitch catalog from 1905. Sometimes the stories make the catalogs really interesting too, about how brands can change and transform overtime.
"I think the definition of 'outdoor' is changing for the positive. The outdoor industry has been perceived — and has been — a very exclusive space."
So over the century, from 1905 to 2020, what would you say are some truths or trends that have stayed the same? What has been linear across the whole board?
Pumphrey: Certainly the outdoor imagery on catalogs. The one from 1905 is a picture of a tent in the forest. You can just put that imagery on a catalog from 2020 and it would fit right in. Certainly this idea of promoting outdoor gear and outdoor clothing through beautiful scenery, like, look what you can experience if you wear our clothing, has pertained.
Anderson: For me, from the onset, there's this idea of escape that's really common. Abercrombie's first store in New York, they were selling outdoor equipment in New York. So it's this idea of buying things that help you escape and get back to the wild.
The '60s and '70s, with a lot of the turmoil and everything happening in the country at the time, propelled the creation of a lot of these outdoor brands. Escape the day-to-day and get back to nature.
Where would you say the outdoor industry is today, versus, say, 100 years ago?
Anderson: I think the definition of "outdoor" is changing for the positive. The outdoor industry has been perceived — and has been — a very exclusive space. Skiing is an exclusive activity, rock-climbing requires a specific skill-set that takes a lot of time to learn and practice, and sometimes you're limited by the environment around you. 
I think that one of the deficiencies of outdoor advertising is sometimes it's too aspirational. It's showing someone climbing the highest peak or doing the most intense activity. It shouldn't be limited to those that live in the rocky mountains or the Pacific Northwest. Outdoor activity can be enjoyed by anyone.
I think the industry is in an interesting position where the definition is growing. I hope that it includes more individuals from more backgrounds, from different geographies, races, activity levels. The industry is in a state of reflection and evolution. I don't know if some of that has been brought on by some of these outdoor styles hitting high fashion, getting a lot of attention and people starting to appreciate the designs of the outdoor industry.
Pumphrey: The outdoor industry for so long had been really motivated by pushing people outdoors and getting them to go hike, climb and ski so that they could sell them gear. I think what they are all starting to realize now is that it's become so popular that it's maybe of some detriment to the environment. They're a little bit more focused on environmentalism and environmental stewardship. That's certainly a trend you see in the last 10 or 15 years. 
So in terms of product design, have you noticed any real changes in how the product has evolved?
Anderson: The industry has always been focused on what the gear is made of. The industry itself is very technical and people love to talk about how light the product is, all these features. A common thread in the outdoor industry is features. What does this thing do? What does this thing do? It's all very functional.
I don't think that was always the case though. I think that's something that outdoor people have always valued but it seems like from the '50s onwards we move into a new era of the outdoor industry that's very focused on lighter, faster, stronger, an "I want to know everything about it" mentality. I think it's a common thread because with a lot of this equipment, your life depends on it.
"Materials, that really drove who succeeded and who didn't."
Pumphrey: Many brands got the reputation that they weren't using current materials. The Alaska Sleeping Bag Company, for example, didn't get on the bandwagon of using new, stronger and lightweight fabrics and so they just disappeared. You see that the companies that didn't embrace the polyester, the fleece, the nylon, the synthetic insulation, they just faded away in the '70s and '80s, and that's probably one of the things that happened to Abercrombie & Fitch when they went bankrupt in the '70s. Materials, that really drove who succeeded and who didn't.
Interesting. What's your perspective on the fashion industry being so obsessed with this aspect now as well, the technical materials?
Pumphrey: From my personal perspective, if I buy something from Arc'teryx, it's just better. It protects me from the rain better. It fits better. It's warmer. Why wouldn't you want to adapt some of those designs and fabrics into your fashion line? It's not only going to look better but it's actually going to be comfortable. People are now willing to pay more if something is really high quality.
Anderson: Years ago I don't know if you would have thought about a product if it didn't use a material that had a brand you recognized. But now, look at GORE-TEX. GORE-TEX is a materials company right? How has GORE-TEX also become a brand? It makes you think and feel things. There's a reputation that comes with that. And not every material company does that.
Pumphrey: I think brands themselves are recognizing that they need a material that people trust. Most of these companies don't develop materials, they rely on the mills. I imagine in some cases it's the material that sells the product. 
Anderson: If you tell someone that something is GORE-TEX then that's the difference maker for a lot of people. Materials companies are recognizing the power they have to be a recognizable brand and not just a partner for these large product companies.
Another example of a materials company that has developed this reputation is Vibram. It's a rubber company but for some reason that yellow mark speaks volumes. So now you see outsoles from Vibram appearing on all sorts of different shoes in outdoor footwear but also everything but outdoor footwear as well. Vibram is now more than a company, it's a brand that resonates with people. Can you name any other rubber company that is making outsoles and that is that powerful? I'd have to think about it.
"Materials companies are recognizing the power they have to be a recognizable brand."
Do you think that because the fashion and outdoor industries have merged so much now, that this is making more people go outdoors?
Pumphrey: To be honest, I think the thing that has pushed more people outdoors recently more than anything is Instagram. There's been a lot of attention to the way that Instagram, and especially with the geo-tagging, has pushed people to go see certain places.
There's this one place in Northern Arizona, Horseshoe Bend, a tiny parking lot that held about 20 cars around 10 years and now the Forest Services have spent all its money paving it, expanding it, there are tour buses, visitation times, hundreds of people in this one viewpoint because it was so popular on Instagram.
And when you take that selfie for Instagram, it's not just of what's behind you but it's also what you're wearing. There's probably some interplay with those things.
Anderson: That's true. I think you got to look the part. We can debate what looking the part means but that's up to the fashion labels and outdoor companies that are defining that. The people are defining what that look is now too.
Has looking the part always been important to the traditional outdoor industry? Is it possible that the brands that didn't think that way are the brands that didn't succeed?
Pumphrey: I think looking the part decades ago was probably more related to, say if you're a climber, looking the part means you have the right equipment that's going to keep you safe. If you're skiing, you have the right gear that'll keep you safe and warm and comfortable throughout the day. Maybe it has origins in that but it's definitely evolved.
"When you take that selfie for Instagram, it's not just of what's behind you but it's also what you're wearing."
Anderson: Even with the more average outdoor user, there's still a lingering feeling that in order to look the part I need to have the latest and greatest, the most high-tech, the thing with the most features, built the strongest, even if they're not doing anything that's life-threatening.
It's a way to display the values you espouse through a brand. You're part of a community or tribe. It's a way of displaying where you fit within the world. I'm wearing "so and so" because I connect with this community and maybe subconsciously want to display that to viewers today. 
And how much responsibility do these big corporate brands have for looking after the environment?
Anderson: That's definitely one of the dynamics. That's something that our students find themselves challenged with then they come into this program. They're passionate about the outdoors and then they quickly recognize that they're studying how to make more stuff and stuff is one of the biggest problems. Apparel is one of the largest polluters in the world right now. There's more clothing in landfills than anything. Students have that crisis where they think, do I want to be a part of this? Do I want to make more stuff?
Most of them come out realizing that they can be different, that they can make purposeful products for a reason and not just make more stuff. But that's essentially the problem that a lot of these companies are facing right now. We make stuff for people to get outside but getting more people outside means that they buy more stuff. 
And especially when these companies lean more into the fashion side of things, it's like, well I need to get the latest colorway next season. It's a challenge that so many of them are facing right now.
Pumphrey: I read recently that one of the biggest contributors to the microplastics phenomenon is washing your polyester clothes in the washing machine, all the little threads that get shed and drain out into the rivers. I think because people have been thinking so much about plastics recently that the companies have really had a hard time with that. So much of outdoor wear is synthetic and petroleum based. So maybe we're going to see a move back to more natural fibres? Wool has had a bit of a renaissance because it's a naturally wicking fabric that can keep you warm even when it's wet. Maybe we'll see some of that.
Anderson: Look at that. Our archivist and historian predicting the future.
"It's a way to display the values you espouse through a brand. You're part of a community or tribe."
What do you think is the future of the outdoor industry? What kind of catalogs will you be collecting over the next 100 years?
Anderson: I think the definition of the outdoor industry is going to continue to grow and that's going to be our challenge, figuring out that as the definition grows. Do we continue to collect just around the traditional outdoor activities or do we grow with the growing definition? I think that's the future, the future that I hope to see. More people being welcomed into the conversation and being a part of the outdoor industry, and not just the traditional activities that you think of when you think of the outdoors. I see more people involved.
More people involved also means more consumerism, a more fashion-focused and non-traditional audience perhaps. What do you think about that evolution?
Pumphrey: One of the things we've been talking about around the pandemic is that it's changing the way that we dress. Everyone is wearing comfortable clothing and leisurewear because they're at home. I feel like this will accelerate the trend of traditional outdoor wear in the workplace. Maybe those lines will continue to blur a little bit because of some of the trends that we've seen lately.
Anderson: We'll definitely see more of these companies try and confront this crisis of consumerism versus getting people outside and providing them with the gear that they need. We're already seeing so many of these companies focusing on upcycling, recycling, using scrap fabrics to make new products. A lot of this has to go back to people and their decisions. 
Brands are at their peak but also everyone wants something that's unique and those things don't really work well together. You see a lot more people making their own products. There's a crafting culture. People like Nicole McLaughlin are inspiring a lot of people to make their own stuff and push their own boundaries. Jaimus from Greater Goods too. People are taking pride in saving something that was otherwise going to be thrown away. I think that'll be a brand in a way, a badge of honor for people that "I repaired this thing" or "I saved that." 
"I think it's a very authentic industry that has strong values, that's just core to the outdoor industry."
What are some things people should know about the outdoor industry that they normally wouldn't be aware of?
Anderson: I'd say there's a deep history and it's largely untouched. If people want to discover cool brands that haven't been, and you want to embrace a cool brand before other people, those that have long been gone, I think there's an opportunity to do that. 
I think it's a very authentic industry that has strong values, that's just core to the outdoor industry. You have to embrace those values if you want to play in that space. And I think it's about performance. It's about activity. It's about getting out.
Pumphrey: It's about creating bold and new designs but also borrowing things from the past. I think collections like ours could provide some really great inspiration for designers and for people that are looking to do something new because sometimes you can make old new. A collection like ours would be a great place to start from to get ideas.
And what are your future hopes for the archive? 
Pumphrey: We want to move beyond catalogs and into business records and photographs from companies. They can enlighten how the industry has changed in ways that looking at a catalog can't. Catalogs are the public face of the company but if you get some of those more internal records then you get a better sense of why decisions were made. 
I'm also really interested to see, once people start traveling again, people visiting the collection in person. We're an archive. We're all about making things publicly accessible so anyone can come view the materials in person in our reading room. 
Anderson: Yep, and really what we just want is for the entire industry to access these materials.