Where Is the Body Diversity in Menswear?
While brands like Pyer Moss and Savage x Fenty have championed plus-sized models, most lag behind in size inclusivity.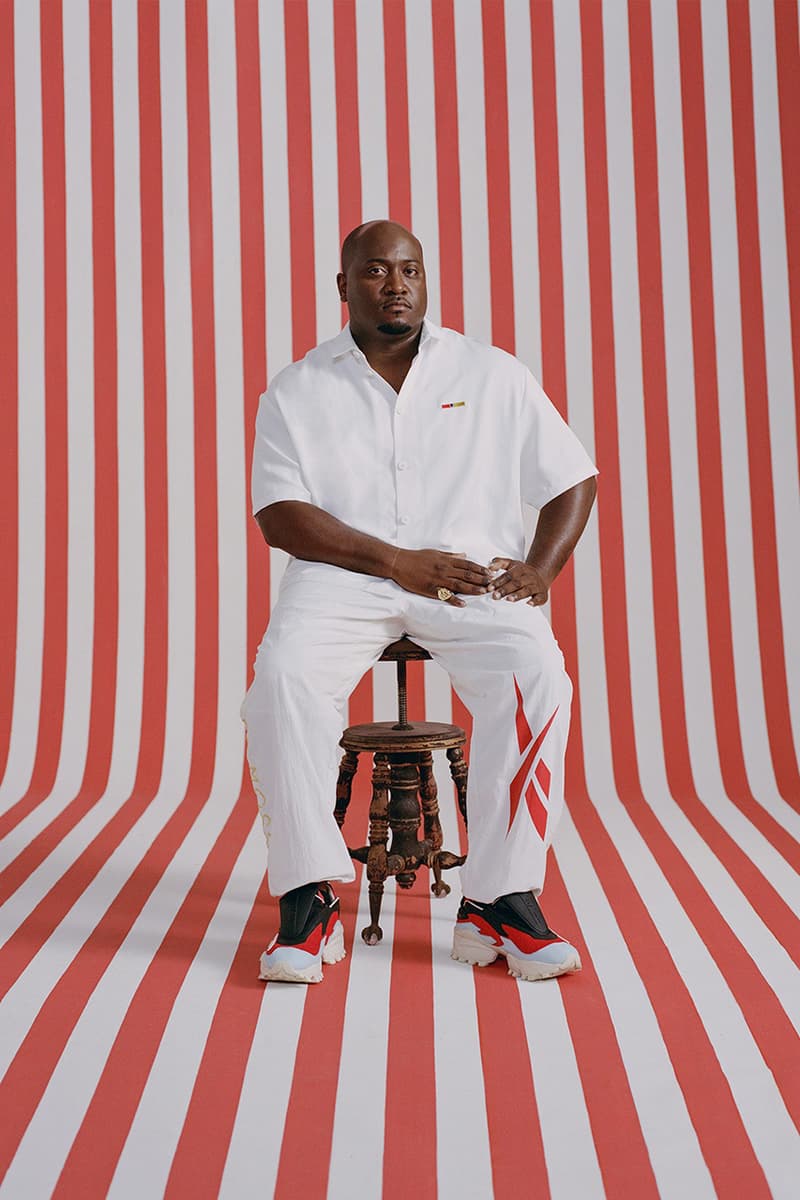 Where Is the Body Diversity in Menswear?
While brands like Pyer Moss and Savage x Fenty have championed plus-sized models, most lag behind in size inclusivity.
This fall, Rihanna expanded her successful Savage x Fenty lingerie line to include menswear. The line has always stood out for its inclusion of a wide range of body types, but one model stood out in particular: Steven Green, who appeared on Savagexfenty.com wearing a pair of boxers. His appearance quickly earned the brand heaps of praise for showcasing a plus-sized male model.
The excitement over seeing a model such as Green wearing a simple pair of boxers shows just how rare it is for brands to embrace men of diverse sizes. And it's not as though there aren't models to cast — all the way back in 2016, IMG Models launched its Brawn division for plus-sized male models, with Zach Miko as the first face signed to the board.
If the positive reaction to Savage x Fenty's casting choices is anything to go by, there is clearly a market for more body diversity in fashion — and not just in womenswear, but across all genders. And yet the fashion world, in particular luxury fashion, continues to lag behind.
"The fashion industry does what makes the old guard of fashion money. Sample sizes and a lack of diversity up until now have made them money."
This past season, however, did see some inroads in greater body diversity. Versace, for the first time in its history, included plus-sized models in its Spring/Summer 2021 runway show. One of those models, Precious Lee, also snagged a spot one of Vogue Italia's September covers, as did plus-sized model Akon Adichol. Vogue's American counterpart, meanwhile, chose musician and champion for body positivity Lizzo for its September cover. "I am the first big black woman on the cover of @voguemagazine. The first black anything feels overdue. But our time has come," the artist wrote on her Instagram.
But the changes remain small. While there are brands like Pyer Moss and Chromat which regularly show a diverse array of body types in their clothes, many luxury and sportswear brands alike still stick to the same sample-sized models season after season. To understand what progress fashion has made in integrating more body diversity, we spoke to Steven Green himself; Katherine Mateo, stylist and casting director for brands such as Pyer Moss; IMG Models manager Josh Stephens; and model Zach Miko. Read our roundtable below.
HYPEBEAST: The recent Savage x Fenty men's lookbook received a lot of positive feedback for including a plus-sized male model. Why do you think the inclusion elicited such a strong reaction?
Steven Green, model and photographer: I think because it's never been done before on this type of platform. Especially for a lingerie brand. The world doesn't see brawn men often in mainstream campaigns. This was HUGE for the industry alone, and the world to witness.
Katherine Mateo, casting director and stylist: It's just been long overdue. It's exciting to see the paradigm shift. We are no longer in the era of fantasy, selling unrealistic expectations to move a product. Truth is, people love seeing themselves included in these stories. Relatability and inclusivity is how a brand can truly connect with their audience. That's really where the magic happens. People want to see themselves in the brands they buy into and aren't shy on support.
Josh Stephens, manager at IMG Models: I was so excited to see plus-sized males in the show! Even though we launched our Brawn division at IMG back in 2016, the concept still feels relatively new for the broader fashion industry, so the visibility the show gave it was crucial in spotlighting how important representation in men's fashion is.
The men used in the Savage x Fenty show were unapologetically themselves. They were confident. It wasn't about a diet in the lead up or any dad-bod jokes, it was, "This is me and I am perfect no matter my size."
Zach Miko, model: The reason there was such a strong reaction to Savage x Fenty including a plus male model is that even with the popularity of body positivity, men's plus bodies are still so exceedingly rare in mainstream fashion. Plus-size and big and tall modeling has grown leaps and bounds over the past five years, but a lot of times it's treated as a box that can be checked by brands instead of truly being celebrated. Including a plus-sized male model in one of the biggest fashion shows of the year is further validation that plus men exist, are proud of who they are and are sexy to boot.
Do you see more barriers or resistance to including plus-sizes in men's fashions when compared to women's? Why has the topic not been addressed as much in men's fashion?
Green: I definitely do. Women have advocated and used their voices in the curve market for years and brands have slowly but surely made those strides to enlarging the market for plus size women. However, men have not had that luxury. I can count on my hand the amount of stores and designers that carry an XXL. And if they do you would never know because the models are always slim or a smaller athletic build.
I believe a lot has to do with the lack of awareness. Men aren't as vocal about these things, especially when it comes to fashion. We'd settle for what's available but in the back of our minds we feel boxed in, uncared for, and forgotten about. Many brands and designers aren't aware that there is a huge market of fashionable brawn men that would like to enjoy the creativity and expression when it comes to fashion, but there is no availability due to the lack of product.
Mateo: I would say men's isn't thought of or spoken about as much as women's. However once you see a project and it's fully inclusive (women, men, models of all sizes) it stands out, goes against the grain of what society beauty standards are. It's real and it makes a difference. The barriers one faces for not fitting society's idea of beauty are less now than in previous years, however the struggles are still there and we still have a long way to go.
Brands tend to be performative and unless they continue to do the work behind closed doors as they do in public there won't be a real change.
"Men aren't as vocal about these things, especially when it comes to fashion."
Stephens: There's this perception that the only men who care about fashion are those who work out a lot or really take care of their bodies. For many years, there were only a few magazines aimed at men and most of them were focused on health and athletics. Big guys were known to wear oversized T-shirts, sweatpants or whatever their wife picked for them. The industry needs to recognize that times have changed and that we have a responsibility to correct this misperception.
Miko: I believe it comes down to toxic masculinity. Men are taught that they aren't supposed to care about what they look like, meanwhile they are told that if they don't have a six pack and huge muscles that they are less than everyone else. Because of this, plus men think they do not deserve fashion that feels good. This is changing as we follow the example of the women's industry, band together and become more vocal on the topic of body positivity and inclusion.
The recent Versace show featured two plus-sized models, but the norm remains the traditional sample-sized model. Why do you think we still see so few plus-size models in luxury fashion?
Green: I think that a lot of luxury fashion designers believe that the majority of the world enjoys the fantasy of the perfect body. And society has a lot to do with that as well. But I believe some just flat out don't want to see plus-size models in their clothing. But times have changed and the world is demanding authenticity. People lose and gain weight all the time due to childbirth, tight work schedules, and lack of access and resources to a balanced diet and gym memberships. Many factors cause our bodies to do different things and to have that thrown in our face is a constant reminder that as a society we're not there yet.
Mateo: Luxury brands are having a hard time trying to incorporate a "for all" mentality when they have been established with an exclusivity driven ethos for so long. I think that's one of my favorite things about it all. It's really forcing these brands to rethink the way they communicate with us.
Stephens: It takes planning and foresight to put a plus-size model on the runway. I don't work in a luxury fashion house, but I'm sure it's a lot easier and cheaper to make samples in one size. Traditionally, models have had similar sizing to the fit model so they have been able to use those same garments for fashion fashions, buyer's appointments, editorials and campaigns. You can't do that with a plus-size model.
Some houses have been able to master their processes and can bring a dress together rather quickly once the design has been perfected, although we're not seeing that happen enough just yet. Even though including models of varying sizes on the runway takes time and a lot more planning, it is clear that it is well worth the reward for the brand.
Miko: Fashion is a very old industry, and for all of the celebration of originality and creativity, it is an industry that is very resistant to change. The fashion industry does what makes the old guard of fashion money. Sample sizes and a lack of diversity up until now have made them money. Now with inclusivity and diversity on the rise with the evolution of the industry, customers are showing that increasing their size range will be even more profitable. Even though their own market research shows this, an old industry still changes very slowly. We as the consumer need to keep pushing them, and the luxury industry will follow.
What do you think are the main issues preventing more representation of body diversity in fashion?
Green: I would say that it is mainly due to the lack of diversity in sizes from designers and brands. It's hard to have representation in fashion if there are no clothes being made in diverse sizes. Most casting agents and directors try to look for the best fit for the client, so ultimately that responsibility lies on the client to choose to showcase body diversity.
Mateo: Getting rid of that old mindset and ways of doing things. In order for this to happen in a genuine way everyone would have to be on board. Brands, editors, casting directors. If not, it wont be a genuine effort. You can't book a wide range of models and not have a wide range of sizes.
"Relatability and inclusivity is how a brand can truly connect with their audience."
Stephens: Personally, I think it begins with designers. If the samples were available in all sizes, editors would easily be able to style any model for a fashion editorial, campaign or runway. Styling plus-sized models for an editorial is always a challenge as there aren't a lot of luxury clothes available in larger sizes. In my experience so far, casting agents have been really supportive in pushing for greater inclusion.
Miko: The old guard of fashion who are still promoting old ideals need to move on from those. As more and more new leaders enter the industry, we see more diverse voices and great change. In many ways, fashion represents the world as a whole. The only way change can happen is with new visionaries, who promote new ideas that might seem radical at first, but over time, people realize their brilliance and they transition into mainstream fashion.
The old guard of fashion deserves all of the praise and accolades in the world for building what they have, but we need to give the next generation of creatives the space to create.
Besides including more plus-sizes in campaigns or runway shows, how else would you like to see better body diversity represented in fashion?
Green: I would like to see that representation also start in stores. I would love a shopping experience that catered to my sizes as well as the visual merchandising.
Mateo: I just don't think it should just be the next selling point. I would like to see inclusivity in all aspects
Stephens: I'd love to see more size diverse models used in beauty and athletic wear campaigns. We've just started seeing a lot more representation in the beauty space lately. I'm often told that brands are looking for models with an editorial presence – how can a plus-sized model build their editorial presence if there isn't the luxury clothing available for them to be placed in an editorial?
Miko: It's not just about including a few token plus-sized models in advertisements. Brands need to put their money where their mouth is and truly make their lines inclusive. Brands need to hire diverse designers with experience, and invest in their extended sizes the same way they do for their sample sizes. You cannot scale up a small to a 6XL and expect that it will fit perfectly.
How do you feel about the term "plus-size"? Are there other terms you would prefer to see used?
Green: I'm not a fan of the term. I'd prefer to see women referred to as curvy and men as brawn.
Mateo: Model should be the only word to describe the talent in my opinion. By adding "plus-size" we just pin point that there's a box that needs to be checked off, when in reality that one thing goes against what you're challenging by having an inclusive cast. It should be genuine, behind closed doors and in public.
Stephens: I think "plus-size" indicates a category and I personally don't think that your size should put you into a category. A category implies limits. To me, a model is a model and there should be no limits on what they can do.
When I get a casting breakdown, I'd prefer to know exactly what size a brand is looking for. Instead of a category of "regular size" or "plus-size", I would much prefer it say we are shooting samples in sizes two, four and six or we want a 36 waist if it is for men. My dream is to have brands pick their models based solely on the fact that both their look, and who the model is as a person, aligns with the brand's messaging.
Miko: I personally have grown to have no problem with the term "plus-size." I know many men have a problem with the term because it makes them feel like they are included in women's sizing. To them, I would say that being spoken of in the same context as women is not a bad thing.
I also know a lot of men and women who don't like the term plus because it means "extra" and no person is extra, they are just the human being that they are. I used to have that problem with the word, but as I have grown and learned, I've become more comfortable with myself and have embraced it as an umbrella term for those in my community of people of size.