For the Love of Leather: Inside Guidi's Artisanal Legacy
The Italian family's handcrafted leather goods have seduced fans around the world.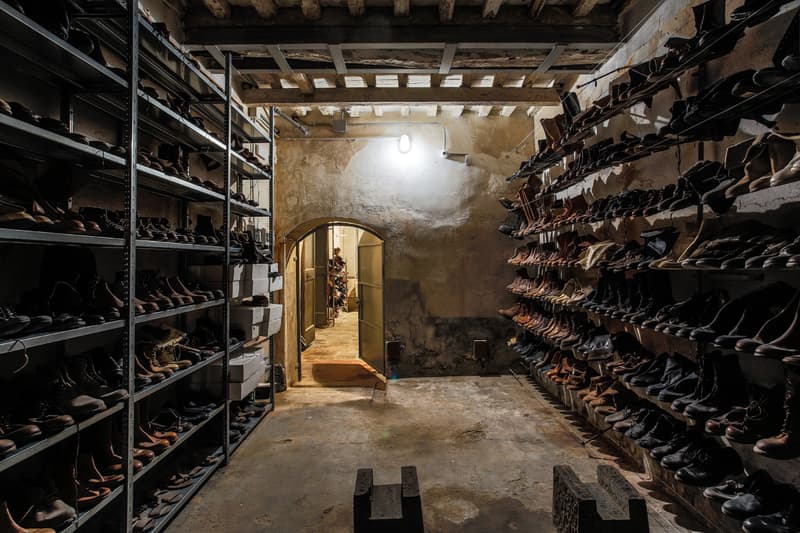 Luxury goods are, by definition, an indulgence. However — at the risk of gatekeeping common phrases — the faux luxury of conspicuous consumption (visibly-branded T-shirts, bags, shoes, etc.) isn't comparable to slowmade fashion hand-stitched by wizened artisans (who may or may not have long, wispy gray beards and fingers calloused from decades of effort). One-hundred-year-old Guidi is a clear case of luxury proper, a clan of leathersmiths that cling to family secrets even as their company has swelled to global success.
The Conceria Guidi Rosellini tannery was founded in 1896 by Guido Guidi and is currently operated by his direct descendant, Ruggero Guidi. Ruggero safeguards the company's techniques and works hand-in-hand with clients to fulfill bespoke orders for partners like nonnative. Guidi also employs Italian artisans to handcraft each piece of footwear — "Shoes that only a craftsman would be able to make," asserts Guidi's website — and accessory with the brand's distinctive rumpled leather.
"For generations the Guidi family has managed the tannery with a particular attention to the sustainability of both production and materials," Ruggero tells HYPEBEAST. "[My family's] vegetable tanning [technique] has been refined for over 100 years, each generation has developed the techniques. Along with the delicate care, we can say that the fundamental ingredients are passion and love [for] our products."
To the casual eye, Guidi's products look well-worn even when they've only just left the factory floor, but this lived-in appearance is crucial to the brand's appeal. "As they use soft horse leather and tan the leather by their unique method, you don't find them [as tough as] other leather shoes," explains Pita Cheng, manager of INK Hong Kong, one of Guidi's largest retail partners. "Thus, the shoes will not [painfully] rub against your feet. How can you resist such a pair of user-friendly shoes?"
At the core, Guidi's "appeal is the nice quality and comfort when it comes to being a damn good boot," Grailed's trust & safety data analyst Davil Tran says. Guidi leather's superiority over conventional leather is immediately evident, regardless of one's experience with quality materials.
"The fundamental ingredients are passion and love [for] our products."
"The first time I handled Guidi pieces in person, I was really taken with the leather," recalls San Francisco-based Anna, a casual fan. "Guidi's leather felt so different from my previous experiences with higher quality leathers. I feel like handling it even helped me to better understand the material as a whole, because their leather is so different; from the feeling to the grain and the smell, each characteristic feels so distinctive."
To put it simply, Guidi's leather is its signature. The Italian brand resists logos and branding, exclusively stamping its label on insoles and shoeboxes, allowing the hands-on leatherworking and distinctive silhouettes to speak for themselves. Ruggero sums up the value of its key asset: "Tanning is a vital step in our world, as it means being in total control of the production and giving us the chance to embody the Guidi soul in all of our products."
That Guidi soul is realized by way of the family's vegetable tanning technique, which Ruggero reiterates is "a secret." However the basics of veg-tanned leather are no mystery: rehydrated hair-free animal hides are soaked in tannins (liquids derived from organic sources, like tree bark and plant galls) and then transferred to enormous drums full of dye, before finally receiving finishing touches like wax and sealant.
This process allows for infinite variations, like the amount of time spent sitting in tannins and dyes and how those liquids are formulated. Veg-tanned leather does take significantly longer to process than much more common chrome tanning processes, which have their own downsides; namely, the inclusion of toxic chemicals and products that are likely to wear out faster.
The Guidi Community Instagram page is a celebration of the Guidi soul mentioned by Ruggero. There, Guidi reshares imagery of fans toting their beloved boots, shoes and bags, shaping a budding social media presence unusual for a quiet, craft-first label. But it's indicative of Guidi's big picture brand expansion, as overseen by artistic director Alessia Righi Amante, who joined the company in 2007 after working at Maurizio Altieri's influential avant-garde label Carpe Diem.
"Guidi started about 15 years ago presenting a small series of shoe models that were deeply connected to the artisan wave," details Amante. "This niche brand was meant to captivate only a few connoisseurs, because the taste for artisanship hadn't yet made the scene. Over the following years, the taste has changed."
It's important to distinguish what exactly "artisanal" means, in this context. Sure, quality is subjective but an artisanal brand trades entirely on the notion of imminent expertise. This runs the gamut from visvim's mud-dyed and hand-printed layering pieces to Blackmeans' punk tailors and anti-commerce craftsman Samuel Snider.
Artisanal wares aren't limited to fashion of course, as well-crafted garments span the globe from America and England to all of Asia and beyond. The closest the general fashion industry gets is with couture, the last gasp of the industry's hands-on courtiers, which often isn't even available to the public. The common thread is that they're united by a desire to channel slowmade production and skills burnished through heritage, tangibly bonding customer and craftsperson.
"The classics are always our client's favorite."
"The Chinese market appreciated our product and transformed it completely," Amante explains. "At the same time, we … greatly expanded the brand and worked towards enlarging our clientele also for women's footwear, which now is 70 percent of our market."
Tran agrees that Guidi definitely "nailed the rich Chinese market," a sentiment underscored by INK's sales figures. Prior to the coronavirus pandemic, Cheng says INK "sold around 3,000 to 5,000 pairs of Guidi per year in store." Considering that Guidi's most affordable shoes start around $800 USD and its pricier boots can get up to $1,500 USD or more, that's no mean feat.
"The classics are always our client's favorite," Cheng reflects, citing three zippered Guidi boots: the back zip 788z, front-zipped PL2, and its extra-tall cousin, the 310. "We observed that most of the customers will just collect these three models in black, red or white before they move on to the new colors or styles."
The relationship between artist and patron has developed throughout history, demonstrating the necessary balance between artistic integrity and cash infusion. Guidi's interactions with its Chinese clients reflect a contemporary telling of that timeworn tale; the Italian company can afford to slowly develop its high quality products because it has the financial cushion of a reliable customer base. With the business' foundation secure, Guidi even has the freedom to experiment and expand.
Despite their monetary weight, China and greater Asia are but a portion of Guidi's international presence. "We would not mind expanding the Russian, Australian and New Zealand markets," Amante muses. But "the important thing at the moment is to remain stable, to maintain and to consolidate the markets that we have managed to cultivate over the years." Suffice to say, those immense INK buys may return when the coronavirus pandemic is eventually exhausted.
Though core styles will always be in demand, Guidi's desire for experimentation is as crucial to the brand identity as its more famous boots. "I've always thought of Guidi as a brand with a marked originality," says Ruggero. "It is a project that brings together people in ways so [distinct] that I cannot enclose it in a single genre."
"We decided on mixing these two worlds together, galvanized by the challenge for us to collaborate with companies thoroughly different from ours, with a different product from ours," Amante explains. "We are immensely happy with the collaboration."
"We have never, not once, followed trends or the hype of the moment."
Despite co-signs from famous fans, including Brad Pitt and Zayn Malik, Guidi's success is built on word-of-mouth whispers and in-store experiences. Customers' eyes and hands draw them to Guidi's products; the inimitable shapes invite one to touch and that first drag across the wrinkled flesh seals the deal.
Each contributor reiterates Guidi's surprising comfort. Generally speaking, artisanal footwear is intentionally uncomfortable or at the very least not crafted to cater to one's feet. Consider Carol Christian Poell's infamous oxford shoes a prime example. The crimped leather uppers resist the wearer's attempts to break them in. Furthermore, they're shaped by a traditional footwear last refined to Poell's restrictive measurements, indicative of the reclusive Austrian creative's desire to bend customers to his garments' will. To put it simply: the tortuous discomfort isn't only to be expected, it's intentional.
Guidi is distinct among contemporaries in how it blends appealing shapes with immediate wearability. "Among all of the more similar artisanal brands of leather shoes that I tried, Guidi stood out as the most comfortable footwear right out of the box," notes Anna. "When buying well-worn Guidi's secondhand, you can tell very clearly that the leather insole has formed to the previous owner's foot."
Comfort and quality — those are two-thirds of the triangle that shapes Guidi's ethos. The final corner comprises the immediate visual appeal of Guidi's products: the sleek boots, chunky derbies, creased bags and its line of understated, warped jewelry. Of all these, however, Guidi's footwear is the crux of the brand's success — from chelsea boots to equestrian boots every classic style of leather shoe has been refined to the bare minimum, free of excess.
Though the staple silhouettes are key to Guidi's success, its recent output has been downright experimental. From dog collars and leashes to paint-splattered shoes, Guidi has produced a variety of progressive products that keep in line with its ethos while alluring diverse stockists that include SSENSE and Japan's BEAMS. Even still, perhaps its closest foray to mainstream attention was a rare artistic collaboration with 1017 ALYX 9SM. "The success of the ALYX crossover brought [Guidi] to another level," Cheng contends.
"We have never, not once, followed trends or the hype of the moment. Nothing was planned, we simply started creating shoes that went hand in hand with the artisan technique. The shapes have evolved along with our taste and needs, but the beauty stands in the fact that this long transformation was yet very natural and remarkably fluid … One thing leads to another."