Even Your Clothes Are Art Now
A new wave of one-of-one designers are driving "artwear" forward.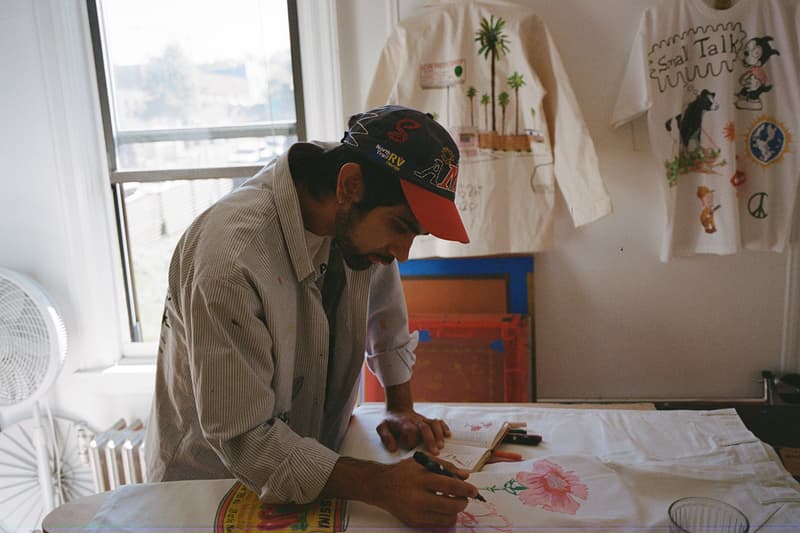 The retail platform Akyn has a vision for the future. One day, it declares, "we will purchase special pieces of clothing to wear on our bodies in the same way we purchase art to hang in our homes." The items available through its site support this claim, with one-of-one and specially made pieces available in limited drops throughout the year.
"The future of fashion retail is about uniqueness and sustainability," explains Akyn's founder Emma Berson, "and purchasing something extremely special and handmade is akin to buying art." The overlap between fashion and art is something that Berson is particularly interested in, adding that Akyn was founded from a frustration at having to choose between the two. The platform, therefore, represents a combination: an art gallery for clothing, almost working as a representative for the designers and creatives who sell through it.
The word Berson has coined for this clothing is "artwear," a summation of the two worlds. "When I say luxury artwear, I'm referring to pieces with which you can sense the artist's hand and feel the time and effort put into make it," continues Berson. "It's all about finding something that elicits an indescribable feeling, the 'secret sauce' if you will."
"Artwear" makes up part of a growing interest and appetite for one-of-one clothing, something Berson puts down to two different influences. "I think the desire to own something special and unique is on the rise because it's coinciding with a divergence from fast fashion and the need for more sustainable buying practices," she adds. "With the overwhelming presence of Instagram in our daily lives, people are always wanting to express their individuality in a space that can get crowded with everything and everyone looking the same. Owning something one-of-one kills the two birds of sustainability and individuality with one stone."
While the kind of "artwear" and one-of-one clothing sold by Akyn operates in a small niche of the fashion industry, its approach mirrors wider trends. Bigger name designers and labels including Bode, Ahluwalia and Duran Lantink have all helped popularize craft-influenced clothing, with their use of repurposed fabrics bringing the DIY and made-to-order aesthetics to the mainstream.
"People are always wanting to express their individuality in a space that can get crowded with everything and everyone looking the same."
One designer to take part in Akyn's first drop earlier this year was Small Talk, a one-man creative operation from New York. Small Talk founder Nick Williams covers his pieces in hand-drawn and embroidered motifs. "I approach each one as a sort of mixed-media painting," he explains, echoing Berson's "artwear" classification, "a unique composition of hand-rendered images that conforms to the contours of the body rather than the dimensions of a canvas or piece of paper."
Williams believes that he's part of a growing wave of designers approaching one-of-one clothing in a new way. "I think it is such a better way to make and consume clothing," he adds. "It is definitely happening in direct response to the bubble of overproduction that has plagued the garment industry for decades now." But Williams finds there are motivations for purchasing these pieces other than sustainability. "I think people recognize a level of artistry and care in what I'm making," he continues, "I would also hope that people are drawn to what I'm making because they recognize the free association, the sense of humor and play, and the DIY ethos behind it."
The London-based designer Adam Jones is reluctant to call himself an artist, approaching his British pub-inspired small run creations from a more functional angle. "It depends on accessibility to materials, if I can find the same tea towel or beer towel again," he explains. "I make one of everything for the show, and once stores or customers want something I go out and find the same tea towel again. Often I can't find the same one, so then that piece becomes really special."
While the artist label sits uncomfortably for Jones, he does draw a link between his work and that of collaging. "I'm taking things from here and there, stealing them and collaging all my references, then it becomes my own," he says, "None of it is my own artwork or graphics, but I'm okay with that. People have referenced other people's work for years."
"It is definitely happening in direct response to the bubble of overproduction that has plagued the garment industry for decades now."
As well as drawing a link to collage work, Jones has also previously described his collections as "a British take on wabi-sabi." Jones explains how his items constructed from beer towels and cultural ephemera are based on "the same mentality of embracing something distressed or forgotten about, the beauty of imperfection. In Japan, it's a clean minimal version, whereas mine is a grotty British version."
The sustainable credentials of "artwear" are clear, with its focus on made-to-order and one-of-one clothing reducing excess waste. One area where it faces difficulties, though, is accessibility. The level of work and craftsmanship that goes into each piece mean costs will always be high, as Berson explains, "There's a certain attention to detail and time commitment put in by the artist, whether it's a hand-drawn jacket that takes days to produce or a reworked vintage item that takes time to source and alter."
For both Williams and Jones, it's important to weigh up the time spent producing the items with the price points they would like to sell the pieces for. "I think it's worth it to have a much wider range of people who can and do wear my clothes," says Williams, "I feel like I've found a sweet spot where I feel like I can pay myself what I need to live and do this full time, and I'm not limiting my audience to solely people with a high disposable incomes. Jones agrees, "Price is really important, I want my friends to be able to wear it, I want to be able to afford to buy it," he adds. "I don't pluck the price out of nowhere, I think about the time it takes me to find these materials. It would be cheaper just to reproduce them, but that takes away from how special they are."
In some ways, the conversation about accessibility misses the point about what "artwear" really is. Berson adds, "When I go into an art gallery I don't necessarily wonder how the paintings I'm looking at could be more accessible," as well as pointing to more affordable one-of-one options on sites including Depop and Etsy. Instead, "artwear" is about the idea of having something completely unique and lovingly hand-crafted. It could be Jones' nostalgic sweater vests stitched together from Guinness towels, or it could be a pair of Small Talk trousers, covered with hand-drawn tins of anchovies and Grateful Dead dancing bears, but the craftsmanship and care that has gone into each item is what elevates it to art.