8 Sustainable Grooming Brands to Add to Your Daily Routine
For taking care of your skin — and the planet.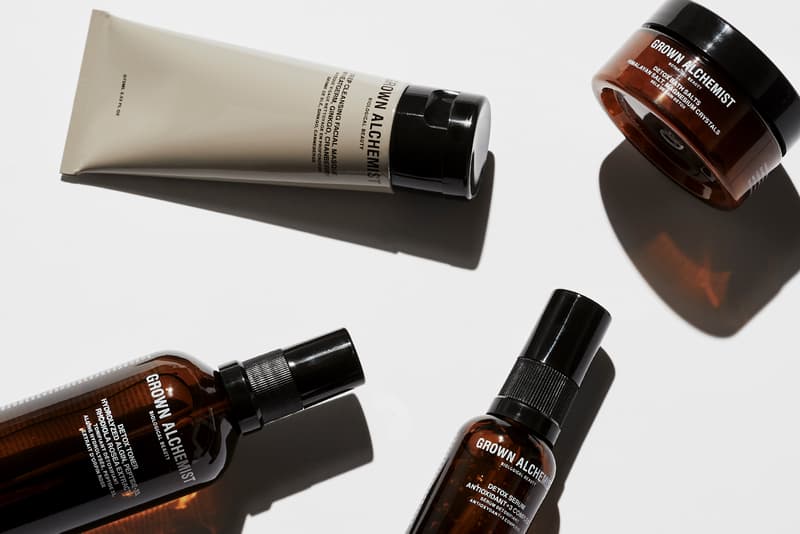 Sustainability and climate control have been on the minds of many for the past couple of years. With the start of a new decade upon us, the goals of reaching more sustainable and eco-friendly means have become more a reality than ever before, especially in the field of grooming and wellness.
As we continue to search for new ways to establish and elevate our own skincare routines, there is an ever-growing list of products available that not only take care of your face, hair and body, but attempt to keep sustainability in mind, too. So why not take care of your health, while also protecting the health of the planet?
Clean, natural and organic products have directed the conversation in recent months. Noteworthy brands like Kelsen offer up grooming essentials made from 100% microplastic-free formulas that won't contaminate skin or the sea, while HOMME's range is sulfate- and paraben-free, as well as being vegetarian. On the other hand, UK-based Haeckels has also conceived innovative packaging made from Mycelium and seed paper wraps to cut down on harmful plastic.
Without further ado, check out our choices for the best sustainable grooming brands to put on your radar below.
Kelsen
Conceived by pro skaters Curren Caples and Sean Malto, and pro surfers Jack Freestone and Mikey February, Kelsen is the collective's answer in fighting back against today's current issues of climate change and sustainability. Launched in 2019, Kelsen's range of unisex grooming essentials are made from a 100% micro-plastic free formula — a special "Marine Performance Blend" of organic kelp, sea holly, and sea rock fennel, sustainably harvested from renewable sources — that won't contaminate your skin or the sea. To top it off, the products give off a natural chypre cedar scent from organic essential oils.
Each item is housed in eco-conscious packaging, meaning no single use plastics have been used; Kelsen's pomade comes in a glass container, while the Shampoo + Body Wash and Conditioner tubes are made from 85% plant-based sugarcane. Additionally the seal caps are made from a biodegradable/compostable wood composite. The brand's ethos is also translated to the artwork featured on the packaging, helping the products to give off a "premium and cool, yet eco-conscious and accessible vibe," as Freestone told HYPEBEAST. What's next for the brand? "We are planning to launch skincare this year," Freestone shared.
As an added bonus, Kelsen will donate 1 percent of sales to 1% For the Planet, an organization that helps environmental causes.
Where to Buy: Exclusively via Kelsen's online store.
Jack Henry
Another notable grooming brand coming out of the West Coast is Jack Henry, founded by Kyle Bardouche in 2017 and named after his son. Each product in Jack Henry's collection is all developed and crafted in-house at the label's San Diego-based locale and contains clean and organic ingredients.
Jack Henry's formation was ignited by the lack of toxic-free essentials available at the time, and an awareness that "what goes on your body is just as important as what goes [in] your body," Bardouche shared. The first product launched in Jack Henry's growing lineup was the label's Clay Pomade, made from only three ingredients total. Now the range has expanded to 13 items that encompasses hair, skin and body, and includes the label's recently launched deodorant.
In terms of packaging, the brand uses fully reusable and recyclable amber glass bottles. Additionally, products aren't tested on animals or third parties; instead, Henry turns to friends and family and professional athletes to test them. For 2020, Jack Henry is developing an all-in-one cleanse crafted with aloe vera, seaweed extract and sea salt.
Where to Buy: Exclusively via Jack Henry's online store.
Haeckels
UK-based grooming brand Haeckels was founded by Dom Bridges, who was inspired by nature and its healing properties. After spending his time volunteering at the beach, he began experimenting with seaweed and the natural minerals he sourced there. The label's Margate store now manufactures effective natural products from sustainable resources from a local reef.
Along with hand harvesting seaweed, which is the base ingredient for its whole product lineup, Haeckels has conceived innovative packaging to help combat the dire plastic problem. The label believes in biocontribution and has therefore created packaging made of Mycelium and seed paper wraps, both of which are 100% biodegradable and bring forth new plant life as the seeds in the seed paper germinate. Additionally Haeckels' candles come stored in a double-walled glass that can be reused as a cup afterwards.
Haeckels' large product offerings include skincare, body and hair, perfume, candles, home fragrances, shaving tools, vegan soap bars and skin and hair mixology sets made with essential oils.
Where to Buy: Select retailers and Haeckels' online store.
HOMME
HOMME is yet another sustainable brand making waves as of late. Started by a group of friends with experience in men's grooming, design and art, the collective decided there was a need to expand the market for skin, hair, make-up and body products designed specifically for men.
The product's formulas are developed and made in Sweden, using only natural ingredients. What emerged is a professional care product line for men that is vegetarian and free from sulfates and harmful parabens. The shampoo is infused with B-vitamins and hops, the body wash with active charcoal, and the styling wax includes strengthening properties such as carotene.
The HOMME Pre-Collection Line is comprised of shampoo, body wash, hand soap, two types of hair styling waxes, face wash and serum, along with shaving essentials. Down the line, the label is aiming to introduce a travel kit, skincare, concealer and eyeliner.
HOMME also offers up a monthly subscription for $25 USD a month ($300 USD a year) so you never have to worry about running out of items. 1% of revenue from HOMME products sold benefits the HOMME Art Foundation, who sponsor and promote cultural projects, focusing on fashion, design, innovation and the arts.
Where to Buy: Select retailers and Homme's online store.
Disco
Disco was kick started by Benjamin Smith, who felt frustrated by the lack of grooming options out there for men and wanted to be able to purchase all his products from one place. Smith also values clean ingredients, which is why all of Disco's offerings are made naturally and responsibly. "The concept of making wellness more accessible to me, whether it is for skin or for the gym, has taken up my entire adult life and career," Smith shared in a press statement.
Disco's full seven-product line is free of harmful ingredients, so men know exactly what they are using. The face cleanser stick has activated charcoal, aimed in soothing and hydrating the skin, while the deodorant is aluminum-free and contains eucalyptus and tea tree oils. As a whole, the range is vegan, cruelty-free, gluten free, aluminum-free and made with organic materials. And keeping in line with today's sustainability motive, all packaging is recyclable.
Where to Buy: Disco's online store.
Doers of London
Founded in London, Doers of London aims to deliver premium performance and quality ingredients at a price point every self-made man can maintain. From the top down, the label embraces a balanced and sustainable ecosystem, using all naturally derived ingredients, testing without using animals, and a fully vegan approach. Doers of London's approaches grooming with a natural ethos — no parabens, chemicals or synthetic fragrances, and hopes to spread the word on the powerful benefits of natural ingredients, especially in a market that's still dominated by synthetics. Moreover, Doers of London has been approved by the Vegan Society and certified cruelty-free.
The grooming brand's range includes facial cleanser, shaving cream, hydrating face cream, body wash, body lotion, shampoo and conditioner, with all items being free from parabens, mineral oil, SLS, synthetic color and fragrance.
Where to Buy: Doers of London's online store.
Unity
Unity is the new grooming line from football and Arsenal stars Mesut Özil and Mathieu Flamini, who both aimed to make green products more affordable. Unity's range is comprised of 11 products for face, hair and body, most which are housed in renewable and recyclable sugarcane packaging. The Sugarcane plants are grown on sustainably farmed land, and help to reduce CO2 emissions.
On top of that, the line's formulas are free from chemicals such as parabens, SLS, mineral oils, microbeads and artificial fragrances, and are sustainably-sourced and Fairtrade-certified. Currently at 99%, Unity is one step away from having 100% natural origin ingredients without compromising on performance. Additionally, all products, aside from the Styling Gel, are vegan.
"We want everyone to live a more sustainable life. It's not always simple; we're at the beginning of our journey, it will be constantly evolving, but we genuinely believe that together we are strong," the duo shared in a press release.
Where to Buy: Unity's online store.
Grown Alchemist
Last but not least on our list is Australian brand Grown Alchemist. Founded by brothers Messrs Jeremy and Keston Muijs in 2008, the label creates both sustainable and natural products all packaged in eco-friendly containers. The label also omits what it describes as "environmentally problematic" ingredients such as parabens, polyethylene glycols and artificial dyes and fragrances, which can cause damage to grey water supplies once they're washed down the drain.
Grown Alchemist's innovative formulas are capable of influencing the way the body repairs and regenerates the skin, and has also been at the forefront of progress being made in fields such as medicine, nutrition, pharmacology, dermatology, genetics and psychology. The continuous use of the label's products will directly improve skin cell health, while optimizing skin function and slow down the signs of aging.
For the remainder of the month, Grown Alchemist will be donating 100% of its global sales from the Detox Hydra-Mist+ to the Australian Red Cross to support the ongoing bushfire relief efforts across Australia.
Where to Buy: Grown Alchemist's online store.