8 Drops You Don't Want to Miss This Week
Featuring BAPE, NEIGHBORHOOD x WTAPS, 'JACKBOYS' merch and more.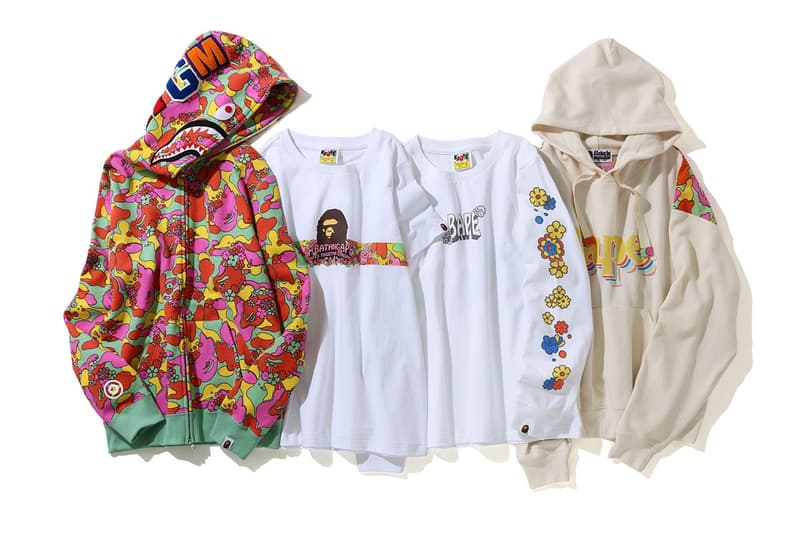 As we begin 2020, we have yet another installment of our product drops series, this time marked by a host of standout releases for the new year. Leading the list is NEIGHBORHOOD's unexpected team up with WTAPS, while Travis Scott also put together an expansive merch range for the release of the Cactus Jack JACKBOYS compilation album.
Other standout collaborations include MAGIC STICK's collection for Star Wars: The Rise of Skywalker and BAIT's team up with Bandai Namco to celebrate the 40th anniversary of Pac-Man. Additional highlights include the long-awaited launch of Young Thug's SPIDER clothing brand, Patagonia's fish-inspired graphic Capilene® T-shirts and BAPE's "ABC CAMO FLOWER" capsule collection. Rounding up the first product drop round-up of 2020 is the reworked Big Bold Jellyfish watch from Swatch.
Young Thug SPIDER First Collection
After months of teasing, Young Thug has finally launched his long-awaited clothing brand, SPIDER.
Known for his bold style, the rapper has created SPIDER to offer his fans and the fashion crowd an avenue into his eccentric taste in clothing. Wardrobe staples found in the inaugural collection are reimagined with striking colors and expressions of spider webs. Most notably the first release features a series of denim trucker jackets marked with rhinestone web motifs on the shoulder regions.
When: Now
Where: SPIDER
Patagonia Fish-Inspired Graphic T-Shirts
Continuing to celebrate the spirit of the outdoors, Patagonia has put together a selection of fish-inspired graphic T-shirts for its Capilene® range.
Available in hues of blue, beige and green, the Fair Trade Certified™ tops are made entirely of recycled polyester with a 50+ sun protection and complete with the brand's proprietary HeiQ® Fresh odor control. Each T-shirt designed to keep wearer's cool are emblazoned with an array of prints that highlight species of fish and Patagonia's iconic logo.
When: Now
Where: Patagonia
Star Wars x Magic Stick The Rise of Skywalker Collection
Coinciding with the release of Star Wars: The Rise of Skywalker, MAGIC STICK has crafted a collection centered around the storied universe of the franchise.
The collection of streetwear essentials are marked with references to the blockbuster film, including terminology and phrasing as well as graphics culling from the ninth Star Wars film. Divided into two ranges, the "Classic Collection" contains original trilogy graphics and characters, while the "Episode.9 Latest Collection" naturally displays references from the latest film. The former shows the Cantina Band performing in their Mos Eisley atmosphere alongside Jabba the Hutt while the latter items display the movie poster for the Rise feature. References like "The First Order" and lines "Who Do You Want to Be?" all set a black, "dark side" vibe for the collection.
When: Now
Where: MAGIC STICK TOKYO
Swatch Big Bold Jellyfish Watch
Adding to its Big Bold series, Swatch has now put together a larger rendition of its cult classic, 1985 Jellyfish.
The latest release is a blown-up version of the watch, reworking the original 34mm case to a more modern 47mm measurement. Maintaining much of the original design, the upsized timepiece features a transparent dial and case giving full view of the quartz movement beneath the Bauhaus-styled red, blue, and yellow hands, paired with a translucent case back and a silicone strap.
When: Now
Where: Swatch
Cactus Jack JACKBOYS Merch Release
To celebrate the release of the highly-anticipated JACKBOYS compilation album, Travis Scott and Cactus Jack Records has prepared a merchandise release centered around racing-themed streetwear.
Led by hoodies, T-shirts and hats, a mainstay of the range are graphics expressing the CACTUS JACK 1988 BMW E30 M3 used in the various visuals for the project. Aside from traditional accessories, other lifestyle items include JACKBOYS marked car items like a racing helmet, wheel lock, toolbox and fire extinguisher.
When: Now
Where: JACKBOYS Webstore
NEIGHBORHOOD x WTAPS Capsule Collection
To celebrate its 25th anniversary, NEIGHBORHOOD has teamed up with WTAPS to honor the place of both brands in shaping Japanese streetwear as we know it.
Marked with co-branding, the capsule collection features flight jackets, military shirts, hoodies, sweaters and T-shirts done in militaristic palettes as well as monochromatic shades. Notable items include a black and white bomber jacket, taken apart and reassembled using a mix of fabrics like leather and nylon. Other standouts include the "Ripper Hoodie," reconstructed with an asymmetrical panel that dips below the hemline at the left and riddled with WTAPS and NEIGHBORHOOD logos.
When: January 2
Where: NEIGHBORHOOD
Pac-Man x BAIT "Glitch" Capsule
Adding to its continuing series of playful collaborations, BAIT has teamed up with Bandai Namco to celebrate the 40th anniversary of Pac-Man.
The capsule is comprised of hoodies, T-shirts and long-sleeve shirts with vibrant 8-bit graphics inspired by the iconic arcade game. Aside from the yellow character himself, the ghosts, and power-up items such as the cherries, the range is graced with BAIT's own "Glitch" reinterpretation of the game, as well as "BAIT" logos written in the font of the original "Pac-Man" logo.
When: January 3
Where: BAIT
BAPE "ABC Camouflage Flower" Collection
Kicking off the new year, BAPE has readied a new assortment of garments that plays with its signature camouflage pattern. This time around, the APE HEAD-rich ABC Camo has been given a Spring-ready update for the "ABC CAMO FLOWER" capsule.
Leading the range is a SHARK hoodie, which proudly displays the reworked pattern centered around floral illustrations and '70s hues. Aside from T-shirts that play on the psychedelic theme, is a hoodie, crewneck sweater, field jacket and matching cargo pants. Rounding up the capsule is a shoulder bag covered in a green-toned ABC CAMO FLOWER pattern and accented by leather trim and gold-tone hardware.
When: January 4
Where: BAPE